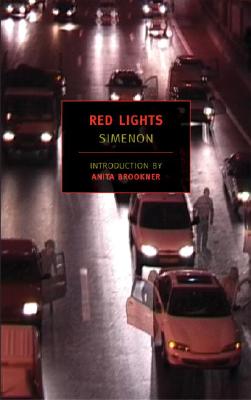 Red Lights (Paperback)
New York Review of Books, 9781590171936, 154pp.
Publication Date: July 18, 2006
* Individual store prices may vary.
Description
It is Friday evening before Labor Day weekend. Americans are hitting the highways in droves; the radio crackles with warnings of traffic jams and crashed cars. Steve Hogan and his wife, Nancy, have a long drive ahead--from New York City to Maine, where their children are in camp. But Steve wants a drink before they go, and on the road he wants another. Soon, exploding with suppressed fury, he is heading into that dark place in himself he calls "the tunnel." When Steve stops for yet another drink, Nancy has had enough. She leaves the car. On a bender now, Steve makes a friend: Sid Halligan, an escapee from Sing Sing. Steve tells Sid
all about Nancy. Most men are scared, Steve thinks, but not Sid. The next day, Steve wakes up on the side of the road. His car has a flat, his money is gone, and there's one more thing still left for him to learn about Nancy, Sid Halligan, and himself.
About the Author
GEORGES SIMENON (1903-1989) was born in Liege, Belgium. He went to work as a reporter at the age of fifteen and in 1923 moved to Paris, where under various pseudonyms he became a highly successful and prolific author of pulp fiction while leading a dazzling social life. In the early 1930s, Simenon emerged as a writer under his own name, gaining renown for his detective stories featuring Inspector Maigret. He also began to write his psychological novels, or romans durs--books in which he displays a sympathetic awareness of the emotional and spiritual pain underlying the routines of daily life. Having written nearly two hundred books under his own name and become the best-selling author in the world, Simenon retired as a novelist in 1973, devoting himself instead to dictating memoirs that filled thousands of pages. ANITA BROOKNER is an art historian and novelist. She lives in London.
Praise For Red Lights…
"Just the thing to take your mind off $4 gas: a truly chilling road-trip novel about a couple on their way to Maine to collect the kids from camp—and the escaped con who joins them." --New York Magazine

"Simenon saved the deep, dark, bone-chilling stuff for his psychopathological thrillers, books he called romans durs...Red Lights charts a hellish road trip, fueled by bad choices and their twisted consequences, soaked through with existential dread." --Men's Journal, "15 Best Thrillers Ever Written"

"Attention should be paid to the New York Review of Books' continuing reissues of Georges Simenon. Simenon was legendary both for his literary skill–four or five books every year for 40 years–and his sexual capacity, at least to hear him tell it. What we can speak of with some certainty are the novels, which are tough, rigorously unsentimental and full of rage, duplicity and, occasionally, justice. Simenon's tone and dispassionate examination of humanity was echoed by Patricia Highsmith, who dispensed with the justice. So far, the Review has published Tropic Moon, The Man Who Watched Trains Go By, Red Lights, Dirty Snow and Three Bedrooms in Manhattan; The Strangers in the House comes out in November. Try one, and you'll want to read more." –The Palm Beach Post

"The most extraordinary literary phenomenon of the twentieth century." –Julian Symons

"The romans durs are extraordinary: tough, bleak, offhandedly violent, suffused with guilt and bitterness, redolent of place (Simenon is unsurpassed as a scenesetter), utterly unsentimental, frightening in the pitilessness of their gaze, yet wonderfully entertaining. They are also more philosophically profound than any of the fiction of Camus or Sartre, and far less self-conscious. This is existentialism with a backbone of tempered steel."–John Banville, The New Republic

"This is what attracts and holds me in him. He writes for `the vast public,' to be sure, but delicate and refined readers find something for them too as soon as they begin to take him seriously. He makes one reflect; and this is close to being the height of art; how superior he is in this to those heavy novelists who do not spare us a single commentary! Simenon sets forth a particular fact, perhaps of general interest; but he is careful not to generalize; that is up to the reader."–Andre Gide

"The Hitchhiker [title of an earlier English edition of Red Lights] is to date the best of Simenon's novels with American setting. A suburbanite, driven to occasional compulsive drinking by an unsatisfactory marriage, starts on a real bender while motoring to Maine. His wife abandons him; he picks up an escaped convict and confusedly feels that the man's criminality symbolizes the fulfillment of his own rebellion against convention. His sobering up, physically and spiritually, is a painful, convincing and rewarding process, and the novel skillfully uses the trappings of melodrama to explore psychological truth...a silken-smooth shocker, guaranteed to please all Simenon addicts."–The New York Times

"No non-American writer, at least none who writes in a language other than English, has done a better job of it.The angry couple in The Hitchhiker [title for earlier English edition of Red Lights] come across as real Americans, with some of our best qualities, as well as monstrous flaws."–The Washington Post
or
Not Currently Available for Direct Purchase