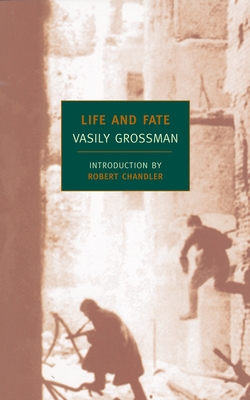 Life and Fate
Paperback

* Individual store prices may vary.
Other Editions of This Title:
Hardcover (5/24/2022)
Description
A book judged so dangerous in the Soviet Union that not only the manuscript but the ribbons on which it had been typed were confiscated by the state, Life and Fate is an epic tale of World War II and a profound reckoning with the dark forces that dominated the twentieth century.

Interweaving a transfixing account of the battle of Stalingrad with the story of a single middle-class family, the Shaposhnikovs, scattered by fortune from Germany to Siberia, Vasily Grossman fashions an immense, intricately detailed tapestry depicting a time of almost unimaginable horror and even stranger hope.

Life and Fate juxtaposes bedrooms and snipers' nests, scientific laboratories and the Gulag, taking us deep into the hearts and minds of characters ranging from a boy on his way to the gas chambers to Hitler and Stalin themselves.

This novel of unsparing realism and visionary moral intensity is one of the supreme achievements of modern Russian literature.
Praise For Life and Fate…
"Life and Fate . . . has been widely hailed as one of the greatest books of the 20th century. For my money, Life and Fate is one of the greatest books, period." —Becca Rothfeld, Jewish Currents

"Vasily Grossman is the Tolstoy of the USSR." —Martin Amis

"What better time to read Life and Fate, Vasily Grossman's epic novel about the second world war, to put our current troubles into perspective? Grossman's book, which traces the fate of the family of the brilliant physicist Viktor Shtrum at the time of the Battle of Stalingrad, records how humanity endured the monstrous evils of Nazism and Stalinism, surviving like weeds in the cracks of concrete slabs."—John Thornhill, Financial Times
#1 on Antony Beevor's 2009  "Five Best of World War II Fiction" list (The Wall Street Journal)
"One of the greatest works of literature to come out of Russia during the 20th century, Life and Fate could be looked at as the closest thing the Second World War had to a War and Peace. An absolute sprawling and haunting masterpiece that should be on every list." —Flavorwire
"A delightfully readable 2006 translation by Robert Chandler, this edition preserves nearly all the color of Russian sayings and dark humor while remaining a devastating portrait of Stalin's Russia. Grossman shows how Russian communism was a moral and ideological dead end, an almost exact counterpart to Hitler's Nazism that was preordained from the moment Lenin began killing his opponents instead of talking to them. . . . In the end, he leads the reader to the inescapable conclusion that Communism, like Nazism, had only one goal: power. Coming from a man who once sat in on the privileged inner circles of this government, as an acclaimed journalist and author, this is a devastating message indeed." —Forbes
"A chronicle of the past century's two evil engines of destruction-Soviet communism and German fascism—the novel is dark yet earns its right to depression. But it depresses in the way that all genuinely great art does—through an unflinching view of the truth, which includes all the awfulness of which human beings are capable and also the splendor to which in crises they can attain. A great book, a masterpiece, Life and Fate is a book only a Russian could write." —Joseph Epstein, The Wall Street Journal
"The greatest Russian novel of the 20th century. . . . 
Life and Fate
will continue to dazzle and inspire—as unerring a moral guide today as it was 50 years ago." —
Foreign Polic
y
"It's a masterpiece." —Frederic Raphael
"Grossman's depiction of Soviet citizens as they struggle to survive is magnificent. Life and Fate has been called the greatest Russian novel of the 20th Century. I agree." —Daytona Beach News
"World War II's War and Peace. Written (mainly) from the vantage point of a Soviet Jew, this masterpiece was judged far too ambivalent in its treatment of the 'Great Patriotic War' to be published in the author's lifetime." —Niall Ferguson, The New York Times
"
Life and Fate
is not only a brave and wise book; it is also written with Chekhovian subtlety." —
Prospect Magazine
"[A] classic of 20th century Russian literature." —The New York Times
"Grossman's account of Soviet life—penal, military and civilian—is encyclopedic and unblinkered . . . enormously impressive . . . A significant addition to the great library of smuggled Russian works." —The New York Times Book Review
"Takes its place beside The First Circle and Doctor Zhivago as a masterful evocation of the fate of Russia as it is expressed through the lives of its people." —USA Today
"Among the most damning indictments of the Soviet system ever written." —The Wall Street Journal
"To read Life and Fate is, among other things, to have some sense of how it feels not to be free. . . . In more ways than one, Life and Fate is a testament to the strength of character that terrorized human souls are capable of attaining. It is a noble book." —The Wall Street Journal
"Read it, and rejoice that the 20th century has produced so thoughtful and so profound a literary humanist. The sufferings and self-revelations of these characters provide us with some of the most troubling and occasionally uplifting examinations of the human heart to be found in contemporary literature. A novel for all time." —Washington Post Book World
"[An] extraordinarily dark portrait of Soviet society." —David Remnick, The Washington Post
"Fascinating and powerful . . . Life and Fate does something that, as far as I know, no other novel has tried to do fully—and that is to portray believing Soviet Communists as ordinary characters, rather than as predictable embodiments of evil." —Vogue
"Life and Fate has no equals in contemporary Russian literature . . . I would go so far as to say that Grossman in Life and Fate is the first free voice of the Soviet nation." —Commentary
 
"Vasily Grossman's novel ostensibly concerns World War II, which he covered as a Soviet war correspondent. But his true subject is the power of kindness—random, banal or heroic—to counter the numbing dehumanization of totalitarianism. . . . By the novel's end, both communism and fascism are reduced to ephemera; instinctive kindness, whatever the consequences, is what makes us human." —Linda Grant, The Wall Street Journal blog
NYRB Classics, 9781590172018, 896pp.
Publication Date: May 16, 2006
About the Author
Vasily Grossman (1905—1964) was born in Berdichev in present-day Ukraine, the home of one of the largest Jewish communities in Eastern Europe. After studying chemistry and working as a mining engineer, he was discovered by Maxim Gorky, whose support enabled him to begin publishing his writing. Grossman was a combat correspondent during World War II, covering the defense of Stalingrad, the fall of Berlin, and writing the first account in any language of a German death camp. Although the manuscript for Life and Fate was initially seized and suppressed by the KGB in 1960, and Grossman did not live to see it published, it was smuggled out of the USSR a decade later with the help of Andrei Sakharov and Vladimir Voinovich. The novel was eventually published throughout Europe and North America in the early 1980s; it appeared in Russia in 1988. A Writer at War: Vasily Grossman with the Red Army, 1941—1945, a collection of Grossman's journalistic writings and notebook entries, was published in 2006.

Robert Chandler is the translator of selections of Sappho and Apollinaire, as well as of Pushkin's Dubrovsky and Leskov's Lady Macbeth of Mtsensk. His co-translations of Andrey Platonov have won several prizes in both the UK and the US. He is the editor of Russian Short Stories from Pushkin to Buida; his most recent translation is of Hamid Ismailov's The Railway.