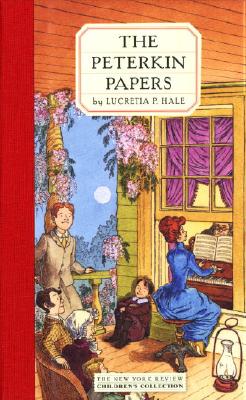 The Peterkin Papers (Hardcover)
New York Review of Books, 9781590172124, 302pp.
Publication Date: October 17, 2006
Description
Before Amelia Bedelia and the Stupids there were the Peterkins. The Peterkin Papers collects all of Lucretia Hale's beloved tales of a thoroughly silly family. The Peterkin Papers record the antics of the most memorably and hopelessly bumbling of respectable American families. Confronted by the endless challenges of daily life, the Peterkins rise to every occasion with misguided aplomb: they sit out in the sun for hours and fail to go for a ride because they've forgotten to unhitch the horse, they play the piano from the porch through the parlor window because the movers left the keyboard turned that way, they decide to raise the ceiling to accommodate a too-tall Christmas tree. Only the timely intervention of their great and good friend, the Lady from Philadelphia, can be counted on to get the Peterkins out of their latest scrape. A classic of American children's literature and a masterpiece of deadpan drollery, The Peterkin Papers restore our astonishment at the ordinary, finding a rich vein of humor and happy surprise in the mere fact of our surviving the trivialities and tribulations of family life.
About the Author
LUCRETIA P. HALE (1820-1900) is best known as the author of a series of stories about a family named Peterkin, the first of which appeared in 1867 in the magazine Our Young Folks (later St. Nicholas Magazine). The series continued for nine years, and made the Peterkins a household name. In addition to writing, Hale helped her brother Edward edit the Old and New Magazine from 1870 to 1875. She was concerned with education and in 1874 was one of the first six women elected to the Boston School Committee, where she served two terms. Her last book, The New Harry and Lucy, appeared in 1892.
Praise For The Peterkin Papers…
"How sorry we have felt for those who knew not Lucretia Hale and the Peterkins…a masterpiece."
–The New York Times

"Lucretia P. Hale's Peterkin family and 'the lady from Philadelphia' are standard characters in American fiction, and surely that is much to say of an author in these book-crowded days…Few writers leave behind them such a tribute to their greatness as the Peterkins are to Lucretia P. Hale, for the years pass them along to every new generation with the hint that human nature is about the same everywhere and all the time."–Harper's Bazaar

"People young and old, solemn and gay, rich and poor, will be glad to welcome a new edition of the Peterkin Papers. It is pleasant to meet the Peterkin family again…"–The Chicago Tribune

"[Lucretia Hale is] among the best of American women writers." --Harper's Bazaar
Advertisement