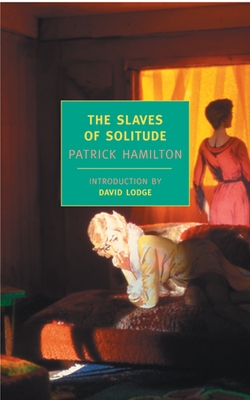 The Slaves of Solitude
Paperback

* Individual store prices may vary.
Other Editions of This Title:
Paperback (4/10/2018)
Description
"Gritty, real, tough, and sardonic." —Nick Hornby, author of Funny Girl
"Fabulously poignant." —Sarah Waters, author of Fingersmith

As World War II drags on, the lonely Miss Roach flees London for the dull but ostensible safety of a suburban boarding house in this "pitch-perfect comedy" about "the passions and tensions of war" (The Independent).

England in the middle of World War II, a war that seems fated to go on forever, a war that has become a way of life. Heroic resistance is old hat. Everything is in short supply, and tempers are even shorter. Overwhelmed by the terrors and rigors of the Blitz, middle-aged Miss Roach has retreated to the relative safety and stupefying boredom of the suburban town of Thames Lockdon, where she rents a room in a boarding house run by Mrs. Payne.

There the savvy, sensible, decent, but all-too-meek Miss Roach endures the dinner-table interrogations of Mr. Thwaites and seeks to relieve her solitude by going out drinking and necking with a wayward American lieutenant. Life is almost bearable until Vicki Kugelmann, a seeming friend, moves into the adjacent room. That's when Miss Roach's troubles really begin.

Recounting an epic battle of wills in the claustrophobic confines of the boarding house, Patrick Hamilton's The Slaves of Solitude, with a delightfully improbable heroine, is one of the finest and funniest books ever written about the trials of a lonely heart.
Praise For The Slaves of Solitude…
"Slaves of Solitude seems to me a masterpiece and certainly one of the best novels to come out of the Second World War."
—David Lodge, for The Times Literary Supplement

"Patrick Hamilton is the great forgotten man of 1930s and 1940s fiction."
—Time Out London

"One of Hamilton's finest novels...The Slaves of Solitude is a pitch-perfect comedy, in which all the passions and tensions of war are enacted in a seedy boarding house in Henley-on-Thames."
—The Independent

"I enjoyed every page of this novel, and have never had the pleasure of seeing the panoply of loneliness and depression employed to such brilliant comic effect."
—Katherine Powers, The Boston Globe

"The author sketches the everyday with a deft, often comedic touch, yet never loses sight of the ultimate pathos of the human condition."
—Newsday

"A welcome opportunity for contemporary readers to discover [Patrick Hamilton]...The author sketches the everyday with a deft, often comedic touch, yet never loses sight of the ultimate pathos of the human condition."
—Los Angeles Times

"Gritty, real, tough, and sardonic.... If you were looking to fly from Dickens to Martin Amis with just one overnight stop, then Hamilton is your man."
—Nick Hornby

"My favourites are the novels which capture the gloom, grubbiness and paranoia of Forties London life—for example...Patrick Hamilton's fabulously poignant The Slaves of Solitude and Hangover Square."
—Sarah Waters

"Patrick Hamilton is being revived again. And it looks serious this time… JB Priestley was an early supporter. Hamilton's book The West Pier was generously described by Graham Greene as "the best novel ever written about Brighton". He was John Betjeman's favourite contemporary novelist. Writers from Julie Burchill to Doris Lessing are warm admirers. Biographer Michael Holroyd has written numerous essays and introductions. Nick Hornby recently described him as 'my new best friend'."
—The Independent
NYRB Classics, 9781590172209, 256pp.
Publication Date: February 20, 2007
About the Author
Patrick Hamilton (1904—1962) was born into a literary family and became active in the theater at a young age. He was a prolific writer, both of fiction and for the stage, and a notorious alcoholic. Among his most famous novels are Hangover Square and Twenty Thousand Streets Under the Sky (forthcoming from NYRB Classics).

David Lodge is the author of several novels, including Author, Author, Changing Places, Small World, Nice Work, Paradise News, and Therapy. He has also written many works of literary criticism, including The Art of Fiction and Consciousness and the Novel: Connected Essays. He lives in Birmingham, England.
or
Not Currently Available for Direct Purchase