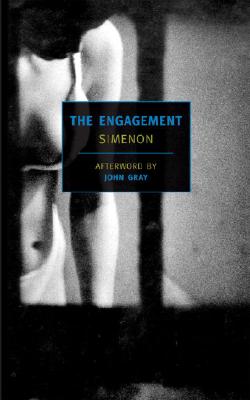 The Engagement (Paperback)
New York Review of Books, 9781590172285, 135pp.
Publication Date: March 6, 2007
* Individual store prices may vary.
or
Not Currently Available for Direct Purchase
Description
On the outskirts of Paris, a prostitute is found murdered in a vacant lot. In a seedy apartment house nearby lives pasty, fat Mr. Hire. Mr. Hire, who earns his living through a petty postal scam, is a convicted pornographer, a peeping Tom, and, once a week, the unlikely star of a Parisian bowling club, where people think he works for the police. He is a faceless man of regular habits who keeps to himself and gives his neighbors the creeps. After the murder, Mr. Hire's concierge points a finger at him: he was out late the night of the crime. The police have the suspect under 24-hour surveillance. They are only waiting for him to make the inevitable mistake and give himself away.
Except that creepy Mr. Hire is in fact an innocent man, whose only mistake is to have fallen head-over-heels in love with the wrong girl.
One of the most chilling and compassionate of Simenon's extraordinary psychological novels, The Engagement explores the mystery of a blameless heart in a compromised soul.
About the Author
Georges Simenon (1903 1989) was born in Liege, Belgium. He started working as a reporter at the age of fifteen and by the end of his life had published hundreds of novels under his own name and sundry pseudonyms. Renowned all over the world for his series of mysteries featuring Inspector Maigret, Simenon was also the author of many psychological novels. "The Engagement" is one of eight novels by Simenon published by NYRB Classics.

John Gray is Professor of European Thought at the London School of Economics. He is the author of many works of philosophy and is a regular contributor to the "Guardian" and the "Times Literary Supplement." He lives in Oxford.

Anna Moschovakis is the author of a book of poems, "I Have Not Been Able to Get Through to Everyone" and co-founder of the Ugly Duckling Presse. In 2005 she translated "The Authentic Bistros of Paris" for The Little Bookroom. She teaches Comparative Literature at the CUNY Graduate Center in New York City."
Praise For The Engagement…
"Published when Europe was between the wars, the novel depicts the impoverished City of Light as a moral vortex where truth isn't as highly valued as survival. As with all of the hard novels, The Engagement is considerably more complex than most existential thrillers. Gripping, too—you'd have to scan the rest of the Simenon shelf to find a more engrossing beach read." --Time Out New York

"This is a quietly compelling story with no hero, no villain and no justice–just the inevitability of fate." —Publishers Weekly

"Simenon is best-known for his Inspector Maigret mysteries. But he also wrote what he called romans dur - "hard novels," unblinkingly realistic psychological studies. The Engagement, first published in 1933, is one of the earliest of these...it is a mark of Simenon's artistry that he can devise so compelling a tale." --Philadelphia Inquirer


"Attention should be paid to the New York Review of Books' continuing reissues of Georges Simenon. Simenon was legendary both for his literary skill–four or five books every year for 40 years–and his sexual capacity, at least to hear him tell it. What we can speak of with some certainty are the novels, which are tough, rigorously unsentimental and full of rage, duplicity and, occasionally, justice. Simenon's tone and dispassionate examination of humanity was echoed by Patricia Highsmith, who dispensed with the justice. So far, the Review has published Tropic Moon, The Man Who Watched Trains Go By, Red Lights, Dirty Snow and Three Bedrooms in Manhattan; The Strangers in the House comes out in November. Try one, and you'll want to read more." —The Palm Beach Post

"The most extraordinary literary phenomenon of the twentieth century."—Julian Symons

"The romans durs are extraordinary: tough, bleak, offhandedly violent, suffused with guilt and bitterness, redolent of place...wonderfully entertaining. They are also more philosophically profound than any of the fiction of Camus or Sartre, and far less self-conscious." —John Banville
Advertisement