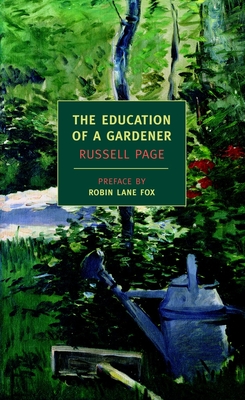 The Education Of A Gardener (Paperback)
NYRB Classics, 9781590172315, 448pp.
Publication Date: July 3, 2007
Other Editions of This Title:
Paperback (2/19/2003)
* Individual store prices may vary.
Description
Russell Page, one of the legendary gardeners and landscapers of the twentieth century, designed gardens great and small for clients throughout the world. His memoirs, born of a lifetime of sketching, designing, and working on site, are a mixture of engaging personal reminiscence, keen critical intelligence, and practical know-how. They are not only essential reading for today's gardeners, but a master's compelling reflection on the deep sources and informing principles of his art. 

The Education of a Gardener offers charming, sometimes pointed anecdotes about patrons, colleagues, and, of course, gardens, together with lucid advice for the gardener. Page discusses how to plan a garden that draws on the energies of the surrounding landscape, determine which plants will do best in which setting, plant for the seasons, handle color, and combine trees, shrubs, and water features to rich and enduring effect. To read The Education of a Gardener is to wander happily through a variety of gardens in the company of a wise, witty, and knowledgeable friend. It will provide pleasure and insight not only to the dedicated gardener, but to anyone with an interest in abiding questions of design and aesthetics, or who simply enjoys an unusually well-written and thoughtful book.
About the Author
Russell Page (1906–1985) became a professional garden designer in 1928 after studying painting at the Slade School of Art in London and in Paris. In 1935 he entered into a brief partnership with the landscapist and architect Geoffrey Jellicoe. He designed a great variety of gardens throughout Europe, the Middle East, and North and South America, ranging from windowboxes and small cottage gardens to those meant for large estates, public parks, and housing developments for industrial workers. Among his best-known projects are the gardens at the PepsiCo headquarters, the courtyard of the Frick Collection, and the Festival Gardens at Battersea Park. Page was one of only three Englishmen to have received a medal from the French Academy of Architecture and was an Officer of the British Empire.

Robin Lane Fox is a fellow at New College, Oxford, and the gardening correspondent for the Financial Times.
Praise For The Education Of A Gardener…
"Page was one of the 20th century's legendary landscape gardeners. This classic memoir, first published in 1962, is filled with charming anecdotes and timeless gardening advice." -Library Journal
"A classic of garden literature." —The Los Angeles Times
"Page is one of the most respected gardening experts in the world." —The Washington Postl
"It is beyond dispute that Russell Page, an Englishman now in his 77th year, has designed more gardens for more people in more parts of the world than anyone in history…He has moreover had for many years an underground celebrity as a master of English prose, on the strength of his book The Education of a Gardener." —The New York Times (John Russell)
"Russell Page was one of the most gifted landscape architects in history…Page's erudition also extended to writing, as this book demonstrates. Three hundred and sixty three pages of design advice can be reduced to this: Beauty is not in the eye of the beholder; it is a quality based on sound artistic and aesthetic principles. Applying those principles–now that's the hard part, even in Page, in his genius, makes it look easy." —The Washington Post Book World
"One of the most eloquent of all horticultural testaments. —The Sunday Telegraph (London)
"Literary types will enjoy The Education of a Gardener by Russell Page…a landmark exposition, first published in 1962, of garden design principles by one of the 20th century's leading landscape designers." —The Toronto Star
"Something of a classic, a manual on the art of the garden by a man who designed them for over 50 years, but also much more…" —The Times (London) (Sean French)
"I never travel far without Russell Page's Education of a Gardener, one of the most thoughtful and civilized gardening books ever written, by a master designer." —The Daily Telegraph (London)
"Russell Page was one of the great English landscape architects of this century…His book The Education of a Gardener remains, in my view, the best combined guide to planting and designing a garden ever written, with inspiration for every sort of gardener, wherever they are placed. The last chapter on his own dream garden is brilliant." —The Independent (London)
"Whatever has happened to garden writing? By that I mean literature, books that one picks up in the same way that one would a novel or biography for a good read, confident of the quality of its prose…Going to my bookshelves, I pull down Russell Page's The Education of a Gardener or Vita Sackville-West's In Your Garden…Virtually no pictures in any of them. We recognize all of these as somehow belonging to a golden age of garden writing." —The Times (London) (Roy Strong)
"Page had a great talent and a sensitivity not only to different types of flora and to different climates, but also to the architectural requirements of gardens, both large and small…Combining a painter's eye (his only formal training was in art) with a pragmatic and encyclopedic knowledge of horticulture, he produced gardens that were–are–extraordinarily lovely." —New York Times (Witold Rybczynski)
"From garden design to individual plants, he invests everything with beauty and wonder." —The Sunday Times (London)

Russell Page, admittedly a bit of a mystic, is pretty much out there by himself with his verdant heart and green digits.
— Michael Pollan, Second Nature: A Gardener's Education

Page has written an astonishingly beautiful book about his craft.
— Doris Lessing
 I reread this book every three years. It explores both the mechanic and aesthetic side of gardening, while also including solid information for an academic balance.
— Southern Accents