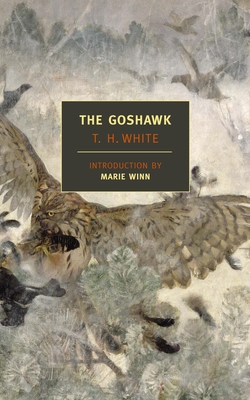 The Goshawk
Paperback

* Individual store prices may vary.
Other Editions of This Title:
Digital Audiobook (6/15/2015)
MP3 CD (6/16/2015)
Compact Disc (6/16/2015)
Compact Disc (6/16/2015)
Description
The predecessor to Helen Macdonald's H is for Hawk, T. H. White's nature writing classic, The Goshawk, asks the age-old question: what is it that binds human beings to other animals? White, the author of The Once and Future King and Mistress Masham's Repose, was a young writer who found himself rifling through old handbooks of falconry. A particular sentence—"the bird reverted to a feral state"—seized his imagination, and, White later wrote, "A longing came to my mind that I should be able to do this myself. The word 'feral' has a kind of magical potency which allied itself to two other words, 'ferocious' and 'free.'" Immediately, White wrote to Germany to acquire a young goshawk. Gos, as White named the bird, was ferocious and Gos was free, and White had no idea how to break him in beyond the ancient (and, though he did not know it, long superseded) practice of depriving him of sleep, which meant that he, White, also went without rest. Slowly man and bird entered a state of delirium and intoxication, of attraction and repulsion that looks very much like love.
White kept a daybook describing his volatile relationship with Gos—at once a tale of obsession, a comedy of errors, and a hymn to the hawk. It was this that became The Goshawk, one of modern literature's most memorable and surprising encounters with the wilderness—as it exists both within us and without.
Praise For The Goshawk…
"Sports such as ferreting and falconry show the extent to which people are prepared to risk pain and injury in order to enter the world of other species. The arduous experience of training a falcon to accept a person as a perch forms the character both of the bird and its keeper. The experience has been vividly described by TH White in The Goshawk and no reader of that book can doubt that country sports are as unlike human games as wine is unlike water. They do not satisfy some ordinary need for exercise and diversion, any more than wine quenches thirst. They answer to a deeper yearning and intoxicate us with the scent of other worlds. They open a door into the natural life of species: not the pretend life that is imposed on the domestic pet, but the real life that was ordained by nature. Hence the ritual and hence the joy. These sports are genuine rites of passage, which guide us into the world of other animals and help us to know it from within, as a world of instinct, awe and miracles." --The Observer

"The book chronicles the ambivalent relationship between White, author of The Once and Future King, and the hawk he trained. Their battle of wills 'gives the book its peculiar charm.'" –The New York Times

"It is comic; it is tragic; it is as primal and original as a great wind…it must be ranked as a masterpiece." –Guy Ramsey, Daily Telegraph (UK)

"A reader who cannot tell a hawk from a handsaw may be swept along by the storm of emotion which blows between the man and his bird, and by the freedom and richness of the romantic treatment of the variations." –Lord Kennet, Sunday Times (UK)

"The arduous experience of training a falcon to accept a person as a perch forms the character both of the bird and its keeper. The experience has been vividly described by TH White in The Goshawk…" –The Guardian (UK)

"What one man discovered about hawks, and himself, when he set out to learn the medieval art of hawking." –Time Magazine, "Recent and Readable"

A "wonderful, classic account of training a bird of prey." –The Daily Mail

"It's a strange, eccentric book about [T. H. White's] attempt to train his first goshawk. It displays an absolute love for the English countryside that I immediately recognized." –The Mail on Sunday (UK)

"In his 1996 introduction, Stephen Bodio writes: 'This is a book about excruciatingly bad falconry. It is the best book on falconry, its feel, its emotions, and its flavor, ever written.' Those oddly juxtaposed statements are exactly on the mark. A classic." –The Buffalo News

"This is a nature classic, conceived against the background of the second World War…a warm and instructive story." –Sunday Times (UK)
NYRB Classics, 9781590172490, 240pp.
Publication Date: October 2, 2007
About the Author
T. H. White (1906—1964) was born in Bombay, India, and educated at Queen's College, Cambridge. His childhood was unhappy—"my parents loathed each other," he later wrote—and he grew up to become a solitary person with a deep fund of strange lore and a tremendous enthusiasm for fishing, hunting, and flying (which he took up to overcome his fear of heights). White taught for some years at the Stowe School until the success in 1936 of England Have My Bones, a book about outdoor adventure, allowed him to quit teaching and become a full-time writer. Along with The Goshawk, White was the author of twenty-six published works, including his famed sequence of Arthurian novels, The Once and Future King; the fantasy Mistress Masham's Repose (published in The New York Review of Books Children's Collection); a collection of essays on the eighteenth century, The Age of Scandal; and a translation of a medieval Latin bestiary, A Book of Beasts. He died at sea on his way home from an American lecture tour and is buried in Piraeus, Greece.

Marie Winn's recent book, Red-Tails in Love: Pale Male's Story, featured a now-famous red-tailed hawk. Her column on nature and bird-watching appeared for twelve years in The Wall Street Journal, and she has written on diverse subjects for The New York Times Magazine and Smithsonian. Her forthcoming book, Central Park in the Dark, will be published in the spring of 2008.
or
Not Currently Available for Direct Purchase