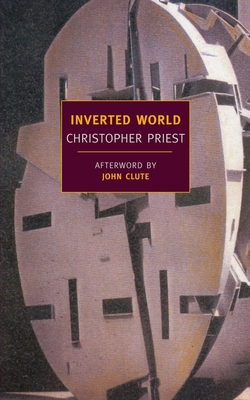 Inverted World
Paperback

* Individual store prices may vary.
Other Editions of This Title:
MP3 CD (7/19/2016)
Description
Featured in Science Fiction: The Best 100 Novels
Winner of the British Science Fiction Award
Nominated for the Hugo Award

The "devilishly entertaining" masterpiece of hard science fiction, set in a city moving through a strange, dystopian world—from the multi-award-winning author of The Prestige (Time Out New York)

The city is winched along tracks through a devastated land full of hostile tribes. Rails must be freshly laid ahead of the city and carefully removed in its wake. Rivers and mountains present nearly insurmountable challenges to the ingenuity of the city's engineers. But if the city does not move, it will fall farther and farther behind the "optimum" into the crushing gravitational field that has transformed life on Earth. The only alternative to progress is death.

The secret directorate that governs the city makes sure that its inhabitants know nothing of this. Raised in common in crèches, nurtured on synthetic food, prevented above all from venturing outside the closed circuit of the city, they are carefully sheltered from the dire necessities that have come to define human existence. And yet the city is in crisis. The people are growing restive, the population is dwindling, and the rulers know that, for all their efforts, slowly but surely the city is slipping ever farther behind the optimum.

Helward Mann is a member of the city's elite. Better than anyone, he knows how tenuous is the city's continued existence. But the world—he is about to discover—is infinitely stranger than the strange world he believes he knows so well.
Praise For Inverted World…
"Christopher Priest's reissued novel Inverted World presents the reader with a city surrounded by high walls and a populace unaware that the entire polis sits upon tracks, pulled by a giant winch in order to stay ahead of a crushing, slowly moving gravity field...You feel the kind of surprise and exhilaration here that you do when a magician reveals (though they're not supposed to) the simple method behind an illusion."
—Los Angeles Times

"... his well-crafted books play fun tricks on the reader. In this devilishly entertaining 1974 novel, Priest tells of a city called Earth that must perpetually move on rails to escape its hyperboloid planet's oppressive gravity."
—Time Out New York

"A somber psychedelic journey through a landscape that seems a collaboration between Breugel the Elder and M.C. Escher, Priest's book is an engine of epiphany, and a formal marvel: a narrative in the exact shape of the conundrum it presents."
—Jonathan Lethem, author of Motherless Brooklyn

"The most famous book from those days, Inverted World...upended existence, revealed a planet to be infinite, in a finite universe; between its poles, pressure warped every dimension of the body."
—Guardian

"A unique and original world."
—Publishers Weekly

"A marvellous thought experiment."
—The Independent

"Inverted World will be remembered for many years, I would guess, as one of the few science fiction novels of the 1970s to come up with a new idea."
—Foundation

"The Inverted World reads like a classic science fiction book--the physical concepts of the world in which it takes place are filled with a sense of wonder."
—San Francisco Signal

"A science fiction mystery story about a world whose 'secret' is as incredible, but as acceptable, to its readers as it is to its characters—which if you think about it is one of the highest compliments a critic can pay to a novel. A well-structured, finely written, mature narrative that is very compelling and thoroughly entertaining. It is a 'must'.
—Luna Monthly

"A marvelous thought experiment in which our familiar spherical world is replaced by a hyperboloid one. Rudy Rucker is equally known for his arithmetically generated science-fiction novels."
—Independent on Sunday

"The story is among those seldom found, incredibly readable narratives that the reader aches to continue reading."
—Jersey Journal

"One of the trickiest and most astonishing twist endings in modern SF."
—Tribune (London)
NYRB Classics, 9781590172698, 336pp.
Publication Date: July 22, 2008
About the Author
Christopher Priest was born in Cheshire, England. He has published eleven novels, three short-story collections, and a number of other books, including critical works, biographies, novelizations, and children's nonfiction. In 1996 Priest won the World Fantasy Award and the James Tait Black Memorial Prize for his novel The Prestige, which was adapted into a film by Christopher Nolan in 2006. His most recent novel, The Separation, won both the Arthur C. Clarke Award and the British Science Fiction Association Award. Priest and his wife, the writer Leigh Kennedy, live in Hastings, England, with their twin children. 

John Clute was born in Toronto, Ontario in 1940, but has lived most of his life in England. He has won three Hugo Awards for his nonfiction. Recent work includes Appleseed, a novel, The Darkening Garden: A Short Lexicon of Horror, and Canary Fever: Reviews.

or
Not Currently Available for Direct Purchase