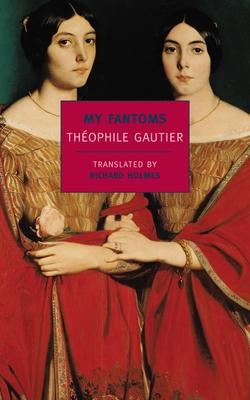 My Fantoms (Paperback)
New York Review of Books, 9781590172711, 194pp.
Publication Date: July 1, 2008
Description
Romantic provocateur, flamboyant bohemian, precocious novelist, perfect poet--not to mention an inexhaustible journalist, critic, and man-about-town--Theophile Gautier is one of the major figures, and great characters, of French literature. In My Fantoms Richard Holmes, the celebrated biographer of Shelley and Coleridge, has found a brilliantly effective new way to bring this great bu too-little-known writer into English. My Fantoms assembles seven stories spanning the whole of Gautier's career into a unified work that captures the essence of his adventurous life and subtle art. From the erotic awakening of "The Adolescent" through "The Poet," a piercing recollection of the mad genius Gerard de Nerval, the great friend of Gautier's youth, My Fantoms celebrates the senses and illuminates the strange disguises of the spirit, while taking readers on a tour of modernity at its most mysterious. "What ever would the Devil find to do in Paris?" Gautier wonders. "He would meet people just as diabolical as he, and find himself taken for some naive provincial..." Tapestries, statues, and corpses come to life; young men dream their way into ruin; and Gautier keeps his faith in the power of imagination: "No one is truly dead, until they are no longer loved.
About the Author
Theophile Gautier (1811--1872) was a poet, novelist, art critic, and one of the most prominent French Romantic writers of the nineteenth century. He originally studied as a painter but his friendship with Nerval and Hugo turned him toward a career in literature. By his twenties he had become a leading figure in the Jeune-France group, and the publication of Mademoiselle de Maupin in 1836 placed him at the heart of the Parisian literary world. Apart from his weekly journalist contributions to La Presse for twenty years, he worked on comedies, pantomimes, ballet scenarios, and produced novels, stories, and travel books. Richard Holmes is the author of Shelley: The Pursuit, for which he won the Somerset Maugham Prize in 1974; Dr Johnson and Mr. Savage, which won the 1993 James Tait Black Prize; and Coleridge: Early Visions, winner of the 1989 Whitbread Book of the Year Prize. He is a Fellow of the Royal Society of Literature and was awarded the Order of the British Empire in 1992. He lives in London and Norwich with the novelist Rose Tremain. He is also a professor of biographical studies at the University of East Anglia.
Praise For My Fantoms…
"Gautier was a leading writer of the Romantic movement and forms a bridge between the supernatural fiction of Goethe and E.T.A. Hoffmann and the pivotal pulp magazine Weird Tales."-Cynthia Ward

"Théophile Gautier was one of the most important writers of fantastic tales in France during the Romantic period."-The Modern Language Journal

"It is in Théophile Gautier that we first seem to find an authentic French sense of the unreal world, and here there appears a spectral mystery which, though not continuously
used, is recognizable at once as something alike genuine and profound." -H. P. Lovecraft

Gautier writes "...stories of remarkable artistry, rich in irony and nostalgia, in which the subtle play of passion with terror is expressed in a precise, elegant prose style." —The Penguin Encyclopedia of Horror & the Supernatural
Advertisement