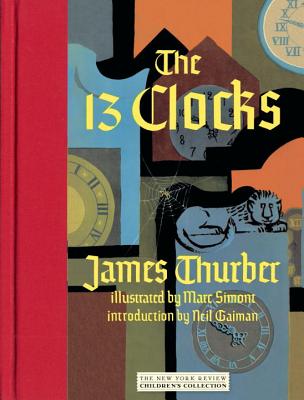 The 13 Clocks
Hardcover

* Individual store prices may vary.
Description
Once upon a time, in a gloomy castle on a lonely hill, where there were thirteen clocks that wouldn t go, there lived a cold, aggressive Duke, and his niece, the Princess Saralinda. She was warm in every wind and weather, but he was always cold. His hands were as cold as his smile, and almost as cold as his heart. He wore gloves when he was asleep, and he wore gloves when he was awake, which made it difficult for him to pick up pins or coins or the kernels of nuts, or to tear the wings from nightingales.
So begins James Thurber's sublimely revamped fairy tale, The 13 Clocks, in which a wicked Duke who imagines he has killed time, and the Duke's beautiful niece, for whom time seems to have run out, both meet their match, courtesy of an enterprising and very handsome prince in disguise. Readers young and old will take pleasure in this tale of love forestalled but ultimately fulfilled, admiring its upstanding hero ( He yearned to find in a far land the princess of his dreams, singing as he went, and possibly slaying a dragon here and there ) and unapologetic villain ( We all have flaws, the Duke said. Mine is being wicked ), while wondering at the enigmatic Golux, the mysterious stranger whose unpredictable interventions speed the story to its necessarily happy end.
Praise For The 13 Clocks…
"It's a modern take on the standard fairy tale... if you liked 'The Princess Bride,' you're going to like this. If you like a book by Jules Feiffer, 'A Barrel of Laughs, A Vale of Tears,' you'll like this. If you remember 'Fractured Fairy Tales' on Rocky and Bullwinkle, you'll like this. We suggest, read the beginning. We're not going to give away the plot, because it's all in the language with a book like this."  --Daniel Pinkwater, NPR Weekend Edition Saturday

"The great New Yorker humorist James Thurber wrote a few children's books, the best of which may be The 13 Clocks, a 1950 tale of a wicked duke who thinks he has stopped time. Newly reissued, with an intro by Neil Gaiman — who calls it ''probably the best book in the world'' — Clocks is the equal of any modern kid classic. By the time he wrote The 13 Clocks, Thurber was too blind to provide his own usual scratchy but vivid illustrations, so he enlisted his friend Marc Simont to do the drawings. Simont provided beautifully cartoonish yet subtle mini-paintings that convey Clocks' varying moods of gloom, menace, surprise, and joy." --Entertainment Weekly
"The 13 Clocks is one of the cleverest [fairytales] that any modern writer has been able to tell...there is no living author who moves about in fairyland with such wit and easy familiarity." -Time
"It's one of the great kids' books of the last century. It may be the best thing Thurber ever wrote. It's certainly the most fun that anybody can have reading anything aloud." -Neil Gaiman
"There are spys, monsters, betrayals, hair's-breadth escapes, spells to be broken and all the usual accouterments, but Thurber gives the proceedings his own particular deadpan spin...It all makes for a rousing concoction of adventure, humor and satire that defies any conventional classification." -LA Times
"My exemplary Thurber fairy tale is The 13 Clocks...a small masterpiece of respectful travesty honors the whole spectrum of the traditions." -The Hudson Review
"The 13 Clocks is especially wonderful." -The Washington Post
"Rich with ogres and oligarchs, riddles and wit. What distinguishes [The 13 Clocks] is not just quixotic imagination but Thurber's inimitable delight in language. The stories beg to be read aloud...Thurber captivates the ear and captures the heart." -Newsweek
"For true modern fairy tales we leave you with James Thurber...who wrote a tale...with charm and grace in The Thirteen Clocks. These I recommend if you are tired of Grimm." -ABC Radio
Thurber's stories are "for children to dream through and for adults to read as parables" -Guardian
"Everyone who reads to their children knows...to read the stuff that you love, or that you love to roll off your tongue...I'd put in a personal endorsement for James Thurber's The 13 Clocks here..." -Guardian
"Gothic, gruesome, and written with the wit of the master wordsmith.If you saw my copy, you'd believe me when I say I've read it more than 13 times." -Nicola Morgan, The Scotsman
New York Review of Books, 9781590172759, 124pp.
Publication Date: June 1, 2008
About the Author
James Thurber (1894 1961), one of the outstanding American humorists and cartoonists of the twentieth century, was born in Columbus, Ohio, and launched his professional writing career as a reporter for the Columbus Dispatch in 1920. He began writing for The New Yorker in 1927 after his friend E. B. White got him a job at the magazine. Though hampered by failing eyesight, Thurber wrote nearly forty books, including collections of essays, short stories, fables, and children s stories. He won a Tony Award for his popular Broadway play, A Thurber Carnival.Marc Simont (1915-2013) illustrated nearly a hundred books. He won a Caldecott Honor in 1950 for illustrating Ruth Krauss s The Happy Day, and in 1957 he was awarded the Caldecott Medal for his pictures in A Tree Is Nice by Janice May Udry. He is the illustrator for The New York Review Children s Collection books The Backward Day and The Wonderful O.Neil Gaiman is an award-winning author of novels, short stories, children's books, and graphic novels. Among his works are the children's books Coraline, The Wolves in the Walls, and The Day I Swapped My Dad for Two Goldfish; the Sandman graphic novels series; and the fantasy novels Stardust and Smoke and Mirrors. Originally from England, Gaiman now lives in the United States."
or
Not Currently Available for Direct Purchase