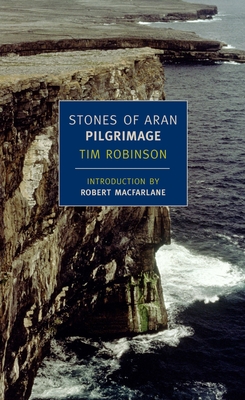 Stones of Aran
Pilgrimage
Paperback

* Individual store prices may vary.
Description
The Aran Islands, in Galway Bay off the west coast of Ireland, are a unique geological and cultural landscape, and for centuries their stark beauty and their inhabitants' traditional way of life have attracted pilgrims from abroad. The Aran Islands, in Galway Bay off the west coast of Ireland, are a unique geological and cultural landscape, and for centuries their stark beauty and their inhabitants' traditional way of life have attracted pilgrims from abroad. After a visit with his wife in 1972, Tim Robinson moved to the islands, where he started making maps and gathering stories, eventually developing the idea for a cosmic history of Árainn, the largest of the three islands. Pilgrimage is the first of two volumes that make up Stones of Aran, in which Robinson maps the length and breadth of Árainn. Here he circles the entire island, following a clockwise, sunwise path in quest of the "good step," in which walking itself becomes a form of attention and contemplation.

Like Annie Dillard's Pilgrim at Tinker Creek and Bruce Chatwin's In Patagonia, Stones of Aran is not only a meticulous and mesmerizing study of place but an entrancing and altogether unclassifiable work of literature. Robinson explores Aran in both its elemental and mythical dimensions, taking us deep into the island's folklore, wildlife, names, habitations, and natural and human histories. Bringing to life the ongoing, forever unpredictable encounter between one man and a given landscape, Stones of Aran discovers worlds.

Robinson's voyage continues in Stones of Aran: Labyrinth
Praise For Stones of Aran: Pilgrimage…
"This is a heart-felt and informative micro-history, and a eulogy and an elegy as well. Robinson is especially good on Aran's once great but now vanished kelp industry, and all that was involved....this is a fine addition to a fertile genre." --The Times (London)

"A loving anatomy of the largest of the Aran Islands off the West Coast of Ireland, in which the point where nature and culture meet in the island is observed with great beauty and precision." -Colm Toibin

"Tim Robinson's maps and books honor the landscapes they describe. As invitations, they irresistibly beckon the archeologist, botanist, geologist, bird-watcher, folklorist, student of the Irish language, or just plain tourist." -Chet Raymo.

"Stones of Aran: Pilgrimage and Labyrinth...is a necessity for all visitors and walkers."--Guardian

"An exquisitely detailed portrait of a special landscape, this is a gem-like addition to the travel genre."-Publishers Weekly

"Robinson takes the reader on a meditative walking tour of Aran...[he] seeks the essence of an increasingly distant Celtic past...like a visitor peering through the warped and colored glass of an ancient church window." -Los Angeles Times

"A kind of travel writing The New Yorker sometimes sponsors: a virtuosity of gratuitous fact-gathering, a penitential recording of minutiae, a recitation of information as if it were prayer." -New York Times

"Looked upon with a tactful, eager, strategic care that is as tender in its address as an admission of love...It is a wonderful achievement." -Seamus Deane, London Review of Books

"The best book ever written by an Englishman about Ireland." -Independent

"One of the most original, revelatory and exhilarating works of literature ever produced in Ireland." -Irish Times

"Rapt, encyclopedic volumes...Robinson has done for the west of Ireland what Ruskin did for Venice, Proust for the voids and vasts of time." -Telegraph

"Climate and location, flora and fauna, culture, myth and legend, people, and over it all, the veneer of language and place name...Tim Robinson achieves this ultimate map in Stones of Aran" -New Scientist

"Wholly irresistible." -Observer

"This is a marvelous book--quirky and endearing, universal in scope yet with an extraordinary sense of place and purpose." -Sydney Morning Herald

"One of the most interesting and important books produced in Ireland in the twentieth century. In prose as layered and rich as the area he explores, Robinson deals with space in the way Proust deals with time." --Sean Dunne
NYRB Classics, 9781590172773, 416pp.
Publication Date: August 5, 2008
About the Author
Tim Robinson was brought up in Yorkshire. He studied at Cambridge University and worked as a teacher and artist in Istanbul, Vienna, and London. In 1972 he moved to the Aran Islands, where he gained fame as a mapmaker. He learned Gaelic and began preserving Irish place-names, winning respect as an environmentalist and a Ford European Conversation Award. Stones of Aran: Pilgrimage, published in 1985, won the Irish Book Award Literature Medal and a Rooney Prize Special Award for Literature in 1987. His other books include Stones of Aran: Labyrinth, Setting Foot on the Shores of Connemara, and My Time in Space.

Robert Macfarlane's Mountains of the Mind (2003), about wilderness and the Western imagination, won the Somerset Maugham Award and the Guardian First Book Award, among other prizes.
or
Not Currently Available for Direct Purchase