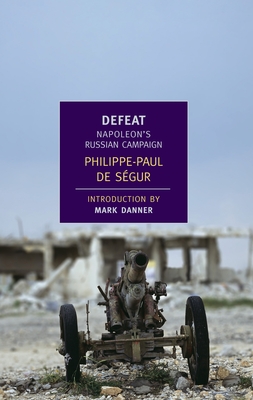 Defeat: Napoleon's Russian Campaign (Paperback)
Napoleon's Russian Campaign
New York Review of Books, 9781590172827, 295pp.
Publication Date: September 1, 2008
Description
In the summer of 1812 Napoleon gathered his fearsome Grande Armee, more than half a million strong, on the banks of the Niemen River. He was about to undertake the most daring of all his many campaigns: the invasion of Russia. Meeting only sporadic opposition and defeating it easily along the way, the huge army moved forward, advancing ineluctably on Moscow through the long hot days of summer. On September 14, Napoleon entered the Russian capital, fully anticipating the Czar's surrender. Instead he encountered an eerily deserted city--and silence. The French army sacked the city, and by October, with Moscow in ruins and his supply lines overextended, and with the Russian winter upon him, Napoleon had no choice but to turn back. One of the greatest military debacles of all time had only just begun. In this famous memoir, Philippe-Paul de Segur, a young aide-de-camp to Napoleon, tells the story of the unfolding disaster with the keen eye of a crack reporter and an astute grasp of human character. His book, a fundamental inspiration for Tolstoy's War and Peace, is a masterpiece of military history that teaches an all-too-timely lesson about imperial hubris and its risks.
About the Author
Philippe-Paul de Segur (1780-1873), the scion of an old French aristocratic family, was the son of Louis-Philippe de Segur, a diplomat and historian who welcomed the Revolution and aligned himself with Napoleon. Sharing his his father's sympathies, the young Segur enlisted in the French cavalry in 1800 and quickly rose to became a member of Napoleon's personal staff. Segur distinguished himself repeatedly in battle and supported the Emperor until the final defeat at Waterloo. His History of Napoleon and the Grande Armee in the Year 1812 was published in two volumes in 1824, and the book, a great success which sold out ten editions in three years, was widely translated. Effectively retired from the army during the Restoration, Segur was promoted to lieutenant general and received a peerage after the establishment of the July Monarchy in 1830. He was enrolled in the French Academy in 1830 and received the Grand Cross of the Legion of Honor in 1847. His other books include a History of Russia and Peter the Great as well as his posthumously published memoirs. Mark Danner has written about war and politics for two decades, covering conflicts in Latin America, the Balkans, and the Middle East, among other stories. His books include The Massacre at El Mozote, Torture and Truth, and The Secret Way to War. J. David Townsend was a Methodist minister who served for sixteen years as a missionary in Algeria and was the pastor of churches in Paris and in Cohasset, Massachusetts. His translation and abridgement of Segur's masterpiece was first published in 1958 as Napoleon's Russian Campaign.
Praise For Defeat: Napoleon's Russian Campaign…
"This is War and Peace without the peace and the love interest, and therefore a fraction of the length. But it was Tolstoy's major source: the History of Napoleon and the Grande Armée in 1812, the diaries of Bonaparte's aide de camp, Philippe-Paul, Comte de Ségur, was first published in 1824. Defeat is a reissue of the 1958 translation by the late David Townsend, with an introduction by the journalist and historian Mark Danner...His account of the march on Moscow is a work of reflection and justification as well as narrative, but it still conveys the horror." --London Times

"Count de Ségur's famed diary of Napoleon's Russian campaign is not just another book about Bonaparte; it is the main source of a thousand schoolbooks, cartoons, legends, sermons and second thoughts for would-be conquerors…Ségur wonderfully evokes the opening scenes of the disastrous war…[he] was a war chronicler ranking with Herodotus and Bernal Díaz." –Time magazine

"The influence of the work now made available in a new translation, was felt for many years. The giants of literature used it as a source book and as an inspiration…It is still the most vivid account of that apocalyptic disaster…it's appeal is eternal." –The New York Times (June 22, 1958)

"The book is valuable…a most entertaining and interesting work." –The New York Times (June 5th, 1895)

"Ségur served throughout the Napoleonic era as an aide-de-camp to the Emperor, becoming a brigadier on the eve of the Russian campaign. His memoirs remain the classic account of the destruction of the Grand Army." –Parameters, The US Army War College Quarterly

Military History Appeal: "One of the most celebrated debacles in all military history, it is the subject of a brilliant eye-witness account…extremely well written…Filled with exact observation and filled also with the grief and horror Ségur had personally experienced, it is one of the enduring classics of war memoirs. Its narrative of battles and routs, starvation and panic, is outstanding. It's close-up view of Napoleon vacillating and apprehensive, blundering into defeat, is fascinating." –The New York Times (July 25, 1958)
Advertisement