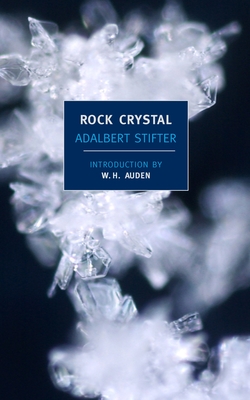 Rock Crystal
Paperback

* Individual store prices may vary.
Other Editions of This Title:
Paperback (5/22/2019)
Paperback (7/14/2013)
Paperback (4/2/2013)
Paperback (1/1/2005)
Description
Seemingly the simplest of stories—a passing anecdote of village life— Rock Crystal opens up into a tale of almost unendurable suspense. This jewel-like novella by the writer that Thomas Mann praised as "one of the most extraordinary, the most enigmatic, the most secretly daring and the most strangely gripping narrators in world literature" is among the most unusual, moving, and memorable of Christmas stories. Two children—Conrad and his little sister, Sanna—set out from their village high up in the Alps to visit their grandparents in the neighboring valley. It is the day before Christmas but the weather is mild, though of course night falls early in December and the children are warned not to linger. The grandparents welcome the children with presents and pack them off with kisses. Then snow begins to fall, ever more thickly and steadily. Undaunted, the children press on, only to take a wrong turn. The snow rises higher and higher, time passes: it is deep night when the sky clears and Conrad and Sanna discover themselves out on a glacier, terrifying and beautiful, the heart of the void. Adalbert Stifter's rapt and enigmatic tale, beautifully translated by Elizabeth Mayer and Marianne Moore, explores what can be found between Christmas Eve and Christmas Day—or on any night of the year.
Praise For Rock Crystal…
"Two children, Conrad and Sanna, walk from their village in the Alps to visit their grandparents the day before Christmas. On their journey home, they take a wrong turn and are feared lost in a snowstorm. Lyrical and descriptive, this brief tale by Austrian writer, poet, and painter Stifter (1805–68) will do well where literary fiction is appreciated." --Library Journal

"On one level it can appear as timeless and simple as a folktale. Yet Thomas Mann came closer to the true experience of reading Rock Crystal when he praised Stifter as 'one of the most extraordinary, the most enigmatic, the most secretly daring and the most strangely gripping narrators in world literature.' In Rock Crystal, as in a Mann story, plot and description are never 'innocent,' no matter how lovingly they are elaborated. Rather, as the novella unfolds, succinctly but without hurry, it evolves into a parable of frightening depth. It is no more than 25,000 words, if that, but in this short space Stifter transports the reader to the heart of the world's mystery, before returning him to a comfortable dailiness that henceforth cannot help but feel haunted." --The New York Sun

"A miracle of quiet beauty." –The New Yorker

"W. H. Auden in The Times called this ingenuous, mystical tale 'a quiet and beautiful parable about the relation of people to places, of man to nature.' …Beyond its leisurely beginning lies a painstakingly polished and fashioned gem, an ageless, mystical folktale whose return deserves a 12 month celebration." –The New York Times, 1965

"[Rock Crystal] has remained dear to the hearts of lovers of German literature. A beautiful new translation by Elizabeth Mayer and Marianne Moore…It's account of the courage and faith of little children and its reverent feeling for the beauty of nature and for the sacred symbolism of Christmas have a value that has little to do with literature. It is one of pure feeling." –The New York Times, 1945

"Adalbert Stifter is ranked by critics among the best prose writers of Austria. We do not think the praise is too high." –The Christian Examiner

"The work of Adalbert Stifter, who was one of the very few great novelists in German literature, can be compared to no other writer of the nineteenth century in pure happiness, wisdom, and beauty… Stifter became the greatest landscape-painter in literature…someone who possesses the magic wand to transform all visible things into words and all visible movements–into sentences." –Hannah Arendt

"Whereas romances are rarely fearsome, even when teeming with dragons, tales quite often are. The fear that must underlie even our most cordial relation with the elements has an established place in them. I think of Rock Crystal (Bergkristalle) in the wonderful collection Colored Stones (Bunte Steine, 1853) of the Austrian Adalbert Stifter; it tells of two children, brother and sister, lost in a mountain snowstorm at Christmas-time while returning from a custom-honored three-hour walk to their grandmother's house down the valley. The quite ordinary and familiar two-horned alp traversed by the shoemaker's children is a mountain more magic than any of Thomas Mann's imagining." –Mary McCarthy, The New York Review of Books
NYRB Classics, 9781590172858, 96pp.
Publication Date: September 16, 2008
About the Author
Adalbert Stifter (1805–1868), the Austrian writer, poet, and painter, grew up in Bohemia and was educated at the University of Vienna. Among his most famous works are the novel Indian Summer and a collection of stories, Colored Stones.

Fanny Howe, the author of more than twenty books of poetry and prose, was the recipient of the 2001 Lenore Marshall Poetry Prize for her Selected Poems. She was short-listed for the Griffin Poetry Prize in 2001 and 2005.

Marianne Moore (1887–1972) is universally recognized as one of America's finest poets.

Elizabeth Mayer (1884–1970) was a German-born American translator and editor.