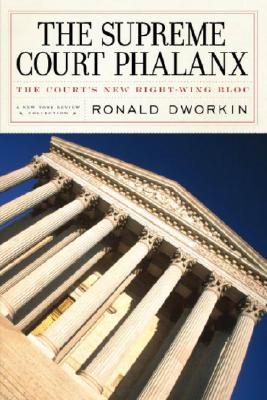 The Supreme Court Phalanx: The Court's New Right-Wing Bloc (Paperback)
The Court's New Right-Wing Bloc
New York Review of Books, 9781590172933, 71pp.
Publication Date: May 13, 2008
* Individual store prices may vary.
or
Not Currently Available for Direct Purchase
Description
George W. Bush's nominations of John Roberts and Samuel Alito to the Supreme Court in 2005 were widely expected to turn it sharply to the right. But no one foresaw the rapidity or the revolutionary zeal with which, as Ronald Dworkin writes, the Court would begin overruling, most often by stealth, the central constitutional doctrines that generations of past justices, conservative as well as liberal, had constructed.
Dworkin examines the key decisions of the Court's 2006- 2007 term and argues that these two new justices, along with Antonin Scalia and Clarence Thomas, have created an unbreakable phalanx bent on remaking constitutional law. They are guided not by political ideology or conservative judicial principle but rather by partisan, cultural, and perhaps religious allegiance, and disdain tradition, precedent, even careful legal reasoning.
In his analyses of the prior records of Roberts and Alito, Dworkin finds ample evidence that both have long held strong conservative convictions. But during their confirmation hearings, they gave little hint of their judicial philosophy, hiding behind vague promises to make decisions according to the rule of law. If senators fail to press nominees for candid answers to the controversial questions of principle underlying the Constitution, Dworkin contends, then the confirmation process is irrelevant.
As a result, the Court may be dominated for a generation by justices whose views are far from those of most Americans. Its past decisions on issues such as abortion, affirmative action, and executive power, Dworkin fears, are vulnerable to reversal in the next several years as the fiercely conservative justices set out to rewrite American constitutional law without much caring about the logic of the arguments they use to do so. Bush's appointment of Roberts and Alito may prove to be among the worst of the many disasters of his miserable administration.
About the Author
Ronald Dworkin is Frank Henry Sommer Professor of Law and Philosophy at New York University and Jeremy Bentham Professor of Law and Philosophy at University College London. His books include Is Democracy Possible Here?, Justice in Robes, Sovereign Virtue: The Theory and Practice of Equality, and Freedom s Law. He is the 2007 winner of the Ludvig Holberg International Memorial Prize for his pioneering scholarly work of worldwide impact. "
Praise For The Supreme Court Phalanx: The Court's New Right-Wing Bloc…
"His pioneering scholarly work has had worldwide impact." —Ludvig Holbert International Memorial Prize 2007 award committee

"An outstanding philosopher of politics and law who is the most eloquent, thoughtful and judicious spokesman of the new centre-left-liberal..." –A.C. Grayling, Financial Times

"Dworkin is that rare creature, a public intellectual. He writes with clarity and economy...He sets out not just to persuade us to think differently, but also to act differently. He wants to change not just our beliefs but our behavior too." –Anthony Julius, Sunday Telegraph (London)

"Dworkin] has been in many ways the most systematic moral, political and legal thinker of the past three decades in the Anglophone world." –John Dunn, Times Higher Education Supplement

"Dworkin's prolific scholarly and journalistic writings have defined the intellectual agenda for academic liberals in law schools as well as philosophy and political-science departments for a quarter of a century." –Peter Berkowitz, National Review

"Dworkin's theories have created shock waves among jurisprudential scholars." –Time Magazine

"Ronald Dworkin is America's leading legal philosopher...No subject ever seems quite the same after one has read Dworkin's treatment of it." –Journal of Philosophy

"Probably the most influential figure in contemporary Anglo-American legal theory." —Reading Dworkin Critically

"One of the nation's foremost legal philosophers." –Tom Liniger, Michigan Law Review

"For over three decades, Ronald Dworkin has been the most influential and illuminating analyst of the view that judges can or should merely "follow the law." –Cass Sunstein, New Republic

"Ronald Dworkin occupies a distinctive place in both public life and philosophy. In public life, he is a regular contributor to The New York Review of Books and other widely read journals. In philosophy, he has written important and influential works on many of the most prominent issues in legal and political philosophy. In both cases, his interventions have in part shaped the debates he joined." –Contemporary Philosophy in Focus

"[Dworkin's] ideas are stimulating and his writing is able, forcible and clear." –Boston Globe

"Dworkin is almost always right about legal principles and always elegant." –Mortimer Sellers, Washington Post
Advertisement