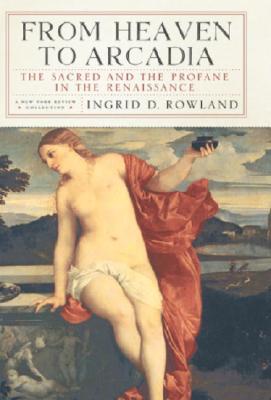 From Heaven to Arcadia: The Sacred and the Profane in the Renaissance (Paperback)
The Sacred and the Profane in the Renaissance
New York Review of Books, 9781590172957, 294pp.
Publication Date: October 1, 2008
Description
From the revelations of classical statuary pulled from the Roman soil as the popes began rebuilding the city in the fifteenth century, to the myth of serenity that Venice constructed to conceal its physical and political fragility, to bloody yet cultured Florence under the Medici, Ingrid D. Rowland traces the worldly, unworldly, and otherworldly strivings of artists, writers, popes, and politicians during that great "outburst of mental energy" we know as the Renaissance.Here are Botticelli, whose illustrations for the Divine Comedy reveal him to be one of Dante's most careful readers; the multifaceted genius of Leonardo; the astonishing mastery of Titian and the erratic brilliance of artists like Correggio, Caravaggio, and Artemisia Gentileschi; the enigmatic erotic novel Hypnerotomachia Poliphili, the decoding of which was the subject of the recent novel The Rule of Four; the Western fascination with the mysteries of Egypt; and the glittering spiritual ferment of late Byzantium, which as it collapsed passed on so many ideas to Renaissance Italy.But beyond its artistic accomplishments, Rowland writes, "Renaissance life at its most distinctive was the intangible, unworldly life of the mind." In her pages astronomers and astrologists, poets and philosophers, pornographers and prostitutes jostle for attention with painters and sculptors. Among them the inquisitive Jesuit scholar Athanasius Kircher stands out as a polymath who ranged over nearly every field of knowledge. Even though his commingling of scientific observation and hermetic symbolism is now obsolete, he remains for Rowland "a builder of connections who insisted on seeing harmony in the midst of disorder"–and thus one of the most exemplary Renaissance figures of all.
About the Author
Ingrid D. Rowland is a professor, based in Rome, at the University of Notre Dame School of Architecture. A frequent contributor to "The New York Review of Books," she is the author of "The Culture of the High Renaissance: Ancients and Moderns in Sixteenth-Century Rome" and "The Scarith of Scornello: A Tale of Renaissance Forgery." She has published a translation of Vitruvius' "Ten Books of Architecture." Her latest books are a biography of Giordano Bruno and a translation of Bruno's dialogue "On the Heroic Frenzies."
Praise For From Heaven to Arcadia: The Sacred and the Profane in the Renaissance…
"Ingrid Rowland's amazing essays are over the top and down the other side. They pop, they sparkle, they inform, and they add up to a rich and vivid mosaic of Renaissance culture, its ancient sources, and its contemporary interpreters. Above all, they show us why deep scholarship and high style matter so much in this gray age of the world's history." –Anthony Grafton

"...as a brightly lit bustle through widely scattered topics, From Heaven to Arcadia offers pleasures on almost every page....the essays are celebrations of the glories of the Renaissance and those who write about them." –Theodore K. Rabb, The Times Literary Supplement
Advertisement