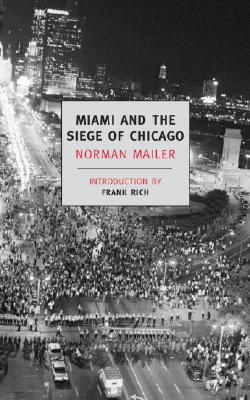 Miami and the Siege of Chicago (Paperback)
An Informal History of the Republican and Democratic Conventionsof 1968
New York Review of Books, 9781590172964, 223pp.
Publication Date: July 15, 2008
Other Editions of This Title:
MP3 CD (7/5/2016)
* Individual store prices may vary.
Description
1968. The Vietnam War was raging. President Lyndon Johnson, facing a challenge in his own Democratic Party from the maverick antiwar candidate Eugene McCarthy, announced that he would not seek a second term. In April, Martin Luther King Jr. was assassinated and riots broke out in inner cities throughout America. Bobby Kennedy was killed after winning the California primary in June. In August, Republicans met in Miami, picking the little-loved Richard Nixon as their candidate, while in September, Democrats in Chicago backed the ineffectual vice president, Hubert Humphrey. TVs across the country showed antiwar protesters filling the streets of Chicago and the police running amok, beating and arresting demonstrators and delegates alike.
In "Miami and the Siege of Chicago," Norman Mailer, America's most protean and provocative writer, brings a novelist's eye to bear on the events of 1968, a decisive year in modern American politics, from which today's bitterly divided country arose.
About the Author
Norman Mailer (1923-2007) was the author of more than thirty books, including "The Naked and the Dead;" "The Armies of the Night," for which he won a National Book Award and the Pulitzer Prize; "The Executioner s Song," for which he won his second Pulitzer Prize; and" The Castle in the Forest."

Frank Rich is a columnist for The New York Times. His latest book is "The Greatest Story Ever Sold: The Decline and Fall of Truth from 9/11 to Katrina. ""
Praise For Miami and the Siege of Chicago: An Informal History of the Republican and Democratic Conventionsof 1968…
"Mailer was a poet laureate of the punch, and this classic New Journalism--style report on the '68 conventions sizes up presidential wanna-bes as if they were a batch of second-rate palookas... His descriptions alone are reason to read this still-relevant book." --Time Out New York

"Don't skim...if you dash your way through 'Miami and the Siege of Chicago,' Mailer's masterful account of the upheaval that occurred 40 years ago when Republicans and Democrats met in those two cities, there to select their presidential nominees, you'll miss a lot. First published in 1968, and reissued earlier this month by New York Review Books, Mailer's report glows with descriptions of the people and the places whose permanent identities were forged in the hot furnace of that tragic, fateful year. To understand 1968, you must read Mailer..." --Chicago Tribune

"Our Democratic primaries are run the way they are now mainly because of the way they were run then...The almost-closing line of the book is the prediction that Mailer wishes he had made to Eugene McCarthy's daughter: 'Dear Miss, we will be fighting for forty years.' He got that right, among many other things." --Christopher Hitchens, The Atlantic

"The nostalgic or the curious can seek out Norman Mailer's Miami and the Siege of Chicago...which analyzed events inside and beyond the convention hall with its author's characteristic, and in this case perfectly appropriate, blend of intellectual grandiosity and journalistic acumen." --A. O. Scott, The New York Times

One "of the era's definitional books." --The Nation

"Wrong as often as he was right, Mailer seems so brave precisely because he was so ready to risk looking foolish. In Miami and the Siege of Chicago, which he wrote on assignment for Harper's, Mailer was not only perfectly attuned to the moment but prescient." --The Boston Phoenix

"Dazzling accounts of the Republican and Democratic party conventions of 1968..."--Newsday

"For historians who wish for the presence of a world-class literary witness at crucial
moments in history, Mailer in Miami and Chicago was heaven-sent." -The Washington
Post

"This is an excellent account of the conventions...Mailer sets the scene sensually like Dickens...his vignettes have imperial authority." -The New York Times Book Review

A "triumphantly vivid work of journalism." -Book World

"A political classic" -The Boston Globe

"This is Mailer's classic account of the Democratic and Republican conventions of
1968. It is an insightful portrayal of the politicians and the turbulent time." -United Press International

"A tense balance between social and literary observation which often reads like a good, old-fashioned novel in which suspense, character, plot revelations, and pungently describable action abound...The peculiar power of these books comes not from the fact that Mailer offers us better writing than that to which we are generally accustomed in politics, but, rather, from the uncanny way in which he has managed to maintain in these works the stylistic play and form of the most complex literary fiction." -The New York Review of Books (reviewed with The Armies of the Night)
or
Not Currently Available for Direct Purchase