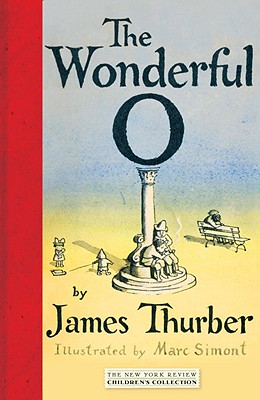 The Wonderful O
Hardcover

* Individual store prices may vary.
Description
Black and Littlejack are bad men. Littlejack has a map that indicates the existence of a treasure on a far and lonely island. He needs a ship to get there. Black has a ship. So they team up and sail off on Black's vessel, the Aeiu. "A weird uncanny name," remarks Littlejack, "like a nightbird screaming." Black explains that it's all the vowels except for O. O he hates since his mother got wedged in a porthole. They couldn't pull her in so they had to push her out.
Black and Littlejack arrive at the port of the far and lonely island and demand the treasure. No one knows anything about it, so they have their henchmen ransack the place--to no avail. But Black has a better idea: he will take over the island and he will purge it of O.
The vicissitudes visited on the islanders by Black and Littlejack, the harsh limits of a life sans O (where shoe is she and woe is we), and how finally with a little luck and lots of pluck the islanders shake off their tyrannical interlopers and discover the true treasure for themselves (Oh yes--and get back their O's)--these are only some of the surprises that await readers of James Thurber's timelessly zany fairy tale about two louts who try to lock up the language--and lose.
Praise For The Wonderful O…
"Handsomely reprinted, for children who can spell well, is James Thurber's 1957 story The Wonderful O, about a tyrannical pirate who bans everything on an island that contains the letter O - because his mother was once stuck in a porthole, with tragic consequences. Full of word lists and wordplay, with charming illustrations by Marc Simont, it is a verbally ambitious little classic for logophiles. Or, as the pirate would have it, lgphiles." --The Sunday Times (London)

"A playful allegory on love, valor and freedom, and a ceaseless romp with wordplay." --Publishers Weekly

"The Wonderful O, published in 1957, is a tale for children, and a reminder for adults, of the joys of love, liberty, language and, not least, humor. It has pirates and treasure and magic and a message that especially in complacent times must not be forgotten...The Wonderful O is a book worth finding, wherever you can, and reading, as one of its characters concludes, 'lest we forget.'" –The Wall Street Journal
 
"Among James Thurber's 30 books were several for children. Two reader favorites of the Fifties, The Thirteen Clocks and The Wonderful O, have returned, illustrations by Marc Simont intact. These are funny, richly textured stories that pile on the fantasy and will make middle readers laugh a lot." –The Record (NJ)
 
"The Wonderful O and The 13 Clocks...witty, funny, imaginative tales which will earn Thurber a new generation of admirers. " –The Baton Rouge Sunday Advocate

"No one else could think up a fairy story, tale, legend, exercise or what have you, based upon 'O' alone. Certainly no one else could bring it off if he had. Mr. Thurber, however, can, did, and does. No more worthy 'O' words could go before The Wonderful O than another O Wonderful." –Lewis Nichols, The New York Times

"A satirical adventure story about two scoundrels, one of whom has a violent dislike of the letter 'O,' and a search for buried treasure." –Sam Zolotow, The New York Times

"A satire on dictatorship and a celebration of the spirit of freedom essential to the lively pursuit of happiness…The form of the story is wonderfully adroit." –Charles Poole, The New York Times

"A prodigious performance. As a medium in the great séance of letters he is incomparable; he has only to utter an incantatory moan, and words levitate, phrases rap out unexpected messages, and whole sentences turn into ectoplasm." –The New Yorker

"The loveliest and liveliest of parables. The end is a real surprise." –Harper's Magazine

"Excellent Thurber. Besides being a highly original fairy tale and a rollicking linguistic gambol, The Wonderful O is a still further fable for our time–perhaps the best and most serious that Thurber has written." –New York Herald Tribune Book Review

"A dazzling feat of verbal virtuosity, with frequent lapses into interior rhyme." –Library Journal

"While ostensibly for children who will love its wit, its rhythms, and its free-flowing imagination, it will speak irresistibly to older minds and funnybones and, one might add, heart." –Boston Herald

"Perhaps the worthiest contemporary fabulist in English. His effects are almost musical. He gets us to laugh and gulp down another lesson in the value of human liberty at one end and the same time." –San Francisco Examiner

"Pure and unadulterated Thurber, and that means Thurber at his zaniest. Not since Lewis Carroll has such foolishness masked such wisdom; and besides, it's a gale of fun from start to finish." –St. Louis Globe Democrat

"Like all good fables, it is told in simple language and in a manner children can delight in." –Chicago Tribune

"Witty...extremely clever...It has a moral." –The Christian Science Monitor

"O, wonderful! James Thurber's grown-up kids' books, The Wonderful O and The 13 Clocks, long out of print, are back -- rich with ogres and oligarchs, riddles and wit. What distinguishes them is not just quixotic imagination but Thurber's inimitable delight in language. The stories beg to be read aloud...Thurber captivates the ear and captures the heart." —Newsweek

"A disadvantaged world without O is amusingly imagined in James Thurber's 1957 children's book, The Wonderful O, about pirates who land on an island called Ooroo and tyrannically expunge their patron letter." —Ottawa Citizen
New York Review of Books, 9781590173091, 80pp.
Publication Date: March 31, 2009
About the Author
James Thurber (1894-1961) was one of the outstanding American humorists and cartoonists of the twentieth century. Thurber wrote nearly forty books: collections of essays, short stories, fables, and children's stories, including The 13 Clocks, which is published in The New York Review Children's Collection. His other books for children include: Many Moons (1943), a Caldecott Honor Book; The Great Quillow (1944); and The White Deer (1945). Marc Simont (1915-2013) illustrated nearly a hundred books. He won a Caldecott Honor in 1950 for illustrating Ruth Krauss's The Happy Day, and in 1957 he was awarded the Caldecott Medal for his pictures in A Tree Is Nice by Janice May Udry. He is the illustrator for The New York Review Children's Collection books The Backward Day and The 13 Clocks.
or
Not Currently Available for Direct Purchase