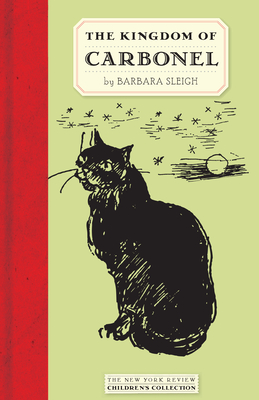 The Kingdom of Carbonel (Hardcover)
New York Review of Books, 9781590173152, 237pp.
Publication Date: June 16, 2009
Description
Night falls and Cat Country comes to life: town walls turn into roads, roof and treetop become mountain and field. The black cat Carbonel and his consort, Queen Blandamour, have long reigned over this magical place, where humans are scarce, cats roam freely, and the rivers flow with cream. But the wicked Grisana, a beautiful gray Persian who makes Lady Macbeth look like a lap cat, has plans of her own for Cat Country, and Carbonel and his children, Prince Calidor and Princess Pergamond, are all that stand between her and the throne. With the backing of Carbonel's old foe, the witch Mrs. Cantrip, and her apprentice, Miss Dibdin, Grisana may be unstoppable. Luckily, Carbonel can count on Rosemary and John, his young friends from Carbonel: The King of the Cats, to come to his aid. Together with the good creatures of Cat Country--and with the help of a few magical spells--the children confront Grisana and her nasty crew. It is a battle for the future of Cat Country and only the strongest magic will prevail.
About the Author
Barbara Sleigh (1906--1982) is the author of Carbonel: The King of The Cats (The New York Review Children's Collection, 2004) and its two sequels, The Kingdom of Carbonel and Carbonel and Calidor (to be published by The New York Review Children's Collection in 2010). She worked for the BBC's Children's Hour. Besides being a well-known illustrator of children's books, Richard Kennedy (1910--1989) worked in oils and watercolors. He went to work for Leonard and Virginia Woolf at their embryonic Hogarth Press in 1926, at the age of sixteen, and was propelled into Bloomsbury life. He is the author of A Boy at Hogarth Press, an illustrated diary of his years there.
Praise For The Kingdom of Carbonel…
"A delightful story for those who like impossible things to happen in a humdrum world...The children are lively, the grown-ups (including the witch) colorful and the mingling of magic and reality is most effective." –The New York Times

"The Carbonel books are excellent, imbued with wonder, dry humor, and practicality in equal measure, as well as a clear-eyed and sometimes sardonic love of cats... The moment when Cat Country first made itself known in The Kingdom of Carbonel gave me a flash of wonder, of entering into a larger world. Books that do this are to be cherished." --Pamela Dean, author of The Secret Country

"The magic is potent in The Kingdom of Carbonel...As told in Barbara Sleigh's graceful, humorous manner it seems only right and natural that those two English children, Rosemary and John, should again meet Mrs. Cantrip, that retired witch who still can't resist dabbling in mischief and that hey should champion their old friend the black cat whose kingdom is threatened and whose wife and kittens are in grave danger. The children have some very worthwhile experiences including trips in an airborne rocking chair (very bumpy), an accident with an invisibility spell and the challenge of Mrs. Cantrip's Minuscule Magic powder." –The New York Times
Advertisement