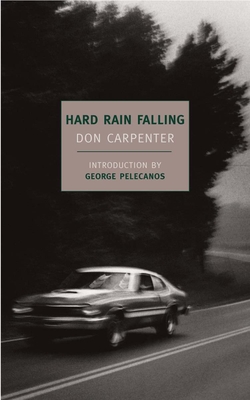 Hard Rain Falling
Paperback

* Individual store prices may vary.
Other Editions of This Title:
MP3 CD (5/3/2016)
Description
A hardboiled novel about life in the American underground, from the pool halls of Portland to the cells of San Quentin. Simply one of the finest books ever written about being down on your luck. 

Don Carpenter's Hard Rain Falling is a tough-as-nails account of being down and out, but never down for good—a Dostoyevskian tale of crime, punishment, and the pursuit of an ever-elusive redemption. The novel follows the adventures of Jack Levitt, an orphaned teenager living off his wits in the fleabag hotels and seedy pool halls of Portland, Oregon. Jack befriends Billy Lancing, a young black runaway and pool hustler extraordinaire. A heist gone wrong gets Jack sent to reform school, from which he emerges embittered by abuse and solitary confinement. In the meantime Billy has joined the middle class—married, fathered a son, acquired a business and a mistress. But neither Jack nor Billy can escape their troubled pasts, and they will meet again in San Quentin before their strange double drama comes to a violent and revelatory end.
Praise For Hard Rain Falling…
"Tarmac-tough dialogue and road-novel deliquent action is customised with a tender intensity about both friendship and sexual passion.  Often savage, never cynical, Carpenter brings gold to the grit."—Boyd Tonkin, The Independent
"Hard Rain Falling is a unique read; violent, tender, inexorable, and melancholic; a beat-era book of disaffected young men devoid of On the Road euphoria but more poignant and gripping for its fatalistic grounding. The small lives contained herein are indelible." —Richard Price
"You always hear that Don Carpenter was a writer's writer, hugely admired by critics and novelists for his brilliance and precision, but every civilian reader I know was putty in his hands once that person opened any of his astonishing novels. He could be hilarious, and he could break your heart and he could write about ego and frailty as well as anyone on earth. I loved him like crazy." --Anne Lamott
"Don Carpenter is a particular favorite of mine. His first novel, Hard Rain Falling, might be my candidate for the other best prison novel in American literature." --Jonahtan Lethem
"Carpenter's masterpiece, long out of print, is the definitive juvenile-delinquency novel and a damning indictment of our justice system that is still relevant today." -- George Pelecanos, The Village Voice
"Carpenter's prose is all muscle and sinew." --Newsweek
"Don Carpenter combines a reporter's eye for external detail with a novelist's sense of inner depts." --Los Angeles Times
"Hard Rain Falling roars through dim Western streets like an articulate Hells Angel looking for a fight... The book is tough and vital, built with slabs of hard prose." --The New York Times
"Hard Rain Falling is Last Exit to Brooklyn amended but unaltered by cries of affection under the heap of warped and busted souls." --The New York Times
"Full of lyrical evocations of a lost working-class San Francisco, the novel also contains possibly the best two-page drunken celebration of cheap, corny, vulgar, un-cleaned-up Market Street ever set in print." --The San Francisco Chronicle
"A powerful, uncompromising book, realistically written, brutal in the raw intensity of its action...highly recommended." --Library Journal
"Mr. Carpenter's debut is most auspicious. He is a serious writer." --Book Week
"Not since...Last Exit to Brooklyn has there come a first novel of such extraordinary impact. It shouts for readers." --Cleveland Plain Dealer
"He chills us with documentation...an imaginative work...boldly executed." --The New York Times Book Review
"Don Carpenter is a natural...a tough but compassionate soul...an absolutely honest writer who never strikes a false note." --Robert Brustein
"Full of passionate intensity...rough and tumble picaresque." --Charlotte Observer
"A violent, action-filled...first novel by an explosive 34 year old San Francisco writer...This tough guy novel that explores an underworld is a work of real accomplishment." --The San Francisco Chronicle

"Carpenter was a straight man to the more illustrious neo-Beat and -Dada artists of the era ... a steadying antidote to the counterculture bedlam of the tumultuous 1960s and beyond." —Douglas Brinkley, The New York Times
NYRB Classics, 9781590173244, 336pp.
Publication Date: September 8, 2009
About the Author
Don Carpenter (1931–1995) was born in Berkeley, California, and grew up on the West Coast. He served in the air force during the Korean War, attended the University of Portland, and received a B.S. from Portland State College and an M.A. from San Francisco State College. Carpenter, his wife, Martha, and their two daughters settled in Mill Valley, near San Francisco, and he became good friends with the local writers Evan Connell and, especially, Richard Brautigan. His first book, Hard Rain Falling, was published in 1966 and was followed by nine other novels as well as several collections of short stories. Carpenter also wrote for the movies and television and spent a good deal of time in Hollywood, the subject of several of his novels. Plagued by poor health in his later years, he committed suicide at the age of sixty-four.
George Pelecanos is the author of twenty books and was a writer, story editor, and producer on the HBO series The Wire and Treme and is co-creator, with David Simon,of The Deuce.