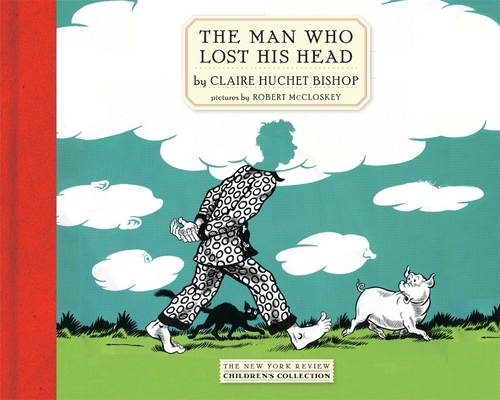 The Man Who Lost His Head
Hardcover

* Individual store prices may vary.
Description
It's bad news when you wake up in the morning and find you've lost your head, especially if it's an especially agreeable and handsome head, but there you go, such things happen. In any case, the man who loses his head in The Man Who Lost His Head isn't about to grin (that is, if he could grin) and bear it. No, he'll make himself a new one, and starting with a pumpkin and moving on to a parsnip and finally picking up a block of wood, he sets about getting it just right. Still, for all his efforts, it somehow isn't right. It isn't the head he had before. It turns out that only a brash bold boy can save the man who lost his head from losing it altogether.

Claire Huchet Bishop's charming parable is illustrated by the great Robert McCloskey, whose books for children include One Morning in Maine, Blueberries for Sal, and the Caldecott Medal–winning Make Way for Ducklings.
Praise For The Man Who Lost His Head…
"It's always a pleasure when a book is rereleased, but it's a particular pleasure when that same book has such an illustrious pedigree.  The Bishop/McCloskey pairing didn't happen very often, but we can sure be glad that it did with this hidden treasure." —Elizabeth Bird, School Library Journal

"Awakening sans his head, the man at the center of the tale tries to remember where he left it....The solution is as madcap as the rest of the story...but the prose and Caldecott winner McCloskey's deliciously crisp artwork are evergreen."   --Publishers Weekly
"[Bishop] has contrived out of what seems to be an impossible situation an entirely diverting farce, beautifully turned in phrase with the kind of zany logic essential to good nonsense...Strongly drawn pictures cap the tale with comedy in good country style." --The New York Times
NYR Children's Collection, 9781590173329, 64pp.
Publication Date: November 10, 2009
About the Author
Claire Huchet Bishop (ca. 1899–1993) was a librarian, storyteller, critic, and writer. She grew up in Le Havre, France, and attended the Sorbonne for a time before founding France's first library for children, L'Heure Joyeuse. Her children's books grew out of the popular stories she told both at L'Heure Joyeuse and at the New York Public Library, where she worked after marrying the pianist Frank Bishop and settling in the United States. Among the seventeen works of fiction she wrote for children are The Five Chinese Brothers (1938), Twenty and Ten (1952), and the Newbery Honor books Pancakes-Paris (1947) and All Alone (1953). Bishop also wrote several biographies for children and nonfiction works for adults, and served as children's book editor at Commonweal during the 1930s. Active during the Second World War in the cause of European Jews, she devoted herself after the war to fostering better understanding between Jews and Christians, writing How Catholics Look at Jews (1974) and encouraging the Vatican's recognition of the State of Israel.

Robert McCloskey (1914–2003) was born in Ohio and moved east to study art in Boston and New York. He was awarded a prestigious Rome Prize, but World War II made it impossible for him to go to Rome. Renowned as a draftsman, McCloskey provided illustrations for a variety of authors and also wrote and illustrated eight books of his own, including Blueberries for Sal (1948), One Morning in Maine (1952), and the Caldecott Award–winning stories Make Way for Ducklings (1941) and Time of Wonder (1958). McCloskey's last book, Burt Dow: Deep-Water Man, came out in 1963. In 2003, he died on the Maine island where he had lived with his family since the 1940s.