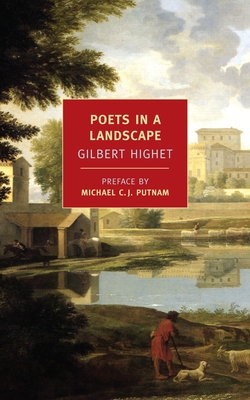 Poets in a Landscape
Paperback

* Individual store prices may vary.
Description
Gilbert Highet was a legendary teacher at Columbia University, admired both for his scholarship and his charisma as a lecturer. Poets in a Landscape is his delightful exploration of Latin literature and the Italian landscape. As Highet writes in his introduction, "I have endeavored to recall some of the greatest Roman poets by describing the places were they lived, recreating their characters and evoking the essence of their work." The poets are Catullus, Vergil, Propertius, Horace, Tibullus, Ovid, and Juvenal. Highet brings them life, setting them in their historical context and locating them in the physical world, while also offering crisp modern translations of the poets' finest work. The result is an entirely sui generis amalgam of travel writing, biography, criticism, and pure poetry—altogether an unexcelled introduction to the world of the classics.
Praise For Poets in a Landscape…
"A guidebook to present-day Italian scenes and an introduction to seven of the great Latin poets, whom we meet on their own grounds…the places and people we meet on this very special trip make this extremely attractive for all who love the beauties of nature and at the same time like to remind themselves of the great works of men and the glories of past civilizations." –Paul Jordan Smith, Los Angeles Times

"A walk back in time to a Roman Italy of 2,000 and the lives of seven Latin poets." –Jacob Deschin, The New York Times

"...this book has established itself as a minor classic, or quite simply as a classic…The writing is sensitive and notably intelligent, backed up by Highet's competent verse renderings from the Latin, and to cap it all he gives a pen-picture of Rome itself at its imperial apex. Here is scholarship in the old sense, humane, unpedantic, open-minded and totally free of academic jargon." –Brian Fallon, The Irish Times

A "delightful, infectious book…Highet writes racily about the Latin poets he admires, putting each in situ with the airy dash now frowned upon in today's dourer academy. He knows much. And enthuses even more. This is a labor of love that is never labored. Highet's attention to prosodic details gets us within earshot of his authors." –The Herald (Glasgow)

"Highet has written what is surely one of the most unusual travel books ever published. It is in one sense an account of a journey to Italy, complete with pictures taken by the author's 'faithful Rolleiflex.' In another sense it is the journal of a trip into the Italy of the past…translated by the author with loving care and capturing as faithfully as possible the meter and structure of the oritinal work." –Robert Kirsch, Los Angeles Times

"This attractive and pleasantly educational work...includes some lucid and enlightening critical interpretation…In tracing the birthplaces and homes of his seven poets Mr. Highet has written sketches of many places in Italy outside the orbit of most tourists…Poets in a Landscape is a strikingly handsome example of bookmaking." –Orville Prescott, The New York Times

"With great love and scholarship…he brings his poets and their troubles fully alive." –Stevie Smith

"Highet is that rarest of finds, the scholarly homme complet, full-blodded, cultured, completely human in his learning." –The Times Literary Supplement (London)

"Unlike many scholars he succeeds in getting into the skin of his poets, finding the man in the style…there he can detect a writer's true self." –Cyril Connolly
NYRB Classics, 9781590173381, 296pp.
Publication Date: March 16, 2010
About the Author
Gilbert Highet (1906–1978) was born in Glasgow, Scotland, to a middle-class family. He showed an early facility with Latin and Greek, reading Homer, Virgil, and Aeschylus for pleasure by the time he was sixteen. He attended Glasgow University, and later Oxford's Balliol College, sweeping up most of the available prizes and scholarships along the way. In 1937 Highet joined the faculty of Columbia University, becoming a full professor at thirty-one. He taught at Columbia until 1972 (with the exception of a period during WWII, when he was stationed as an officer in Washington, D.C. and later assisted in the return of looted goods in Europe), becoming a legend for his animated and inspiring lectures. A very public intellectual, Highet served on the boards of Horizon magazine (1958–77) and the Book-of-the-Month Club (1954–78), was chief literary critic for Harper's (1952–54), and hosted a cultural affairs radio program, People, Places, and Books (1952–59), that was broadcast on more than three hundred stations in the U.S., Canada, and the U.K. Highet wrote, translated, or edited some twenty books, of which The Classical Tradition (1949) and The Art of Teaching (1950) remain the best known. He was married to Helen MacInnes, a successful writer of espionage novels, from 1932 until his death from cancer in 1978.

Michael C.J. Putnam is MacMillan professor emeritus of classics and comparative literature, Brown University. Among his recent books are Poetic Interplay: Catullus and Horace and Jacopo Sannazaro: The Latin Poetry. In May 2009 he was awarded the Centennial Medal by the American Academy in Rome. He is a member of the American Academy of Arts and Sciences and of the American Philosophical Society.