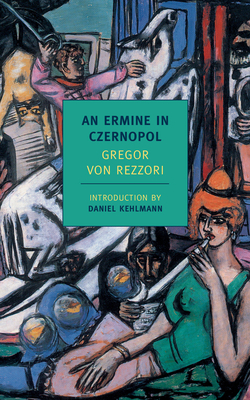 An Ermine in Czernopol (Paperback)
NYRB Classics, 9781590173411, 400pp.
Publication Date: January 10, 2012
* Individual store prices may vary.
Description
An NYRB Classics Original
Set just after World War I,
An Ermine in Czernopol
centers on the tragicomic fate of Tildy, an erstwhile officer in the army of the now-defunct Austro-Hungarian Empire, determined to defend the virtue of his cheating sister-in-law at any cost. Rezzori surrounds Tildy with a host of fantastic characters, engaging us in a kaleidoscopic experience of a city where nothing is as it appears—a city of discordant voices, of wild ugliness and heartbreaking disappointment, in which, however, "laughter was everywhere, part of the air we breathed, a crackling tension in the atmosphere, always ready to erupt in showers of sparks or discharge itself in thunderous peals."
About the Author
Gregor von Rezzori (1914–1998) was born in Czernowitz (now Chernivtsi, Ukraine), Bukovina, then part of the Austro-Hungarian Empire. He later described his childhood in a family of declining fortunes as one "spent among slightly mad and dislocated personalities in a period that also was mad and dislocated and filled with unrest.'' After studying at the University of Vienna, Rezzori moved to Bucharest and enlisted in the Romanian army. During World War II , he lived in Berlin, where he worked as a radio broadcaster and published his first novel. In West Germany after the war, he wrote for both radio and film and began publishing books at a rapid rate, including the four-volume Idiot's Guide to German Society. From the late 1950s on, Rezzori had parts in several French and West German films, including one directed by his friend Louis Malle. In 1967, after spending years classified as a stateless person, Rezzori settled in a fifteenth-century farmhouse outside of Florence with his wife, gallery owner Beatrice Monte
della Corte. There he produced some of his best-known works, among them Memoirs of an Anti-Semite and the memoir The Snows of Yesteryear: Portraits for an Autobiography (both published by NYRB Classics).

Philip Boehm has translated numerous works from German and Polish by writers including Ingeborg Bachmann, Franz Kafka, and Stefan Chwin. For the theater he has written plays such as Mixtitlan, The Death of Atahualpa, and Return of the Bedbug. He has received awards from the American Translators Association, the U.K. Society of Authors, the NEA , PEN America, the Austrian Ministry of Culture, the Mexican-American Fund for Culture, and the Texas Institute of Letters. Currently he is translating Herta Müller's The Hunger Angel. He lives in St. Louis, where he is the artistic director of Upstream Theater.

Daniel Kehlmann is a widely translated German-Austrian novelist. He has won the Candide Prize, the Literature Prize of the Konrad Adenauer Foundation, the Heimito von Doderer Literature Award, the Kleist Prize, the WELT Literature Prize, and the Thomas Mann Prize. He is a prolific author of fiction and criticism, and three of his novels—Me and Kaminski, Measuring the World, and Fame—have been translated into English.
Praise For An Ermine in Czernopol…
".. Gregor von Rezzori's mid-20th-century masterpiece….has been likened by the novelist John Banville to both The Tin Drum and One Hundred Years of Solitude, although a more instructive comparison might be to the European novels of Vladimir Nabokov…in a luminous new translation by Philip Boehm…" - John Wray, The New York Times Book Review
"The last great remembrancer of a region that has vanished from the map and mind of Europe." --Michael Ignatieff, The New York Review of Books
"This wonderful book--literally, a book full of wonders--which lived for too long in shadow, has been brought fully to light by Philip Boehm's lustrous new translation. An Ermine of Czernopol may at last take its place on the shelf alongside The Tin Drum and One Hundred Years of Solitude." -- John Banville
"The novelist and memoirist Gregor von Rezzori was one of the last and most redoubtable links with a Mid-to-Eastern European world, rich in history and character, complex in nationality and ethnic allegiance, that has gone forever, devoured or dispersed through successive waves of rapaciously competitive nationalism…von Rezzori's flair for language which he cultivated almost like a collector, with the occasional, carefully planted esoteric word that matched John Updike's love for the look and the sound of rare words." –The Independent (London)
"Any reader of European literature who has not read Gregor Von Rezzori has commited the unthinkable. This is the rare writer who writes with unmatched beauty and skill while celebrating the joys of life." --Gary Shteyngart
"Gregor von Rezzori's novels…have won him many admirers and a reputation as a writer of brilliance and of highest ambition. He has been likened by critics both there and in Europe to Mann, Grass, and Musil." –BOMB magazine
"A philosophical novel on the nature of reality…nearly always intellectual exciting. Author von Rezzori writes with aphoristic flair and a hint of childlike wonder. He has produced a flashing novel of ideas, a species that ranks in rarity with the Tasmanian wolf and the Komodo dragon." –TIME magazine
"To his admirers the silver-haired citizen of the world is a superb hewer of mocking phrases, a master of erudite allegory that springs from this quasi-aristo youth in the defunct Austro-Hungarian empire." –The Toronto Star
"This beautiful, impressive early novel by von Rezzori (The Snows of Yesteryear), generously translated by Boehm, takes place in the fictional town of Czernopol...von Rezzori's greatest achievements are his meditations on the nature of childhood, especially 'that inviolable majesty of the child' and its gradual erosion as the once fascinating, mysterious world begins to reveal itself as a place of 'crude banality,' which ceases to inspire any longing. In its near-mythical treatment of childhood, the book recalls Nabokov's Speak Memory, or Rebecca West's The Fountain Overflows." -- Publishers Weekly
Lost worlds and cities emerge from under von Rezzori's pen, simultaneously beautifully remembered and richly imagined. Only the truly great writers can do that."
—Aleksandar Hemon