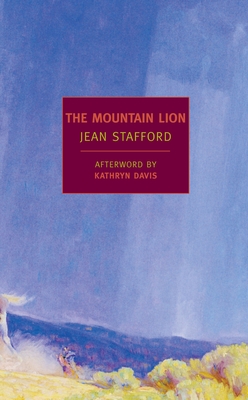 The Mountain Lion (Paperback)
New York Review of Books, 9781590173527, 240pp.
Publication Date: August 10, 2010
Description
Eight-year-old Molly and her ten-year-old brother Ralph are inseparable, in league with each other against the stodgy and stupid routines of school and daily life; against their prim mother and prissy older sisters; against the world of authority and perhaps the world itself. One summer they are sent from the genteel Los Angeles suburb that is their home to backcountry Colorado, where their uncle Claude has a ranch. There the children encounter an enchanting new world--savage, direct, beautiful, untamed--to which, over the next few years, they will return regularly, enjoying a delicious double life. And yet at the same time this other sphere, about which they are both so passionate, threatens to come between their passionate attachment to each other. Molly dreams of growing up to be a writer, yet clings ever more fiercely to the special world of childhood. Ralph for his part feels the growing challenge, and appeal, of impending manhood. Youth and innocence are hurtling toward a devastating end.
About the Author
Jean Stafford (1915-1979) was born in Covina, California, theyoungest of four children. When she was five her father, an unsuccessfulwriter of Westerns, lost the bulk of his inherited fortune on thestock exchange. The impoverished family, forced to move, eventuallyresettled in Boulder, Colorado. Stafford excelled as a student, earningboth a B.A. and an M.A. in four years on a scholarship at the Universityof Colorado, but her college years were marked by poverty as well asby the suicide of her friend Lucy McKee, who shot herself in Stafford'spresence. A fellowship from the University of Heidelberg enabledStafford to study philology abroad following her graduation. Shortlyafter her return she met the poet Robert Lowell, whom she married inNew York City in 1940. In 1944 she published her first book, BostonAdventure, a best selling novel of manners, and her second and mosthighly acclaimed novel, The Mountain Lion, followed in 1947--yearswhich also brought the collapse of her marriage to Lowell and a stayin a psychiatric hospital. Stafford began to write short stories, and by1948, the year in which she received a Guggenheim Fellowship, herwork was regularly appearing in The New Yorker. In 1952 Staffordpublished a third novel, The Catherine Wheel, and in 1970 she wasawarded the Pulitzer Prize for Fiction for her Collected Stories.Stafford was married twice more--to Life editor Oliver Jensen and tothe writer A. J. Liebling--but lived out her last fifteen years alone.She suffered a stroke in 1976 and died three years later in WhitePlains, New York, leaving her entire estate to her cleaning woman. Kathryn Davis is the author of many novels, including Labrador, The Girl Who Trod on a Loaf, Hell, The Walking Tour, The ThinPlace, and Versailles. She is the recipient of Guggenheim Fellowshipand the 2006 Lannan Literary Award for Fiction. She teaches atWashington University in St. Louis and lives in Vermont.
Praise For The Mountain Lion…
"Stafford's unusual, intense novel about a brother and sister who spend a fateful summer on their uncle's ranch in Colorado has never been forgotten by anyone who's read it since its publication in 1947. This handsome new paperback edition from New York Review Books includes Stafford's 1971 author's note and an afterword by Kathryn Davis." --The Oregonian

"How could it be that Jean Stafford has vanished from view, remembered more for her marriages to Robert Lowell and A.J. Liebling than her considerable accomplishments as a writer? Her 1970 Pulitzer Prize for "Collected Stories" was apparently no inoculation from the vagaries of literary fashion, and perhaps after languishing in out-of-print no man's land, this edition of "The Mountain Lion" will win Stafford new legions of readers. The novel, which appeared in 1947, is in many ways a coming-of-age story, centering on a precocious brother and sister who spend their summers at their uncle's Colorado ranch. Sounds simple enough, but Stafford's world is eerie and chilling -- though emotionally red hot, as boy and girl chafe against their suburban, silk-and-sherry life and yet find the freedom of the frontier, and the prospect of adulthood, almost impossible to bear." --Elizabeth Taylor, The Chicago Tribune

"Stafford has a dry desert style — you feel the stillness and the heat in her writing, the swish of palm trees, voices of children, the sounds of sweeping beneath walnut trees, the whir of hummingbirds...Stafford can write a real nightmare, the kind in which everything looks ominous, words cause permanent scars and a character's one shot at happiness is dashed by his very own hands." --The Los Angeles Times

"If not the best novel of the 1940s, The Mountain Lion is a very fine book indeed, a classic of childhood rage and bewilderment told in a superbly controlled colloquial prose." --Elaine Showalter

"A mature and wise novel, a novel so utterly different from her first that it is evident she need never imitate herself, as young novelists too often do after an early success. Written with simplicity and often with astonishing power…The Mountain Lion is likely to beguile many a reader into thinking that he has hold of merely a shrewdly perspective and amusing novel of children, when what he really has in his hand is a charge of psychological dynamite." -Joseph Henry Jackson, San Francisco Chronicle
"Like Flaubert and Eudora Welty, Miss Stafford is a master of making the objects in a room exhibit a dumb and eloquent presence…The Mountain Lion is one of the best novels about adolescence in American literature." -Guy Davenport, The New York Times
"It's a terrific book, witty and smart as Stafford always was, and kind in its treatment of these two strangely irresistible children." -Jonathan Yardley, The Washington Post
"A subtly and brilliantly realized tragedy of adolescence" -Joyce Carol Oates, The New York Times Book Review
A "wonderful record of childhood and adolescence…I do not know where to turn in contemporary fiction for a more wonderful recording of the sights and smells, the emotions and values, the hates and passions of childhood and youth…[a] beautifully modeled tale." -Howard Mumford Jones, The New York Times
"a delicate, sharp story of childhood and adolescence." -Time magazine
"The Mountain Lion has all the form, design and sever selectivity of a controlled and conscious work of art. Its characters are painfully real, interesting as individuals and significant as representatives of various attitudes toward life." -Orville Prescott, The New York Times
"The Mountain Lion remains a brilliant achievement, an exploration of adolescence to set beside Carson McCullers's masterwork The Member of the Wedding." -Joyce Carol Oates, The New York Review of Books
"The Mountain Lion is so good in part because, along with splendid writing, it is filled with American lore-games, songs and slang-and animated by the insatiable demands of its young heroine, Molly Fawcett, as fiercely intelligent and impossible a person as was her creator." -William H. Pritchard, The New York Times Book Review
"A psychological thriller about two adolescents, a brother and sister, and of a hunt which has tragic results for them both." -William Murphy, The Los Angeles Times
"It's riches are many-in language, in irony, in insights into life's ambiguities." -Paperbacks New and Noteworthy, The New York Times
"approaches the stature of a modern classic." -The New York Post
"The author manages to convey the sense of dark and rushing wings-darker for the bright blue sky-which plunges the end of the book into unexpected horror." -New York Times Book Review
"For the brutality and correctness of its ending, I think only Cormac McCarthy's Blood Meridian competes with The Mountain Lion…among American literary children, Ralph and Molly have peers only in Holden Caulfield, Scout and Jem Finch, and Huckleberry Finn." -Tin House
"In the work of perhaps no other comparably youthful author has there been recent evidence of equal insight and compassion." -Jean Lehman, The Philadelphia Inquirer
"Miss Stafford is, fundamentally, out for much bigger game than a mere couple of troubled kids. It is life itself-the painful state of being human and conscious-that Miss Stafford's penetrating little story examines and vilifies. For what Molly and Ralph suffer in exaggerated form and almost unremittingly in the pages of The Mountain Lion is but the malaise which from time to time torments us all-that recurrent sense of pain and apprehension which is a function, or at any rate an inevitable by-product, of the state of consciousness itself." -New York Herald Tribune
"Jean Stafford writes with the relentless and dazzling brilliance of an avenging angel wielding a white-hot sword. She has a sound feeling for and great appreciation of the simple ways of simple people." -Florence Haxton Bullock, The New York Hearld Tribune Book Review
"Hard to match for subtlety and understanding…A sharply focused study rather than a broad exploration of adolescence, written wittily, lucidly, and with great respect for the resources of the language." -The New Yorker
A "positive artistic creation…a fine book." -Newark News
"written with sharp-edged humor and compassionate understanding." -The Washington Star
"Miss Stafford writes with brilliance. Scene after scene is told with unforgettable care and tenuous entanglements are treated with wise subtlety. She creates a splendid sense of time, of the unending afternoons of youth, and of the actual color of noon and of night. Refinement of evil, denial of drama only make the underlying truth more terrible." -Saturday Review
"Miss Stafford holds the reader spellbound throughout the narrative. She creates an intense atmosphere with a few simple phrases and characterizes her figures in a masterly manner through the eyes of the children." -Catholic World
Advertisement