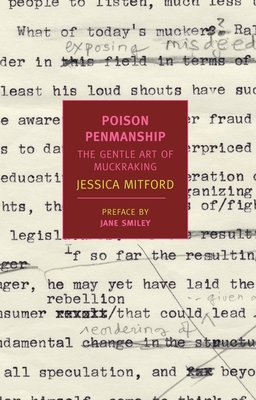 Poison Penmanship: The Gentle Art of Muckraking (Paperback)
The Gentle Art of Muckraking
New York Review of Books, 9781590173558, 288pp.
Publication Date: September 7, 2010
Description
Jessica Mitford was a member of one of England's most legendary families (among her sisters were the novelist Nancy Mitford and the current Duchess of Devonshire) and one of the great muckraking journalists of modern times. Leaving England for America, she pursued a career as an investigative reporter and unrepentant gadfly, publicizing not only the misdeeds of, most famously, the funeral business (The American Way of Death, a bestseller) and the prison business (Kind and Usual Punishment), but also of writing schools and weight-loss programs. Mitford's diligence, unfailing skepticism, and acid pen made her one of the great chroniclers of the mischief people get up to in the pursuit of profit and the name of good. Poison Penmanship collects seventeen of Mitford's finest pieces--about everything from crummy spas to network-TV censorship--and fills them out with the story of how she got the scoop and, no less fascinating, how the story developed after publication. The book is a delight to read: few journalists have ever been as funny as Mitford, or as gifted at getting around in those dark, cobwebbed corners where modern America fashions its shiny promises. It's also an unequaled and necessary manual of the fine art of investigative reporting.
About the Author
Jessica Mitford (1917-1996) was the daughter of Lord and Lady Redesdale, and she and her five sisters and one brother grew up in isolation on their parents' Cotswold estate. Rebelling against her family's hidebound conservatism, Mitford became an outspoken socialist and, with her second cousin and husband-to-be Esmond Romilly, ran away to fight against Franco in the Spanish Civil War. Romilly was killed in World War II, and Mitford moved to America, where she married the lawyer and political activist Robert Treuhaft. A brilliant muckraking journalist, Mitford was the author of, among other works, a memoir of her youth, Hons and Rebels (also published as an NYRB Classic); a study of the funeral industry, The American Way of Death; and Kind and Unusual Punishment: The Prison Business. She died at the age of seventy-eight while working on a follow-up to The American Way of Death, for which, with characteristic humor, she proposed the title "Death Warmed Over." Jane Smiley, winner of the 1992 Pulitzer Prize for Fiction, is the author of many novels and other works. In 2010 she published Private Life, a novel; A Good Horse, a book for young adults; and The Man Who Invented the Computer, the first volume of the Sloane American Inventors series.
Praise For Poison Penmanship: The Gentle Art of Muckraking…
"There is something rather fine about Mitford's tireless pursuit of her quarries, who include undertakers on the make, publishers peddling phony creative writing courses and the hapless bureaucrats she encounters during a brief and stormy spell as a professor….. These are articles written with a keen eye for injustice, but also with a great sense of personal passion, and a generous, exuberant wit." —Lettie Ransley, The Observer
 
"…an exuberant enjoyment of the "Gentle Art of Muckraking" driven both by a hunger for justice and a love of the absurd…. Most collections of journalistic pieces barely warrant being bound in book form: this one (from 1979), with its wit and irrepressible ebullience, genuinely makes a convincing "classic" of a sort." —The Scotsman

"For my part, I can't remember when I enjoyed a collection of journalism so much, or laughed out loud so often.   Spirited, extremely witty and sharp and, perhaps most importantly, driven by a powerful sense of social justice, Mitford was, quite simply, one of the most useful journalists of the 20th century. That she could also make you laugh while exposing the shenanigans of the corrupt, or, as she preferred to call it, muckraking, makes this book indispensable....It is also useful as, and intended to be useful as, a manual for doing the kind of journalism she did. She is very interested in inspiring people to continue the tradition of muckraking, and just because the technology of journalism has changed, it doesn't mean that techniques of getting interviewees to spill beans they would otherwise have preferred unspilled have changed, too. So as well as comments, or post-mortems, on every piece here, there is also an entertaining and helpful introduction in which she goes through the basics of her trade...And you can learn so much from her style, too. Although, it has to be said, there would be many at the receiving end of her attention who would dispute that line about her sweet nature. But then it was always her business to afflict the comfortable and comfort the afflicted. Never mind if you haven't read any of her more substantial works (The American Way of Death, Kind and Unusual Punishment); here, in essence, is her achievement." Nicolas Lezard, The Guardian

"Poison Penmanship was originally published in 1979....Its current reissue by New York Review Books is a welcome reminder of the author's reporting ingenuity. The book includes 17 pieces of journalism—a mere slice of the work that Mitford produced over the course of a 40-year career in letters, but a choice one....Poison Penmanship would make an apt addition to any reporter's reading list. Mitford supplies research tips and instructive anecdotes alongside the pieces that her self-education yielded, providing a satisfying synthesis of theory and practice." —The Economist

"[Mitford's] excellent collection Poison Penmanship: The Gentle Art of Muckraking has just been republished...A number of essays here concern the funeral business and how her exposé affected her life....Other selections include witty and trenchant pieces on the Famous Writers School, a shameful scam; the censoring of the subject of syphilis by NBC in 1964; race relations in the American South in the mid-1960s; a fat farm, 'Egyptomania,'' and touring the U.S.A." —Katherine Powers, The Boston Globe

"Mitford is an author who has a talent for getting to the root of things, and to the dirt surrounding the roots." -New York Times

"An excellent how-to manual for all aspiring investigative journalists." -Los Angeles Times

"Mitford demystifies what should be a simple process and takes us back to the basics. Reporting, she knows, is the best obtainable version of the truth. Then she shows us how to get there with grace, wit, cunning, style, imagination, and-above all-a sense of enjoying the journey." -Carl Bernstein

"Mitford's Penmanship has been practiced on funeral folk, fat farms and, in one of her finest moments, the Famous Writers School. In addition, she provides the reader with insight into how the articles came to be. Muckracking hopefuls, note." -Dick Lochte, Los Angeles Times

"In these 17 pieces written during the past 20 years, Jessica Mitford shows why she is celebrated as the ablest journalist now practicing the ancient art of muckraking. Her targets include the now-defunct Famous Writers School, Manhattan's still surviving Sign of the Dove restaurant, the American funeral industry and Elizabeth Arden's Maine Chance spa." -Paperbacks New and Noteworthy, The New York Times

"Whatever your feelings about muckrakers, you are likely to be infected with Mitford's contagious joy. Here is a woman who revels in her work. Her voice ripples into laughter, both at self and at the subjects of her investigations. She digs up scandals with unrestrained delight in excavation and reports her findings with such saucy exuberance that her work looks deceptively easy. Jessica Mitford is the sort of royalty no democracy should be without." -Mary Cross, Los Angeles Times

"A must for anyone who takes a pen in hand to earn a living." -San Diego Union

"Her introduction should be required reading in every journalism school in the country…In a couple of dozen words Mitford sets forth a catechism of good sense for would be muckrakers." -Columbia Journalism Review

"Any wayward industry fearing that sooner or later somebody may expose its defects should hire Jessica Mitford to do it first, because she would handle the chore with such deftness and charm." -Robert Sherrill, The New York Times Book Review

"Mitford's pen is mightier than the sword." -New York Times

"Best known for her classic funeral-industry exposé, The American Way of Death, Jessica Mitford (1917- 1996) was fifth of the famous Mitford sisters, but rebelled against her privileged English roots to become a member of the American Communist Party and union organizer, a civil rights activist and a celebrated investigative journalist." -Publishers Weekly
Advertisement