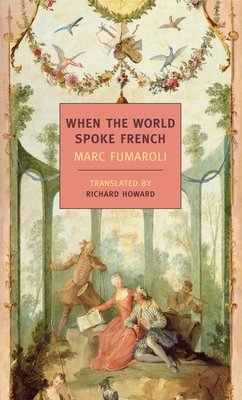 When the World Spoke French (Paperback)
New York Review of Books, 9781590173756, 519pp.
Publication Date: June 14, 2011
* Individual store prices may vary.
or
Not Currently Available for Direct Purchase
Description
A New York Review Books Original
During the eighteenth century, from the death of Louis XIV until the Revolution, French culture set the standard for all of Europe. In Sweden, Austria, Italy, Spain, England, Russia, and Germany, among kings and queens, diplomats, military leaders, writers, aristocrats, and artists, French was the universal language of politics and intellectual life. In When the World Spoke French, Marc Fumaroli presents a gallery of portraits of Europeans and Americans who conversed and corresponded in French, along with excerpts from their letters or other writings.
These men and women, despite their differences, were all irresistibly attracted to the ideal of human happiness inspired by the Enlightenment, whose capital was Paris and whose king was Voltaire. Whether they were in Paris or far away, speaking French connected them in spirit with all those who desired to emulate Parisian tastes, style of life, and social pleasures. Their stories are testaments to the appeal of that famous "sweetness of life" nourished by France and its language.
About the Author
Marc Fumaroli is a scholar of French classical rhetoric and art. He is a member of the British Academy, the American Academy of Arts and Sciences, the Societe d'histoire litteraire de la France, and the Academie francaise. Fumaroli received from the Academie francaise, before being elected a member, the Monseigneur Marcel Prize in 1982 and the Critique Prize in 1992, and he is president of the Societe des Amis du Louvre. He won the Balzan Prize for Literary History and Criticism in 2001, and is the author of numerous books including L'Age de l'eloquence, Heros et orateurs, L'Ecole du silence, and Trois institutions litteraires. Richard Howard received a National Book Award for his translation of Les Fleurs du mal and a Pulitzer Prize for Untitled Subjects, his third volume of poems. He is the translator of the NYRB Classics Alien Hearts and The Unknown Masterpiece.
Praise For When the World Spoke French…
"Notwithstanding the radical role it would eventually play in the French and American Revolutions, the language of Enlightenment liberalism and universalism paradoxically evinced the finest qualities of the French nobility: cleverness, leisure, cultivation and charm....Conceived as 'a portrait gallery of foreigners conquered by Enlightenment France,' Fumaroli's book provides biographical essays about a diverse and fascinating cast of characters....This book, however, depicts them all as wonderfully distinct individuals — real people whose eclectic interests, messy love lives and oddball personalities square ill with the lofty philosophical abstractions "the Enlightenment" so often calls to mind. Fumaroli's Enlightenment is, first and foremost, a wild and woolly human drama, its players every bit as multifaceted (and flawed) as those making headlines today....For those looking to join this latter-day 'banquet of enlightened minds,' When the World Spoke French is an excellent place to start." -- Caroline Weber, The New York Times

"When the World Spoke French is a magisterial compendium of biographical essays, written in an unhurried style and interleaved with an anthology of elegant, sometimes astringent, often effusive, antique verbiage. This grandiose elegy offers choice pleasure to readers who care to eavesdrop on the table- and pillow-talk among an impressive cast of aristocrats (local and foreign), philosophes, English expatriates, and quick-witted American arrivistes....[author Marc Fumaroli's] command of sources, his treasury of recondite detail and his narrative zest combine in a sustained celebration both of francophone intelligence and of the sexual intrigues that so often put desire and diplomacy in bed together." -- Frederic Raphael, The Wall Street Journal

"In the 18th century, French was the language of culture and diplomacy, uniquely suited to express the wit and style of mainly European political, social, and literary luminaries, according to veteran French scholar Fumaroli. Letters and memoirs composed in French from major figures like Frederick II of Prussia and Catherine the Great of Russia, along with relative unknowns like Neapolitan Abbé Galiani or American Gouverneur Morris, map a trail from the enlightened salons of Paris to the partition of Poland by Prussia, Russia, and Austria in the 18th century....The smooth translation by Pulitzer winner Howard facilitates appreciation of the witty writers....Whether randomly selecting a chapter or treating the book as a saga sweeping inexorably toward the Polish debacle and the French Reign of Terror, readers cannot fail to find their own enlightenment in these gems." —  Publishers Weekly

"The names read like a Who's Who: the Viscount Bolingbroke and Lord Chesterfield of England, Prince Eugene of Savoy, Frederick the Great and Frederick Melchoir Grimm of Prussia/Germany, Catherine the Great of Russia, Gustavus III of Sweden, Benjamin Franklin and Gouverneur Morris of the United States, Stanislas II of Poland, to mention only ten of them." 
—Freeman G. Henry, Language, Culture, and Hegemony in Modern France

"VERDICT This exceptional history of manners and letters should become an instant classic. Like Francis Steegmuller's A Woman, A Man, and Two Kingdoms, it will enchant anyone interested in 18th-century literature or history."—David Keymer, Library Journal
Advertisement