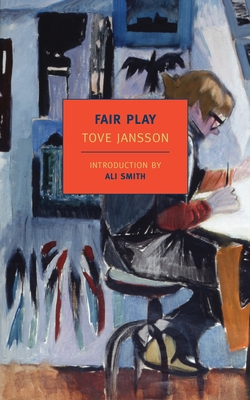 Fair Play
Paperback

* Individual store prices may vary.
Description
A New York Review Books Original
Winner of the 2009 Bernard Shaw Prize for Translation
Fair Play is the type of love story that is rarely told, a revelatory depiction of contentment, hard-won and exhilarating. 

Mari is a writer and Jonna is an artist, and they live at opposite ends of a big apartment building, their studios connected by a long attic passageway. They have argued, worked, and laughed together for decades. Yet they've never really stopped taking each other by surprise. Fair Play shows us Mari and Jona's intertwined lives as they watch Fassbinder films and Westerns, critique each other's work, spend time on a solitary island (recognizable to readers of Jansson's The Summer Book), travel through the American Southwest, and turn life into nothing less than art. 
Praise For Fair Play…
"This novel is about creativity from the very start—about how to take a day . . . and make it really new and fresh, no matter what age you are, what life you're in." —Ali Smith, From the Introduction

"Jansson reveals the ambiguities in every encounter. There are no easy moral judgments. Only the very finest art can show us so many shades of psychological nuance, yet make them visible with such clarity." —Damion Searls, Harper's

"Jansson is . . . content to let the narrative almost disappear into what Hegel called the 'prose of the world': the beauty of the day-to-day. It is here . . . that we find the true meaning of the novel."  —Andreas Campomar, The Times Literary Supplement

"A book about love—tender, eccentric and fiercely independent. It feels a privilege to read it."  —Esther Freud


NYRB Classics, 9781590173787, 120pp.
Publication Date: March 15, 2011
About the Author
Tove Jansson (1914–2001) was born in Helsinki into Finland's Swedish-speaking minority. Her father was a sculptor and her mother a graphic designer and illustrator. Winters were spent in the family's art-filled studio and summers in a fisherman's cottage on the shore of the Gulf of Finland, a setting that would later figure in Jansson's writing for adults and children. Jansson loved books as a child and set out from an early age to be an artist. Her first illustration was published when she was fifteen years old; four years later a picture book appeared under a pseudonym. After attending art schools in both Stockholm and Paris, she returned to Helsinki, where in the 1940s and '50s she won acclaim for her paintings and murals. From 1929 until 1953 Jansson drew humorous illustrations and political cartoons for the left-leaning anti-Fascist Finnish-Swedish magazine Garm, and it was there that what was to become Jansson's most famous creation, Moomintroll, a hippopotamus-like character with a dreamy disposition, made his first appearance. Jansson went on to write about the adventures of Moomintroll, the Moomin family, and their curious friends in a long-running comic strip and in a series of books for children that have been translated throughout the world, inspiring films, several television series, an opera, and theme parks in Finland and Japan. Jansson also wrote eleven novels and short story collections for adults, including The Summer Book and The True Deceiver (both available as NYRB Classics). In 1994 she was awarded the Prize of the Swedish Academy. Jansson and her companion, the artist Tuulikki Pietilä, continued to live part-time in a cottage on the remote outer edge of the Finnish archipelago until 1991.


Thomas Teal has translated Tove Jansson's The Summer Book, Sun City, and Fair Play, for which he was awarded the Bernard Shaw Prize for translation from the Swedish for the years 2007–2009.


Ali Smith is the author of seven works of fiction, including the novel Hotel World, which was short-listed for the Booker Prize in 2001, and The Accidental, which won the Whitbread Award in 2005 and was short-listed for the 2005 Man Booker Prize.