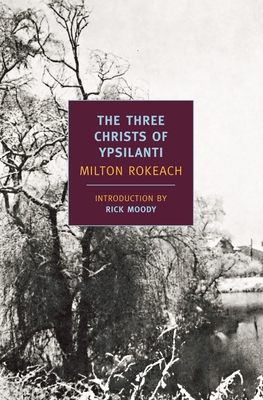 The Three Christs of Ypsilanti (Paperback)
New York Review of Books, 9781590173848, 342pp.
Publication Date: April 19, 2011
Description
On July 1, 1959, at Ypsilanti State Hospital in Michigan, the social psychologist Milton Rokeach brought together three paranoid schizophrenics: Clyde Benson, an elderly farmer and alcoholic; Joseph Cassel, a failed writer who was institutionalized after increasingly violent behavior toward his family; and Leon Gabor, a college dropout and veteran of World War II. The men had one thing in common: each believed himself to be Jesus Christ. Their extraordinary meeting and the two years they spent in one another's company serves as the basis for an investigation into the nature of human identity, belief, and delusion that is poignant, amusing, and at times disturbing. Displaying the sympathy and subtlety of a gifted novelist, Rokeach draws us into the lives of three troubled and profoundly different men who find themselves "confronted with the ultimate contradiction conceivable for human beings: more than one person claiming the same identity."
-
About the Author
Milton Rokeach (1918-1988) was born in Hrubieszow, Poland, and at the age of seven moved with his family to Brooklyn. He received his BA from Brooklyn College in 1941. In the same year he began in the fledgling social psychology program at the University of California at Berkeley, but his studies were interrupted by a stint in the U.S. Army Air Forces Aviation Psychology Program. He returned to Berkeley in 1946 and received his PhD in 1947. Rokeach became a professor of psychology at Michigan State University and subsequently taught at the University of Western Ontario, Washington State University, and the University of Southern California. His famous psychological study The Three Christs of Ypsilanti (1964) has been made into a screenplay, a stage play, and two operas. His other major books are The Open and Closed Mind (1960), Beliefs, Attitudes, and Values (1968), and The Nature of Human Values (1973). Rokeach received the Kurt Lewin Memorial Award from the Society for the Psychological Study of Social Issues in 1984 and the Harold Lasswell Award from the International Society of Political Psychology in 1988. Rick Moody was born in New York City in 1961. He is the author of five novels, three collections of stories, and a memoir, The Black Veil. His work has been widely anthologized. He has taught at Bennington College, SUNY Purchase, New York University, and the New School for Social Research. He lives in Brooklyn, New York.
Praise For The Three Christs of Ypsilanti…
"The Three Christs of Ypsilanti is more than the record of an experiment in the outermost reaches of social psychology. Among other things it represents, in an unpretentious but remarkably vivid way, what institutionalized madness is like."
-Steven Marcus, The New York Review of Books

"A rare and eccentric journey into the madness of not three, but four men in an asylum. It is, in that sense, an unexpected tribute to human folly, and one that works best as a meditation on our own misplaced self-confidence. Whether scientist or psychiatric patient, we assume others are more likely to be biased or misled than we are, and we take for granted that our own beliefs are based on sound reasoning and observation. This may be the nearest we can get to revelation—the understanding that our most cherished beliefs could be wrong."
—Vaughan Bell, Slate

"The Three Christs is part meticulous log-book, part intriguing commentary and part high-voltage play as Rokeach recreates the men's interactions over 25 months. Rokeach's aim was to force them to confront 'the ultimate contradiction' of believing they were the same being….Reissued for the first time in over 25 years, it comes with a pithy and sensitive preface by Rick Moody, foregrounding both changing attitudes to institutional care and the problems and possibilities of Rokeach's experiment." – The Guardian

"It also seemed to me, aged 16, that The Three Christs of Ypsilanti contained everything there was to know about the world. That's not the case of course, but if resources were short, I'd still be inclined to salvage this book as a way of explaining the terror of the human condition, and the astonishing fact that people battle for their rights and dignity in the face of that terror, in order to establish their place in the world, whatever they decide it has to be." -- Jenny Diski, London Review of Books
Advertisement