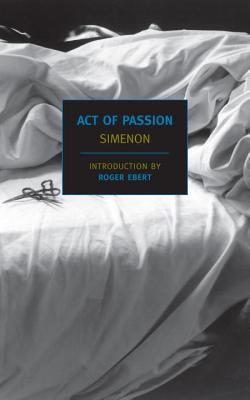 Act of Passion (Paperback)
New York Review of Books, 9781590173855, 216pp.
Publication Date: October 18, 2011
Description
For forty years Charles Alavoine has sleepwalked through his life. Growing up as a good boy in the grip of a domineering mother, he trains as a doctor, marries, opens a medical practice in a quiet country town, and settles into an existence of impeccable bourgeois conformity. And yet at unguarded moments this model family man is haunted by a sense of emptiness and futility.
Then, one night, laden with Christmas presents, he meets Martine. It is time for the sleeper to awake.
About the Author
Georges Simenon (1903-1989) was born in Liege, Belgium. He went to work as a reporter at the age of fifteen and in 1923 moved to Paris, where under various pseudonyms he became a highly successful and prolific author of pulp fiction while leading a dazzling social life. In the early 1930s, Simenon emerged as a writer under his own name, gaining renown for his detective stories featuring Inspector Maigret. He also began to write his psychological novels, or romans durs--books in which he displays a sympathetic awareness of the emotional and spiritual pain underlying the routines of daily life. Having written nearly two hundred books under his own name and become the best-selling author in the world, Simenon retired as a novelist in 1973, devoting himself instead to dictating several volumes of memoirs. Louise Varese (1891-1989) was an American writer and translator. In 1969 she was designated a Chevalier de L'Ordre des Arts et des Lettres by the Republic of France in recognition of her translations of Baudelaire, Sartre, Proust, Michaux, and Bernanos, among other writers. She and her husband, the composer Edgard Varese, were close friends of Georges Simenon during his years in the United States, and she translated some fifteen of his novels. Roger Ebert has been the film critic of the Chicago Sun-Times since 1967. He won the Pulitzer Prize in 1975. From 1976 through 2006 he co-hosted a weekly film-review program on American television. He is the author of many books, including the 2011 memoir, Life Itself.
Praise For Act of Passion…
"Open any of his major novels: at once, a magic takes effect. From the first paragraph, you are gripped as if by the jaws of a steel trap that will not release its hold until the final full stop of the last page; and, even then, after you have shut the book, you remain stunned. . . . Again and again we return [to Simenon] to draw the courage to contemplate our own misery without flinching."
—Simon Leys

"Simenon's romans durs are utterly unsentimental, frightening in the pitilessness of their gaze, yet wonderfully entertaining."
—John Banville

"Like Patricia Highsmith, Simenon grasped the psycho-pathology of the twentieth century at its intractable roots."
—Gary Indiana, New York

"Simenon's novels are acute, compact, remarkably varied, and as lapidary as great pop songs."
—Luc Sante

"Irresistible. A writer of total pessimism and total integrity, yet marvelously alive. . . . You read him at your peril, avoid him at your loss."
-The Sunday Times (London)
Advertisement