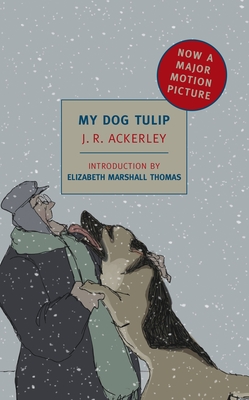 My Dog Tulip (Paperback)
Movie tie-in edition
NYRB Classics, 9781590174142, 208pp.
Publication Date: August 24, 2010
Other Editions of This Title:
Paperback (9/30/1999)
Compact Disc (8/1/2011)
Audio Cassette (8/1/2011)
Compact Disc (8/1/2011)
MP3 CD (8/1/2011)
* Individual store prices may vary.
Description
Now a Major Motion Picture
The distinguished British man of letters J. R. Ackerley hardlythought of himself as a dog lover when, well into middleage, he came into possession of a German shepherd. Tohis surprise, she turned out to be the love of his life, the"ideal friend" he had been searching for in vain for years. My Dog Tulip is a bittersweet retrospective account of theirsixteen-year companionship, as well as a profound andsubtle meditation on the strangeness that lies at the heartof all relationships. In vivid and sometimes startling detail, Ackerley tells of Tulip's often erratic behavior and very canine tastes, and of his own fumbling but determinedefforts to ensure for her an existence of perfect happiness.
My Dog Tulip has been adapted to screen as a major animated feature film with a cast that includes the voices of Christopher Plummer, Lynn Redgrave, and Isabella Rossellini. It has been heralded as "A stroke of genius" by New York Magazine and "The love story of the year" by Vanity Fair.
About the Author
J. R. ACKERLEY (1896–1967) was for many years the literary editor of the BBC magazine The Listener. His works include three memoirs, Hindoo Holiday, My Dog Tulip, and My Father and Myself, and a novel, We Think The World of You (all available as New York Review Books).


ELIZABETH MARSHALL THOMAS is the author of The Hidden Life of Dogs.


Praise For My Dog Tulip: Movie tie-in edition…
"My Dog Tulip is the sublime and amusing tale of a cranky English intellectual who finds his 'ideal friend' in the form of an Alsatian bitch." --The Philadelphia Inquirer

"I remain an amused admirer of My Dog Tulip, partly because J. R. Ackerley tried to deliver the thoroughly physical world that dogs inhabit. It's anthropomorphism in reverse, albeit with a human (and very British) narrator." —Gail Caldwell, The New York Times Book Review

"One of the bona-fide dog-lit classics." —The New Yorker
"This is one of the greatest masterpieces of animal literature." —Christopher Isherwood
"Out of print for years, Tulip, is now back to amaze, amuse, and somewhat dismay those lucky enough to receive her." —Boston Globe

"[Ackerley] aimed to shock, and his success was heightened by the soapbubble sparkle and lightness of his prose." —The New Criterion
 
"In its own quirky fashion, Ackerley's wry valentine to his beloved pet is as much a book about the difficult art of living and loving as it is a dog story." —Publishers Weekly
 
"I love this book because it shows respect and profound understanding of the animal on its own terms." —Armistead Maupin
"This is the funniest, most poignant, and consider yourself warned preeminently disgusting of all the great dog books. First published in 1965, it portrays in the most affectionate terms what the dogless tend to consider outrageous transgressions." —Katherine A. Powers, The Boston Globe
 
"To dog lovers, by the way, I recommend My Dog Tulip by J. R. Ackerley—by far the best "animal book" I've ever read." —Julia Glass

"One of the greatest books ever written by anybody in the world." —Truman Capote