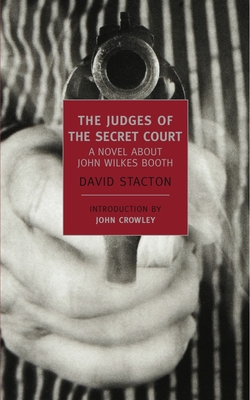 The Judges of the Secret Court
A Novel About John Wilkes Booth
Paperback

* Individual store prices may vary.
Description
David Stacton's The Judges of The Secret Court is a long-lost triumph of American fiction as well as one of the finest books ever written about the Civil War. Stacton's gripping and atmospheric story revolves around the brothers Edwin and John Wilkes Booth, members of a famous theatrical family. Edwin is a great actor, himself a Hamlet-like character whose performance as Hamlet will make him an international sensation. Wilkes is a blustering mediocrity on stage who is determined, however, to be an actor in history, and whose assassination of Abraham Lincoln will change America. Stacton's novel about how the roles we play become, for better or for worse, the lives we lead, takes us back to the day of the assassination, immersing us in the farrago of bombast that fills Wilkes's head while following his footsteps up to the fatal encounter at Ford's Theatre. The political maneuvering around Lincoln's deathbed and Wilkes's desperate flight and ignominious capture then set the stage for a political show trial that will condemn not only the guilty but the—at least relatively—innocent. For as Edwin Booth broods helplessly many years later, and as Lincoln, whose tragic death and wisdom overshadow this tale, also knew, "We are all accessories before or after some fact. . . . We are all guilty of being ourselves."
Praise For The Judges of the Secret Court: A Novel About John Wilkes Booth…
"Far more than just "a novel about John Wilkes Booth," The Judges of the Secret Court — haunting title — depicts the complex aftershock of the Lincoln assassination on a surprisingly large circle of people, including the various conspirators, the famous Booth family of actors and the Washington politicos who seize on the death of the president for their own purposes….What most surprises about this "historical" novel is its urbane, mildly epigrammatic style. Stacton is never florid or old-fashioned. He writes with lean economy and speed….The Judges of the Secret Court isn't just a novel about John Wilkes Booth; it is a vision of what life and the world do to us." -- Michael Dirda, The Washington Post


"David Stacton is an original, finely pitched voice in American fiction. I own most of his books and have enjoyed every one. He deserves to return." —Larry McMurtry

"The Judges of the Secret Court is a superior historical fiction, accurate in detail, moving and compelling narrative and character. But it is something more than this as well, an exploration by a brilliant and thoughtful writer of the labyrinthine ways of good and evil."  —Robert R. Kirsch, Los Angeles Times
NYRB Classics, 9781590174524, 272pp.
Publication Date: June 7, 2011
About the Author
David Stacton was born Lionel Kingsley Evans in San Francisco. He attended Stanford University before serving in the Civilian Public Service as a conscientious objector during World War II , eventually graduating from the University of California at Berkeley in 1951. Stacton went to Europe after college and ended up staying, in his words, "because I liked it and because I could not get my books in print in America." His first novel, Dolores, was published in England in 1954. Among the wide-ranging historical and biographical novels for which he would become best known are On a Balcony, about Nefertiti and Pharaoh Akhenaten; Segaki, set in feudal Japan; A Signal Victory, about the Spanish conquest of the Yucatán; Old Acquaintance, set at a film festival and telling of the loves of a star resembling Marlene Dietrich; and People of the Book, set during the Thirty Years' War. Under various pseudonyms, Stacton also published Westerns, mass-market murder mysteries, and a soft-core gay novel. Twice the recipient of a Guggenheim Fellowship, he also received a Literature Fellowship from the National Endowment for the Arts. In 1968 he moved to Fredensborg, Denmark, to work on a book to be called Restless Sleep, about Charles II and the diarist Samuel Pepys; ten days later he was found dead in his new home; he was forty-four years old.

John Crowley is the author of a dozen novels and works of fiction, among them Little, Big and the Ægypt Cycle, and, most recently, Four Freedoms. He is a three-time winner of the World Fantasy Award and a winner of the Award in Literature of the American Academy and Institute of Arts and Letters. Crowley teaches creative writing at Yale University. His reviews and critical essays have appeared in the Boston Review, The Yale Review, and The Washington Post.
or
Not Currently Available for Direct Purchase