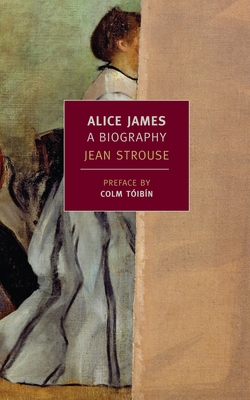 Alice James (Paperback)
A Biography
NYRB Classics, 9781590174531, 392pp.
Publication Date: November 1, 2011
* Individual store prices may vary.
Description
The Jameses are perhaps the most extraordinary and  distinguished family in American intellectual life. Henry's novels, celebrated as among the finest in the language, and William's groundbreaking philosophical and psychological works have won these brothers a permanent place at the center of the nation's cultural firmament. Less well known is their enigmatic younger sister, Alice. But as Jean Strouse's generous, probing, and deeply sympathetic biography shows, Alice James was a fascinating and exceptional figure in her own right. Tormented throughout her short life by an array of nervous disorders, constrained by social convention and internal conflict from achieving the worldly success she desired, Alice was nonetheless a vivid, witty writer, an acute social observer, and as alert, inquiring, and engaging a person as her two famous brothers. "The moral and philosophical questions that Henry wrote up as fiction and William as science," writes Strouse, "Alice simply lived."
About the Author
Jean Strouse is the author of Morgan, American Financier as well as Alice James, which won the Bancroft Prize. Her essays and reviews have appeared in The New York Review of Books, The New Yorker, The New York Times, Newsweek, Architectural Digest, and Slate. She is currently the Sue Ann and John Weinberg Director of the Dorothy and Lewis B. Cullman Center for Scholars and Writers at the New York Public Library.

Colm Tóibín is the author of six novels, including The Master (a novel based on the life of Henry James) and Brooklyn, and two collections of stories, Mothers and Sons and The Empty Family. He has been a visiting writer at Stanford, the University of Texas at Austin, and Princeton, and is now Mellon Professor in the Humanities at Columbia University.
Praise For Alice James: A Biography…
"From an isolated, eventless existence, Jean Strouse extracts something that did not exist for centuries: a woman's interior life."
—Stacy Schiff, The Wall Street Journal

"Engrossing, disquieting … Stunning, this book is haunting."
—Naomi Bliven, The New Yorker

"Jean Strouse's biography of this infantilized, untimely, brilliant, radical, wasted, proud, hysterical woman does her complexity justice. Without didacticism or polemic, Strouse squarely confronts and explores the broad issues of medical and intellectual history that Alice James' life raises so provocatively. Her book is searching and scholarly, fascinating and sound. It is as good a history of Judith Shakespeare as we'll ever have, and its complex lessons, for both men and women, transcend intellectual history and touch life at its moral core."—The Boston Globe

"Miss Strouse, in acquainting us with the younger sister of William and Henry James, has, as it were - and she is witty about Henry's ''ineluctable 'as it weres'  - written a Jamesian novel, subtle, evasive, embroidered, splendid.... Miss Strouse, who weaves instead of hammering home her delicate points is as expert in literary criticism as she is in recreating family life, medicine, psychology and education in 19th-century America. —John Leonard, The New York Times

"This is an important book for those interested in women's history, in literary biography and for those who want to gain insight into the inner workings of human beings."—The Christian Science Monitor
or
Not Currently Available for Direct Purchase