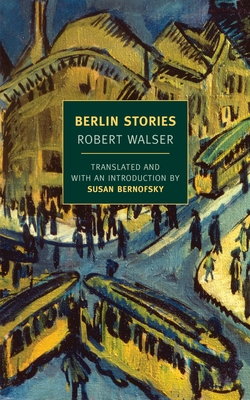 Berlin Stories
Paperback

* Individual store prices may vary.
Description
A New York Review Books Original

In 1905 the young Swiss writer Robert Walser arrived in Berlin to join his older brother Karl, already an important stage-set designer, and immediately threw himself into the vibrant social and cultural life of the city. Berlin Stories collects his alternately celebratory, droll, and satirical observations on every aspect of the bustling German capital, from its theaters, cabarets, painters' galleries, and literary salons, to the metropolitan street, markets, the Tiergarten, rapid-service restaurants, and the electric tram. Originally appearing in literary magazines as well as the feuilleton sections of newspapers, the early stories are characterized by a joyous urgency and the generosity of an unconventional guide. Later pieces take the form of more personal reflections on the writing process, memories, and character studies. All are full of counter-intuitive images and vignettes of startling clarity, showcasing a unique talent for whom no detail was trivial, at grips with a city diving headlong into modernity.
Praise For Berlin Stories…
"If ever a writer deserved the cliché that they have a voice all of their own, it's Walser. His style is strange but wholly accessible and full of charm…" —Metro (UK)

"The magnificently humble. The enormously small. The meaningfully ridiculous. Robert Walser's work often reads like a dazzling answer to the question, How immense can modesty be? If Emily Dickinson made cathedrals of em dashes and capital letters and the angle of winter light, Walser accomplishes the feat with, well, ladies' feet and trousers, and little emotive words like joy, uncapitalized."
—Rivka Galchen, Harper's

"Walser's fictions are charged with compassion: awareness of the creatureliness of life, of the fellowship of sadness. He is a truly wonderful, heartbreaking writer."
—Susan Sontag

"A writer of considerable wit, talent and originality . . . recognized by such impressive contemporaries as Kafka, Brod, Hesse and Musil . . . [and] primarily known to German literary scholars and to English readers lucky enough to have discovered [his work] . . . [Walser's tales] are to be read slowly and savored . . . [and] are filled with lovely and disturbing moments that will stay with the reader for some time to come." —Ronald De Feo, The New York Times
NYRB Classics, 9781590174548, 160pp.
Publication Date: January 24, 2012
About the Author
ROBERT WALSER (1878–1956) was born into a German-speaking family in Biel, Switzerland. He left school at fourteen and led a wandering, precarious existence while writing his poems, novels, and vast numbers of the "prose pieces" that became his hallmark. In 1933 he was confined to a sanatorium, which marked the end of his writing career. Among Walser's works available in English are Jakob von Gunten (available as an NYRB classic), The Tanners, Microscripts, The Assistant, The Robber, Masquerade and Other Stories, and Speaking to the Rose: Writings, 1912–1932.

JOCHEN GREVEN is the author of first German-language PhD dissertation on Robert Walser and the editor of Walser's collected works in German. As a graduate student in the 1950s, he recognized that Walser's "microscripts" (manuscript pages covered with tiny handwriting discovered after Walser's death) were not written in secret code but were in fact literary texts in standard German. Greven has devoted more than fifty years to studying and editing Walser's work.

SUSAN BERNOFSKY is the translator of six books by Robert Walser as well as works by Jenny Erpenbeck, Yoko Tawada, Hermann Hesse, Gregor von Rezzori, and others. The current chair of the PEN Translation Committee, she teaches in the MFA Program in Creative Writing and Literary Translation at Queens College (CUNY) and is at work on a biography of Walser.
or
Not Currently Available for Direct Purchase