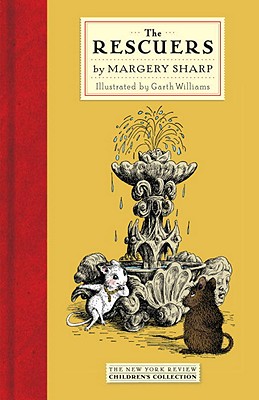 The Rescuers
Hardcover

* Individual store prices may vary.
Other Editions of This Title:
Paperback (9/6/2016)
Description
MISS BIANCA IS A WHITE MOUSE OF GREAT BEAUTY and supreme self-confidence, who, courtesy of her excellent young friend, the ambassador's son, resides luxuriously in a porcelain pagoda painted with violets, primroses, and lilies of the valley. Miss Bianca would seem to be a pampered creature, and not, you would suppose, the mouse to dispatch on an especially challenging and extraordinarily perilous mission. However, it is precisely Miss Bianca that the Prisoners Aid Society picks for the job of rescuing a Norwegian poet imprisoned in the legendarily dreadful Black Castle (we all know, don t we, that mice are the friends of prisoners, tending to their needs in dungeons and oubliettes everywhere). Miss Bianca, after all, is a poet too, and in any case she is due to travel any day now by diplomatic pouch to Norway. There Miss Bianca will be able to enlist one Nils, known to be the bravest mouse in the land, in a desperate and daring endeavor that will take them, along with their trusty companion Bernard, across turbulent seas and over the paws and under the maws of cats into one of the darkest places known to man or mouse. It will take everything they ve got and a good deal more to escape
with their own lives, not to mention the poet.

Margery Sharp's classic tale of pluck, luck, and derring-do is amply and beautifully illustrated by the great Garth Williams.
Praise For The Rescuers…
"Margery Sharp's mouse-centric 1959 adventure, The Rescuers, has only been out of print for a decade, but it is well worth revisiting. For one thing, it has just been reissued in handsome hardback as part of the New York Review Children's Collection, with drawings by Garth Williams. For another, this new incarnation provides an excuse to rescue the story for a generation of children who might otherwise know only the animated 1977 Disney movie of the same name. As with most children's classics, Ms. Sharp's original work is much funnier and more interestingly textured than the high-fructose movie version." -- Megan Cox Gurdon, The Wall Street Journal

"Miss Sharp's delicate and sophisticated humor is good fun for wise children from age 10 to 100." —Jerome Cushman, Los Angeles Times
New York Review of Books, 9781590174609, 149pp.
Publication Date: July 12, 2011
About the Author
Margery Sharp (1905 1991) published fifteen novels for adults before writing The Rescuers (1959), her first book for children. Born Clara Margery Melita Sharp in Salisbury, England, she spent part of her childhood in Malta before returning to England for high school. By the time she graduated with honors in French from the University of London, she had already begun publishing short stories; her work would later become a fixture in such American and British magazines as Harper s Bazaar, Ladies Home Journal, Good Housekeeping, and Punch. Several of Sharp s novels were serialized and a number became successful films, including Cluny Brown (screenplay by Ernst Lubitsch) and Britannia Mews (written by Ring Lardner, Jr.); the Rescuers series eventually numbered nine volumes and inspired two animated feature films from Disney. Garth Williams (1912 1996) illustrated nearly one hundred books for children, including Stuart Little and Charlotte s Web by E.B. White, A Cricket in Times Square by George Selden, and the Little House series by Laura Ingalls Wilder. Born in New York City to English artist parents, Williams lived in New Jersey, France, and Canada before moving to England in 1922. He had plans to be an architect but ultimately studied painting, design, and sculpture at the Westminster Art School and the Royal College of Art. Having returned to the United States after World War II, Williams found work at The New Yorker, where he met E. B. White just as the latter was finishing Stuart Little. Williams also wrote and illustrated several books of his own, including The Chicken Book: A Traditional Rhyme, The Adventures of Benjamin Pink, Baby Animals, and The Rabbits Wedding."
or
Not Currently Available for Direct Purchase