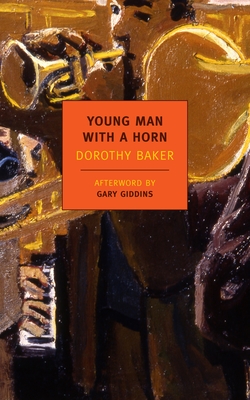 Young Man with a Horn
Paperback

* Individual store prices may vary.
Other Editions of This Title:
MP3 CD (6/7/2016)
Description
Rick Martin loved music and the music loved him. He could pick up a tune so quickly that it didn't matter to the Cotton Club boss that he was underage, or to the guys in the band that he was just a white kid. He started out in the slums of LA with nothing, and he ended up on top of the game in the speakeasies and nightclubs of New York. But while talent and drive are all you need to make it in music, they aren't enough to make it through a life. 

Dorothy Baker's Young Man with a Horn is widely regarded as the first jazz novel, and it pulses with the music that defined an era. Baker took her inspiration from the artistry—though not the life—of legendary horn player Bix Beiderbecke, and the novel went on to be adapted into a successful movie starring Kirk Douglas, Lauren Bacall, and Doris Day.
Praise For Young Man with a Horn…
"Young Man with a Horn is a great book, beautifully conceived and masterfully written. There is little else that can be said in praise of any book." —New York Amsterdam News
 
"The Young Man with a Horn is the story of a musician, a swing trumpeter who lives only for the pounding rhythms in his blood. Yet despite its subject matter, it is not the fragment of fervid impressionism that the jazz age used to produce; despite the irrationalism of swing, the book itself is a clear-minded, informed, coldly rational study of a swing-addict." —The New York Times

"Young Man with a Horn is practically perfect. You feel, and feel deeply, the atmosphere Baker describes, the music Rick and his friends make, the fanatic devotion of artists who can't take their music or leave it but must take it and take it hard. Between the lines Baker somehow gets a great many true things said about American life, its tempo, its elements of frustration, its unique and unquestioning vitality." —Clifton Fadiman, The New Yorker

"I first read this book when I was twelve. I loved it because it did not condescend or sugarcoat. It took me inside the music—it made me want to find an instrument and learn it." —Jesse Kornbluth
NYRB Classics, 9781590175774, 192pp.
Publication Date: September 11, 2012
About the Author
Dorothy Baker (1907–1968) was born in Missoula, Montana, in 1907 and raised in California. After graduating from UCLA , she traveled in France, where she began a novel and, in 1930, married the poet Howard Baker. The couple moved back to California, and Baker completed an MA in French, later teaching at a private school. After having a few short stories published, she turned to writing full time, despite, she would later claim, being "seriously hampered by an abject admiration for Ernest Hemingway." In 1938, she published Young Man with a Horn, which was awarded the prestigious Houghton Mifflin Literary Fellowship Award. She received a Guggenheim Fellowship in 1942 and, the next year, published Trio, a novel whose frank portrayal of a lesbian relationship proved too scandalous for the times; Baker and her husband adapted the novel as a play in 1944, but it was quickly shut down because of protests. Her final novel, Cassandra at the Wedding (also published as an NYRB Classic), examined the relationship between two exceptionally close sisters, whom Howard Baker asserted were based on both Baker herself and the couple's two daughters. Baker died in 1968 of cancer.


Gary Giddins was the jazz critic for The Village Voice, where his column "Weather Bird" ran for thirty years, and is presently director of the Leon Levy Center for Biography at the Graduate Center of the City University of New York. He has contributed articles about music and movies to The New York Times, The New Yorker, The Atlantic, The Nation, Esquire, The New York Sun, and Vanity Fair, among others. He has written twelve books, including Visions of Jazz, which won the National Book Critics Circle Award in 1998, and Bing Crosby: A Pocketful of Dreams. His most recent book is Warning Shadows: Home Alone with Classic Cinema.
or
Not Currently Available for Direct Purchase