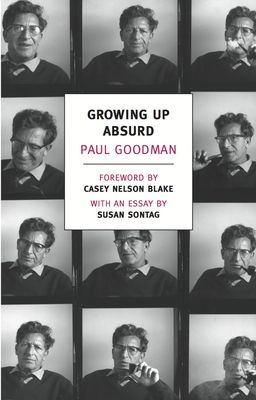 Growing Up Absurd
Problems of Youth in the Organized Society
Paperback

* Individual store prices may vary.
Description
Paul Goodman's Growing Up Absurd was a runaway best seller when it was first published in 1960, and it became one of the defining texts of the New Left. Goodman was a writer and thinker who broke every mold and did it brilliantly—he was a novelist, poet, and a social theorist, among a host of other things—and the book's surprise success established him as one of America's most unusual and trenchant critics, combining vast learning, an astute mind, utopian sympathies, and a wonderfully hands-on way with words.

For Goodman, the unhappiness of young people was a concentrated form of the unhappiness of American society as a whole, run by corporations that provide employment (if and when they do) but not the kind of meaningful work that engages body and soul. Goodman saw the young as the first casualties of a humanly re­pressive social and economic system and, as such, the front line of potential resistance.

Noam Chomsky has said, "Paul Goodman's impact is all about us," and certainly it can be felt in the powerful localism of today's renascent left. A classic of anarchist thought, Growing Up Absurd not only offers a penetrating indictment of the human costs of corporate capitalism but points the way forward. It is a tale of yesterday's youth that speaks directly to our common future.
Praise For Growing Up Absurd: Problems of Youth in the Organized Society…
"Growing up Absurd by Paul Goodman… pretty much founded the modern passion for school reform." – Paul Berman
 
"Paul Goodman, a man deeply dissatisfied with things as they are, deserves more attention than other less-conscientious objectors….His book is a highly serious effort to understand the relation between society and the disaffected youngster." – John K. Galbraith, The New York Times
 
"Goodman might be called an intuitive sociologist in his unconventional, erratic yet convincing analysis of the encouragement toward human waste that our wasteful society provides. Growing Up Absurd is his cruelly apt phrase for this fatal lack of purpose and idealism. If [John] Updike's anxiety for his fellow man is subtle, Goodman's angry polemic leaves us no doubt what makes Rabbit run." – The Washington Post, 1960
 
"His impact is all around us." – Noam Chomsky
 
"Philosopher, poet, sociologist, pacifist, psychologist, writer, anarchist, open bisexual and spokesman for a generation. Paul Goodman ranked among the most influential thinkers in the latter half of the 20th century." – Ronnie Scheib, Variety
 
"[The film] "Paul Goodman Changed My Life" pays tribute to a man—poet teacher social critic, guru without portfolio—whose name was once a household word and whose books were talismans of intellectual seriousness and social concern. His current obscurity is something this documentary, directed by Jonathan Lee and including eloquent testimony from friends, family and admirers, is determined to overcome….His most famous book, Growing Up Absurd, originally commissioned as a study of juvenile delinquency and later a bible of the 1960s student rebellion, remains essential and troubling reading for anyone who cares about the problems of the young." – A.O. Scott, The New York Times, 10/19/11, from his review of the film "Paul  Goodman Changed My Life"
 
"Mr. Goodman is terrifying. Utopians usually are when we take them (or they take themselves) seriously. And  Goodman is all the more terrifying because he is a rational Utopian who has most of analytical apparatus and theoretical formulations of modern sociology, psychology, historiography and aesthetics at his finger tips." – Webster Scott, The Nation
 
"The best analysis I have seen of the spiritual emptiness of our technological paradise." – Sir Herbert Read
 
"Paul Goodman's Growing Up Absurd is an extraordinary good and important book—the best book I know on the subject of youth….Goodman's is a serious, profound and old-fashionedly moral book. With great originality and lucidity, he argues that the Organization Man, the beat and the juvenile delinquent are merely reactions to the same basic problem…." – Kenneth Keniston, The American Scholar
NYRB Classics, 9781590175811, 312pp.
Publication Date: September 11, 2012
About the Author
Paul Goodman (1911–1972) was an American social critic, psychologist, poet, novelist, and anarchist. His writings appeared in Politics, Partisan Review, The New Republic, Commentary, The New Leader, Dissent, and The New York Review of Books. He published several well-regarded books in a variety of fields—including city planning, Gestalt therapy, literary criticism, and politics—before Growing Up Absurd, cancelled by its original publisher and turned down by a number of other  presses, was brought out by Random House in 1960.

Casey Nelson Blake is Professor of History and American Studies at Columbia University and the author of several studies in American intellectual and cultural history. He writes regularly for Commonweal, Dissent, Raritan, and other publications.

Susan Sontag (1933–2004) was a novelist, playwright, filmmaker, and one of the most influential critics of her generation. Her books include Against Interpretation, On Photography, Illness as Metaphor, and The Volcano Lover.
or
Not Currently Available for Direct Purchase