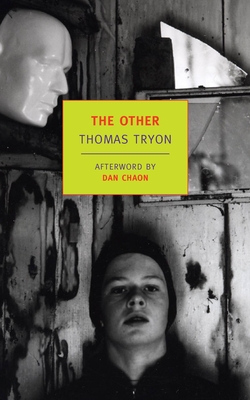 The Other
Paperback

* Individual store prices may vary.
Other Editions of This Title:
MP3 CD (6/28/2016)
Description
Holland and Niles Perry are identical thirteen-year-old twins. They are close, close enough, almost, to read each other's thoughts, but they couldn't be more different. Holland is bold and mischievous, a bad influence, while Niles is kind and eager to please, the sort of boy who makes parents proud. The Perrys live in the bucolic New England town their family settled centuries ago, and as it happens, the extended clan has gathered at its ancestral farm this summer to mourn the death of the twins' father in a most unfortunate accident. Mrs. Perry still hasn't recovered from the shock of her husband's gruesome end and stays sequestered in her room, leaving her sons to roam free. As the summer goes on, though, and Holland's pranks become increasingly sinister, Niles finds he can no longer make excuses for his brother's actions.

Thomas Tryon's best-selling novel about a homegrown monster is an eerie examination of the darkness that dwells within everyone. It is a landmark of psychological horror that is a worthy descendent of the books of James Hogg, Robert Louis Stevenson, Shirley Jackson, and Patricia Highsmith.
Praise For The Other…
"It is perhaps unfair and a little inaccurate to typecast The Other as a horror story. It is so ingenious and well-written that it transcends that—or any—label. The setting is the small Connecticut town of Pequot Landing, which under other circumstances, might be idyllic.  But the people who inhabit Tryon's New England are just as haunted as O'Neill's, and a lot more violent…His [Tryon's] characterizations have depth and subtlety, the narrative is well-paced and suspenseful. Where he really excels is with mood and atmosphere. Rarely have such commonplace surroundings been made to seem quite so dark and menacing and chillingly evil." – Chicago Tribune
 
"A lyrical, impressive horror story that is a cross between The Bad Seed and John Cheever's The Wapshot Chronicles." – Los Angeles Times
 
"This first novel from Thomas Tryon is a distinguished one, it may well leave you blenched with horror, but it is beautifully, even poetically, wrought, and within its boundaries there would seem an actual divination into the spirit of murderess insanity….In due time The Other will doubtless become one of the classics of horro tales, comparable to The Turn of the Screw." – Dorothy B. Hughes Los Angeles Times
 
"Like most professional writers, I resent Tom Tryon's The Other, since Tryon should get on with the job of being a good actor and not write good books as well. Enough is enough already. The Other is a highly readable chiller." – Anthony Burgess
 
"If you're looking for a good scary book to enjoy this Halloween, here is a suggestion: The Other by Thomas Tryon. The 1971 horror classic is a tale of a seemingly bucolic farmhouse in a small Connecticut town in the 1930s. There are no vampires in the story, no ghosts, no swamp monsters or ghouls or zombies or witches. There are two little boys, twins Niles and Holland, the picture of innocence. Or so it seems. The story is told in the voice of one of the boys, now older and a resident of a sanitarium. Insanity, it seems, is a family inheritance, and insanity is at the core of the chilling story that slowly unfolds and culminates in some horrifying deaths." – Advocate (Baton Rouge)
 
"Truly extraordinary! One of those books over which everybody will take leave their senses, all seven of them…" – Kirkus
 
"A smashing suspense-horror novel." – Minneapolis Tribune
 
"A humdinger…A whirlpool of Oh-My-God horror. Please congratulate Mr. Tryon for me. What a marvelous job he's done." – Ira Levin, author of Rosemary's Baby
 
"Tryon succeeds in creating a story that cast a subtly savage spell." – Saturday Review
 
"The Other is an all-out war on reality." – Chicago Sun-Times
 
"The most memorable chiller-thriller to come along since Rosemary's Baby….A tale of evil obsession with surprises and shockers." – Hartford Courant
 
"Thomas Tryon has unfolded a horror story of supreme proportions." – Los Angeles Herald-Examiner
 
"A psychological thriller that you read a second time to see how the author did it." – Cleveland Plain Dealer
 
"Thomas Tryon's The Other will scare the hell right out of you….You're almost afraid to turn the next page." – Rocky Mountain News
NYRB Classics, 9781590175835, 272pp.
Publication Date: October 2, 2012
About the Author
Thomas Tryon (1926–1991) was born in Hartford, Connecticut into a family whose New England roots stretch back to the seventeenth century. After serving in the navy during World War II , he attended Yale, and upon graduation began an acting career that would take him from a made-for-television Disney western to Hollywood, where he was featured in several B movies as well as Otto Preminger's The Cardinal. Preminger's treatment of Tryon was so cruel as to become a Hollywood legend, and Tryon turned to writing. His first book, The Other (1971), was an immediate success, spending more than six months on the New York Times best-seller list and allowing him to quit acting for good; a film adaptation, with a screenplay by Tryon and directed by Robert Mulligan, appeared in 1972. Tryon wrote two more novels set in the fictional Pequot Landing of The Other, Harvest Home (1973) and Lady (1974), before turning to works like All That Glitters (1986), that explore the dark side of the golden age of Hollywood. At the time of his death Tryon was working on a historical trilogy set in early nineteenth-century Connecticut.

Dan Chaon's most recent book is Stay Awake, a short-story collection. He is the author of the novels You Remind Me of Me and Await Your Reply, as well as of the story collections Fitting Ends and Among the Missing, which was a finalist for the 2001 National Book Award. His stories have appeared in Best American Short Stories, The Pushcart Prize Anthologies, and The O. Henry Prize Stories. He teaches at Oberlin College, where he is the Pauline Delaney Professor of Creative Writing and Literature.