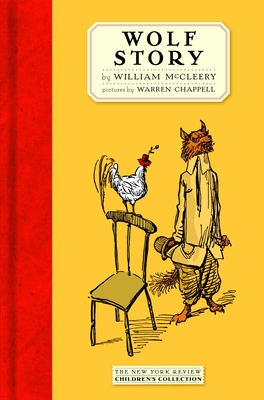 Wolf Story
Hardcover

* Individual store prices may vary.
Other Editions of This Title:
Hardcover (12/1/1988)
Description
This irresistible book is about: a father; his five-year-old son, Michael (intelligent, crafty, addicted to stories); Michael's best friend Stefan (stalwart listener, equally addicted to stories); and, well—what else?—a story. 

Oh, and a wolf. It is as Michael always demands: a Wolf Story, which begins one night at bedtime and spins wildly on through subsequent bedtimes and Sunday outings to the beach and park in a succession of ever more trickily tantalizing episodes. Waldo the wolf is sneaking up on Rainbow the hen, when Jimmy Tractorwheel, the son of the local farmer, comes along. After that, there's no knowing what will happen next, as while stalled in traffic jams or nodding off at night, the boys chime in and the story races on and Waldo finds, if not necessarily dinner, his just desserts.

First published in 1947 and wonderfully illustrated by Warren Chappell, William McCleery's Wolf Story is a delicious treat for fathers and sons and daughters and mothers alike.
Praise For Wolf Story…
"For the parent faced with a child consumed with the desire to hear the same story for the zillionth time, especially if it's a story with a wolf in it, joy has come with the reprinting of William McCleery's 1947 classic Wolf Story....I've loved this book for a long time, and it's good enough for a grown-up to read in silent pleasure, but it really springs to life when it's read out loud....Laughing and crying over made-up characters we know are made up, getting a kick out of it, and coming back for more is just one of those weird things humans do. And you can't start them too young." —Alexandra Mullen, B&N Review

"If you can get only one children's book this year, make it William McCleery's 1947 Wolf Story. This "underground classic" finds an inventive and exasperated father telling a wolf story to end all wolf stories (so he hopes) to his inventive and demanding young son. Dramatist McCleery perfectly captures the irritation, affection, tricks, admiration, and sheer surprise that pass back and forth between parent and child in everyday family life. It is in similar improvisational exchanges that we-adults and children-learn how to love." —Commonweal
 
"'You can kill the wolf at the very end, but this way we can have more story,' said Michael. The laughing child who listen will agree, for Wolf Story simply has to last forever. It is easy to imagine, from the natural conversational cadences and the impromptu unfolding of episodes, that the writing was no feat. But here is a little wok of art, funny, tender and captivating. To Warren Chappell, whose cleverly scratchy pen draws Rainbow and Waldo, Wolf Story also owes its attractive format." —The New York Times
 
"There is an air of distinction to this book. It is a pleasure to have and to read. One parent told me that if she were to compile a list of 'books for sitters' (and wouldn't that be helpful?), this book would lead all the rest." —Christian Science Monitor
 
"This charming book, perfect for reading aloud at bedtime, was first published in 1947. It's about Michael, an engaging 5-year-old, and his father, and the story Michael orders his father to tell about a hen the boy names Rainbow and Waldo, a rather foolish wolf." —The New York Times
 
"Wolf Story had been out of print for a decade. I had loved it in the 1960s and so had the 6- and 7-year-olds to whom I read it over the course of a month. I still enjoy it. The story-within-a-story technique, peppered with dialogue, is used to good effect. Adults reading this aloud will recognize themselves. Children will, of course, identify with Michael's determination to mold the story to his taste. In the end though, Wolf Story is a celebration of a happy father-son relationship." —St. Petersburg Times
 
"Wolf Story is tough-minded, without sentiment and very clever. It may well have been this cleverness that split the reviewers down the middle when the book was first issued in 1947. However, in the laboratory test our 9-year-old loved it." —The New York Times
 
"Wolf Story will captivate both parent and child as a father regales his 5-year-old son at bed time with tales of a fierce wolf, the hen he wanted to eat, and the farmer who wanted to shoot the wolf. Interruptions—by enthusiastic son Michael add to the fun. So do Warren Chappell's raffish pictures." —Chicago Tribune
NYR Children's Collection, 9781590175897, 88pp.
Publication Date: September 11, 2012
About the Author
William McCleery (1911–2000) was born in Nebraska and spent his early career as a newspaper reporter and magazine editor. In the 1940s two of his plays were produced on Broadway, and he later wrote some dozen one-hour dramas for television. From the 1960s until his death he was affiliated with Princeton University, where he taught playwriting, founded the magazine University: A Princeton Quarterly, and edited several volumes of university history. McCleery was a trustee of the MacDowell Colony in New Hampshire from 1948 to 1970, and it was there that he wrote Wolf Story for his son Michael.
 
Warren Chappell (1904–1991) was a graphic artist, book illustrator, and typographer. He illustrated many books for children and adults, including three in collaboration with John Updike; created two highly regarded typefaces, Lydian and Trajanus; and wrote several books on typography, among them A Short History of the Printed World.