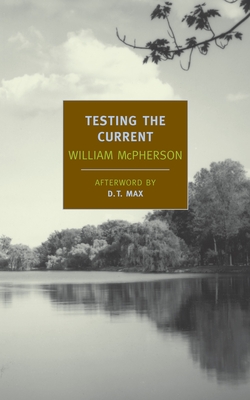 Testing the Current (Paperback)
NYRB Classics, 9781590176023, 352pp.
Publication Date: January 8, 2013
* Individual store prices may vary.
Description
Growing up in a small upper Midwestern town in the late 1930s, young Tommy MacAllister is scarcely aware of the Depression, much less the rumblings of war in Europe. For his parents and their set, life seems to revolve around dinners and dancing at the country club, tennis dates and rounds of golf, holiday parties, summers on the Island, and sparkling occasions full of people and drinks and food and laughter. But curious as he is and impatient to grow up, Tommy will soon come to glimpse the darkness that lies beneath so much genteel complacency: hidden histories and embarrassing poor relations; the subtle (and not so subtle) slighting of the "help"; the mockery of President Roosevelt; and "the commandment they talked least about in Sunday school," adultery.
    
In Testing the Current William McPherson subtly sets off his wide-eyed protagonist's perspective with mature reflection and wry humor and surrounds him with a cast of vibrant characters, creating a scrupulously observed portrait of a place and time that will shimmer in readers' minds long after the final page is turned.
About the Author
William McPherson (b. 1933) is a Pulitzer Prize–winning literary critic, editor, journalist, and novelist. Born and reared in Michigan, he attended three universities over the course of seven years but left before attaining a degree. After a stint in the Merchant Marine (he is still an able-bodied seaman), he started at The Washington Post as a copyboy in 1958, soon becoming a staff writer and editor. He spent several years as a senior editor at William Morrow & Co. and returned to the Post, first as its daily book editor, then as founding editor of its independent book section, Book World. Later he moved to the newspaper's editorial page, where he selected the letters to the editor and wrote a weekly op-ed column. After a two-year leave of absence, he left the newspaper in 1987 to write full time. His first novel, Testing the Current, was originally published in 1984. A second, To the Sargasso Sea, published in 1987, took up the story of the first novel some thirty years later. In 1989 he went to Berlin as the Wall was coming down and ended up in Romania in early 1990, shortly after the fall of the Communist regime, intending to stay for three days. Instead, he spent most of the next six years there, writing about post-Communist Romania for The Washington Post, Granta, and The Wilson Quarterly.

D. T. Max is a staff writer at The New Yorker. He is the author of The Family That Couldn't Sleep: A Medical Mystery, published in 2007, and Every Love Story Is a Ghost Story: A Life of David Foster Wallace, published in 2012.
Praise For Testing the Current…
"The dawning of the world's hard truths upon this boy's consciousness is depicted with a subtlety that...is something close to breathtaking...We have here a book that looks for all the world like a piece of art." —Jonathan Yardley, The Washington Post
 
"I can't remember another novel which captures a Midwestern childhood—that mysterious unwritten-about world. . . . It could have been my town and my life."  —Diane Johnson

"William McPherson's first novel is an extraordinary, intelligent, powerful and, I believe, permanent contribution to the literature of family, childhood and memory….From the first sentence of Testing the Current to the last, there is not one false note, one forced image. It is a novel written with great skill, and with love. It's what most good first novels aspire to be." —Russell Banks, The New York Times

or
Not Currently Available for Direct Purchase