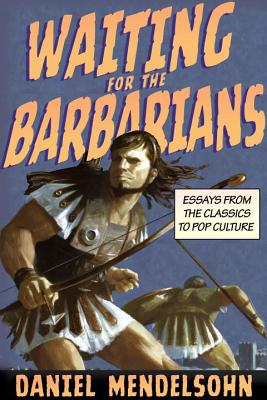 Waiting for the Barbarians (Hardcover)
Essays from the Classics to Pop Culture
New York Review Books, 9781590176078, 440pp.
Publication Date: October 16, 2012
Other Editions of This Title:
Paperback (3/4/2014)
* Individual store prices may vary.
Description
FINALIST FOR THE NATIONAL BOOK CRITICS CIRCLE AWARD
AND THE PEN ART OF THE ESSAY AWARD

Over the past decade and a half, Daniel Mendelsohn's reviews for The New York Review of Books, The New Yorker, and The New York Times Book Review have earned him a reputation as "one of the greatest critics of our time" (Poets & Writers). In Waiting for the Barbarians, he brings together twenty-four of his recent essays—each one glinting with "verve and sparkle," "acumen and passion"—on a wide range of subjects, from Avatar to the poems of Arthur Rimbaud, from our inexhaustible fascination with the Titanic to Susan Sontag's Journals. Trained as a classicist, author of two internationally best-selling memoirs, Mendelsohn moves easily from penetrating considerations of the ways in which the classics continue to make themselves felt in contemporary life and letters (Greek myth in the Spider-Man musical, Anne Carson's translations of Sappho) to trenchant takes on pop spectacles—none more explosively controversial than his dissection of Mad Men.

Also gathered here are essays devoted to the art of fiction, from Jonathan Littell's Holocaust blockbuster The Kindly Ones to forgotten gems like the novels of Theodor Fontane. In a final section, "Private Lives," prefaced by Mendelsohn's New Yorker essay on fake memoirs, he considers the lives and work of writers as disparate as Leo Lerman, Noël Coward, and Jonathan Franzen. Waiting for the Barbarians once again demonstrates that Mendelsohn's "sweep as a cultural critic is as impressive as his depth."
About the Author
Daniel Mendelsohn's reviews and essays on literary and cultural subjects appear frequently in The New York Review of Books and The New Yorker. His books include a memoir, The Elusive Embrace, a Los Angeles Times Best Book of the Year; the international best seller The Lost: A Search for Six of Six Million; an acclaimed translation of the works of C. P. Cavafy; and a previous collection of essays, How Beautiful It Is and How Easily It Can Be Broken. He teaches at Bard College.
Praise For Waiting for the Barbarians: Essays from the Classics to Pop Culture…
"Mendelsohn is a deep thinker with insightful charm.  All fans of intelligent thought on popular culture will appreciate his commentary." —Library Journal

"Mendelsohn's work is absolutely vital in both senses of the word—it breaths with an exciting intelligence often absent in similar but stodgier writing, and it should be required reading for anyone interested in dissecting culture, or who simply find themselves thinking about the complex flaws of an almost-good movie a week after leaving the cinema. In the book, his scope includes both the high- and middlebrow….Taken together, the collection offers a sort of defense of the modern age of culture. If a true-blue classicist can engage with the current zeitgeist using the full weight of his intellect and without an iota of demoralization, than the rest of us have no excuse." —Nicholas Mancusi, The Daily Beast

"Even more than his earlier books about literature and culture, it displays his characteristic strengths of style and judgment and his distinctive and engaging voice. As always, he is surprising yet convincing when he praises what practically everyone else condemns, or sees through the pretensions and confusions of books and dramas that everyone else admires." —Edward Mendelson, The New York Review of Books

"Waiting for the Barbarians adds up to more than the sum of its parts, evidencing an impressive range, depth and nobility of mind…. Mendelsohn is a trained classics scholar, from which much of his intellectual authority still derives: witness his brilliantly illuminating, lucid essays on Homer, Sappho, Herodotus and Horace. He writes about pop culture with equal enthusiasm." —Phillip Lopate, San Francisco Chronicle

"Waiting for the Barbarians, his latest collection of essays and reviews, is full of prose in praise of Horace, of Sappho, of Homer, and of the ghosts of all the above across all of popular culture. It makes it clear he is now, and has been for some time, the finest critic alive." —John Freeman, Toronto Star

"Another top-notch collection of previously published criticism from Mendelsohn." —Kirkus Reviews

"[Mendelsohn] is a brilliant storyteller, influenced by the Greek masters he so admires…" —The Times of London

"A joy from start to finish…a wonderfully eclectic set of musings on the state of contemporary culture and the enduring richness of classical literature." —Publishers Weekly

"A classicist by training and a critic by trade, he begins with a challenging subject and gloriously complicates it by drawing on his erudition, acumen, and passion for precision and bedrock truth….These are works of brilliant and soulful criticism." —Booklist

"Mendelsohn…is a gifted and entertaining writer. His prose is gorgeous and lyrical and his subjects are smartly considered and freshly revealed." —Vanity Fair
or
Not Currently Available for Direct Purchase