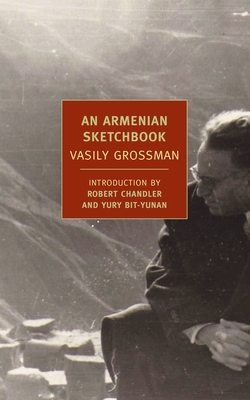 An Armenian Sketchbook
Paperback

* Individual store prices may vary.
Description
An NYRB Classics Original

Few writers had to confront as many of the last century's mass tragedies as Vasily Grossman, who wrote with terrifying clarity about the Shoah, the Battle of Stalingrad, and the Terror Famine in the Ukraine. An Armenian Sketchbook, however, shows us a very different Grossman, notable for his tenderness, warmth, and sense of fun.
      
After the  Soviet government confiscated—or, as Grossman always put it, "arrested"—Life and Fate, he took on the task of revising a literal Russian translation of a long Armenian novel. The novel was of little interest to him, but he needed money and was evidently glad of an excuse to travel to Armenia. An Armenian Sketchbook is his account of the two months he spent there.
      
This is by far the most personal and intimate of Grossman's works, endowed with an air of absolute spontaneity, as though he is simply chatting to the reader about his impressions of Armenia—its mountains, its ancient churches, its people—while also examining his own thoughts and moods. A wonderfully human account of travel to a faraway place, An Armenian Sketchbook also has the vivid appeal of a self-portrait.
Praise For An Armenian Sketchbook…
"Vasily Grossman is the Tolstoy of the USSR." —Martin Amis
 
"…it is only a matter of time before Grossman is acknowledged as one of the great writers of the 20th century." —The Guardian
 
"Charming. Grossman digresses as nimbly about the master craftsmen of Russian stoves found in the homes of the high-mountain villagers as he does about the touching customs of a rustic wedding he attended. Living among the Armenians, he witnessed a kind of timeless biblical nobility he conveys with artless simplicity in his own work." —Kirkus Reviews

"Like history, human nature is open-ended; people are capable of doing evil as much as good…[Vasily Grossman] the writer sought to probe the historical fabric and future potential of his society. Perhaps it's because of this stance that his work is finding its way back into print…" —The Nation
 
"Vasily Grossman's writing sneaks up on you, its simplicity building to powerful impressions as he records the small things that occur in people's lives as they experience - or endure - larger events." —The Jewish Chronicle
NYRB Classics, 9781590176184, 160pp.
Publication Date: February 19, 2013
About the Author
Vasily Semyonovich Grossman was born on December 12, 1905, in Berdichev, a Ukrainian town that was home to one of Europe's largest Jewish communities. In 1934 he published both "In the Town of Berdichev"—a short story that won the admiration of such diverse writers as Maksim Gorky, Mikhail Bulgakov, and Isaak Babel—and a novel, Glyukauf, about the life of the Donbass miners. During the Second World War, Grossman worked as a reporter for the army newspaper Red Star, covering nearly all of the most important battles from the defense of Moscow to the fall of Berlin. His vivid yet sober "The Hell of Treblinka" (late 1944), one of the first articles in any language about a Nazi death camp, was translated and used as testimony in the Nuremberg trials. His novel For a Just Cause (originally titled Stalingrad) was published to great acclaim in 1952 and then fiercely attacked. A new wave of purges—directed against the Jews—was about to begin; but for Stalin's death, in March 1953, Grossman would almost certainly have been arrested himself. During the next few years Grossman, while enjoying public success, worked on his two masterpieces, neither of which was to be published in Russia until the late 1980s: Life and Fate and Everything Flows. The KGB confiscated the manuscript of Life and Fate in February 1961. Grossman was able, however, to continue working on Everything Flows, a novel even more critical of Soviet society than Life and Fate, until his last days in the hospital. He died on September 14, 1964, on the eve of the twenty-third anniversary of the massacre of the Jews of Berdichev in which his mother had died.

Robert Chandler is the author of Alexander Pushkin and the editor of two anthologies for Penguin Classics: Russian Short Stories from Pushkin to Buida and Russian Magic Tales from
Pushkin to Platonov. His translations of Sappho and Guillaume Apollinaire are published in the Everyman's Poetry series. His translations from Russian include Vasily Grossman's Life and Fate, Everything Flows, and The Road (all published by NYRB Classics); Leskov's Lady Macbeth of Mtsensk; and Aleksander Pushkin's The Captain's Daughter. Together with Olga Meerson and his wife, Elizabeth, he has translated a number of works by Andrey Platonov. One of these, Soul, won the 2004 AATSEEL (American Association of Teachers of Slavonic and East European Languages) Prize. His translation of Hamid Ismailov's The Railway won the AATSEEL Prize for 2007 and received a special commendation from the judges of the 2007 Rossica Translation Prize.

Elizabeth Chandler is a co-translator, with her husband, of Pushkin's The Captain's Daughter; of Vasily Grossman's Everything Flows and The Road; and of several volumes of Andrey Platonov: The Return, The Portable Platonov, Happy Moscow, and Soul.

Yury Bit-Yunan was born in Bryansk, in western Russia. He graduated from the Russian State University for the Humanities in Moscow, and completed his doctorate on the work of Vasily
Grossman. At present he is lecturing on literary criticism at the Russian State University while continuing to research Grossman's life and work.