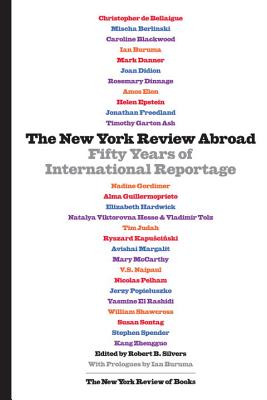 The New York Review Abroad (Hardcover)
Fifty Years of International Reportage
New York Review Books, 9781590176313, 544pp.
Publication Date: June 4, 2013
* Individual store prices may vary.
Description
For the past fifty years, The New York Review of Books has covered virtually every international revolution and movement of consequence by dispatching the world's most brilliant writers to write eyewitness accounts. The New York Review Abroad not only brings together twenty-eight of the most riveting of these pieces but includes epilogues that update and reassess the political situation (by either the original authors or by Ian Buruma). Among the pieces included are:
 
• Susan Sontag's personal narrative of staging Waiting for Godot in war-torn Sarajevo
• Alma Guillermoprieto's report from inside Colombia's guerrilla headquarters and her disturbing encounter with young female fighters
• Ryszard Kapuscinski's terrifying description of being set on fire while running roadblocks in Nigeria
• Caroline Blackwood's coverage of the 1979 gravediggers' strike in Liverpool—a noir mini-masterpiece
• Timothy Garton Ash's minute-by-minute account from the Magic Lantern theater in Prague in 1989, where the subterranean stage, auditorium, foyers, and dressing rooms had become the headquarters of the revolution

Among other writers whose New York Review pieces will be included are Tim Judah, Amos Elon, Joan Didion, William Shawcross, Christopher de Bellaigue, and Mark Danner.
 
A tour de force of vivid and enlightening writing from the front lines, this volume is indeed the first rough draft of the history of the past fifty years.
About the Author
Robert B. Silvers (1929–2017) was the editor of The New York Review of Books and a founding co-editor with Barbara Epstein, with whom he worked from 1963 until her death in 2006. He edited several essay anthologies featuring New York Review contributors, including both volumes of The Company They Kept: Writers on Unforgettable Friendships.
 
Ian Buruma, a frequent contributor to The New York Review of Books, is the Henry R. Luce Professor at Bard and a Cullman Fellow at the New York Public Library. His latest book is Taming the Gods: Religion and Democracy on Three Continents.

Praise For The New York Review Abroad: Fifty Years of International Reportage…
"These skilled essayists offer vivid descriptions that can sometimes be hard to stomach—but if we don't see the cycles of history play out from one decade to the next, we may be doomed to repeat them."  —Publishers Weekly

"A journal of ideas that has helped define intellectual discourse in the English-speaking world for the past four decades."  —The Washington Post
 
"The Review was created to fill a need in the country for a journal of ideas, a mission that it has fulfilled since becoming a must-read to many loyal readers."  —The Los Angeles Times
 
"With their connections in the highest reaches of academia, arts and letters, they recruited a glittering cast of intellectual all-stars to write for the publication." —The Washington Post
 
"Stubborn refusal to treat books, or the theatre and movies, for that matter, as categories of entertainment to be indulged in when the working day is done." —The New York Times
 
"The premier literary intellectual magazine in the English language." —Esquire
 
"A magazine that is smart and provocative and topical but also accessible and deeply earnest. It glides nimbly across history and politics and pop culture and art." —Chicago Tribune
 
"The editors met the challenges of the post-9/11 era in a way that most other leading American publications did not...the Review was there when we needed it most." —The Nation
 
"The leading intellectual forum in the United States." —New York magazine
 
"[The Review] remains a home for engaging and longer-form literary and political essays by an A-list of the smartest folks around." —Chicago Tribune
 
"[The New York Review of Books] has the largest claim to be regarded as the indispensable publication of the modern English-speaking world." —The Guardian
 
"One of the most influential and admired journals of its kind, attracting a high-powered roster of writers."  —The New York Times
or
Not Currently Available for Direct Purchase