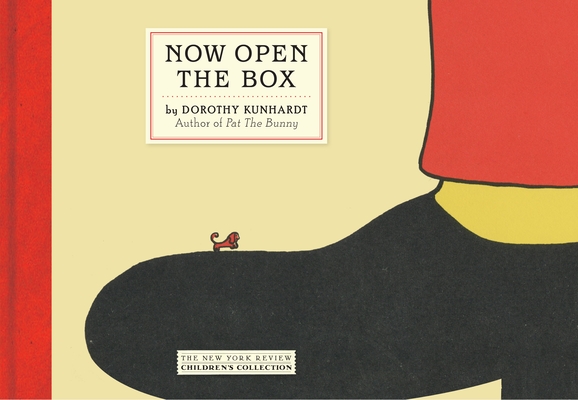 Now Open the Box (Hardcover)
NYR Children's Collection, 9781590177082, 72pp.
Publication Date: August 20, 2013
* Individual store prices may vary.
Description
Peewee's in the box! Peewee the dog doesn't know any tricks, "not a single one not even how to roll over not even how to shake hands but never mind he is so teeny weeny that everybody loves him," the clown, the fat lady, the thin man, the huge tall giant, the strong baby, the acrobats, the elephants, and all the other amazing performers in the wonderful circus of the man with the quite tall red hat. But then something unexpected happens that threatens to bring Peewee's time under the Big Top to an end.

Now Open the Box is a beautiful example of the art of Dorothy Kunhardt, the author of the timeless classic Pat the Bunny and the pioneering picture book Junket Is Nice. Here Kunhardt speaks with wonderfully reassuring directness to children's hopes and fears while making magic out of the simplest things.
About the Author
Dorothy Meserve Kunhardt (1901–1979) was an American author of books for small children and is best known for Pat the Bunny (1940), one of the all-time best-selling children's books in the United States. Her first book, Junket Is Nice (which is also part of the The New York Review Children's Collection), was a success when it appeared in 1933 and was followed by Now Open the Box, Lucky Mrs. Ticklefeather, Brave Mr. Buckingham, and Tiny Animal Stories. Kunhardt published nearly fifty books, including several nonfiction works for adults about Abraham Lincoln and the Civil War (her father amassed a legendary collection of Civil War–era photographs and memorabilia). Several years after her death, Philip B. Kunhardt Jr. remembered his mother's boundless curiosity and appreciation for the way young people observe the world, writing in The New York Times that "for Dorothy Kunhardt a children's book was nothing more or less than a way to talk to children."
Praise For Now Open the Box…
"With Dorothy Kunhardt, words come to the fore, words running on and piling up and repeating themselves, stopping only to put a question—WRONG! then rushing on again until the listener, on tenterhooks, can stand it no longer." —Barbara Bader, American Picturebooks from Noah's Ark to The Beast Within
 
"For Dorothy Kunhardt a children's book was nothing more or less than a way to talk to children. And if along the way the pages of the book had to float in a bath, had to squeak, had to bounce, had to light up, had to change color, had to feel furry or be in the shape of a snake or an elephant for feeling under the covers, if the book had to have a lock on it, a hole through it, a smell all its own, even if the book had to be eaten, that was O.K.—because that was all part of the delight." —The New York Times
or
Not Currently Available for Direct Purchase