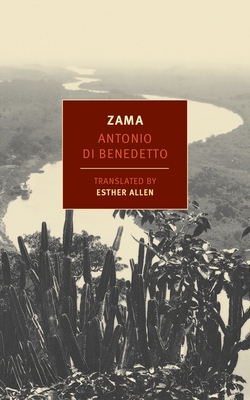 Zama (Paperback)
NYRB Classics, 9781590177174, 224pp.
Publication Date: August 23, 2016
* Individual store prices may vary.
Description
An NYRB Classics Original

First published in 1956, Zama is now universally recognized as one of the masterpieces of modern Argentine and Spanish-language literature.
 
Written in a style that is both precise and sumptuous, weirdly archaic and powerfully novel, Zama takes place in the last decade of the eighteenth century and describes the solitary, suspended existence of Don Diego de Zama, a highly placed servant of the Spanish crown who has been posted to Asunción, the capital of remote Paraguay. There, eaten up by pride, lust, petty grudges, and paranoid fantasies, he does as little as he possibly can while plotting his eventual transfer to Buenos Aires, where everything about his hopeless existence will, he is confident, be miraculously transformed and made good.
 
Don Diego's slow, nightmarish slide into the abyss is not just a tale of one man's perdition but an exploration of existential, and very American, loneliness. Zama, with its stark dreamlike prose and spare imagery, is at once dense and unforeseen, terse and fateful, marked throughout by a haunting movement between sentences, paragraphs, and sections, so that every word seems to emerge from an ocean of things left unsaid. The philosophical depths of this great book spring directly from its dazzling prose.
About the Author
Antonio di Benedetto (1922–1986) was an Argentine journalist and the author of five novels, of which Zama is the best known. His first book, the story collection Mundo Animal (1952), appeared in English translation in 1997 as Animal World.
 
Esther Allen has translated Javier Marías, Jorge Luis Borges, Felisberto Hernández, Flaubert, Rosario Castellanos, Blaise Cendrars, Marie Darrieussecq, and José Martí. She currently teaches at Baruch College and has directed the work of the PEN Translation Fund since its founding in 2003. Allen has received a Fulbright Grant, two National Endowment for the Arts Translation Fellowships, and was named a Chevalier of the Order of Arts and Letters.
Praise For Zama…
"Zama remains the most attractive of Di Benedetto's books, if only because of the crazy energy of Zama himself, which is vividly conveyed in Esther Allen's excellent translation." —J. M. Coetzee, The New York Review of Books

"An ardent fan of Dostoyevsky, Di Benedetto is given to portraying states of extremity—of obsession, delusion, wild aggression—but without any nineteenth-century rhetorical overheating. . . Zama has been described as a work of existentialist fiction, and its protagonist, alone with a troubled mind, is as much an ambassador from the twentieth century as a Baroque-era bureaucrat. As with novels by Kafka, Camus, Sartre, and Beckett, the story's preoccupation is the tension between human freedom and constraining circumstance . . . . The belated arrival of Zama in the United States raises an admittedly hyperbolic question: Can it be that the Great American Novel was written by an Argentinean? It's hard, anyway, to think of a superior novel about the bloody life of the frontier." —Benjamin Kunkel, The New Yorker

"[A] haunting novel about solitude and self-destruction that is both earthly and oneiric. Di Benedetto was influenced by Dostoyevsky and Kafka. But he also had much to say about the Latin American condition. . . . In place of baroque magic realism, Di Benedetto writes in sharp, modern, deceptively simple prose. . . . he was a bridge between Jorge Luis Borges, with his mental labyrinths, and Roberto Bolaño, a peripatetic Chilean whose work explored both the condition of the writer and chronic violence in Latin America." —Michael Reid, The Economist

"Available in English for the first time, this 1956 classic of Argentine literature presents a riveting portrait of a mind deteriorating as the 18th century draws to a close. . . . The final images of the novel are haunting and unforgettable. This extraordinary novel, whose English translation has been so long in coming, is a once and future classic." —Publishers Weekly, starred review

"A surprisingly modern existential portrait of a tortured soul." —BBC

"[Di Benedetto] has written essential pages that have moved me and that continue to move me." —Jorge Luis Borges
 
"Di Benedetto is the rare novelist who doesn't seek to reconstruct the past to prove a point. He lives the past, and exposes us to experiences and forms of behavior that retain all their weirdness." —Julio Cortázar

"So many great books arrive late, or never, in English. High on the list is Zama, one of the best books written in Spanish during the second half of the twentieth century." —Jonathan Blitzer, The New Yorker's Page Turner blog

"[An] exquisite, new, and much-belated translation of Zama." —Ratik Asokan, The Nation

"[R]ead it above all for the triumph of its style: Zama holds forth in deep, stewing paragraphs as pompous as they are incisive. It's Sartre by way of J. Peterman, and in Esther Allen's translation it still feels unique and alive." —Dan Piepenbring, Paris Review Daily

"This year's release of Antonio Di Benedetto's masterpiece is a literary event of great importance, and it puts an end to an unjust historical neglect." —Daniel Saldaña París, Publishers Weekly
 
"This is a book that I could see myself reading many times, and always profiting from, seeing it each time as if was reading a whole other book. . . . Read it. Zama has been worth waiting 7 years for." —Scott Esposito, Conversational Reading

"Scattered in various corners of Latin America and Spain, [Zama] had a few, fervent readers, almost all of them friends or unwarranted enemies. . . . [It is written with] the steady pulse of a neurosurgeon." —Roberto Bolaño, from his story "Sensini"

"[Zama] has the beauty and force of a classic, but also the attributes of an overlooked masterpiece. . . . I think that Zama should be translated into English simply because so many English-speaking readers and authors haven't read one of the best novels of the 20th century. Good books are unique and need no justification." —Sergio Chejfec, The Quarterly Conversation

"Widely regarded as an existential masterpiece and one of the great novels of the Spanish language, Zama is Antonio di Benedetto's most famous—and, arguably, his best—work. It is, therefore, hard to explain why this novel, first published in 1956, has never been translated into English and, more broadly, why this author—who occupies an important place in Argentina's narrative tradition—is not more well known in the English-speaking world. All the more so because the historical and stylistic incisiveness of Di Benedetto's writing make Zama a timeless achievement, as readable today as when it first came off the presses half a century ago." —The Latin American Review of Books
 
"[Zama] is comparable to the great existentialist novels such as La Nausée and L'Étranger, but I believe that, given the circumstances in which it was written and the peculiar situation of the person who wrote it, Zama is in many ways superior to those books." —Juan José Saer
 
"The structure of Zama is as precise as it is disturbing. Its three chapters, with ellipses of several years between them, contain episodes like entries in an intimate diary that alternate with assaults on consciousness that can neither remain silent nor lie. Thus are readers led ever further into the depths, in an irreparable descent into hell. . . . The book's shatteringly audacious conclusion forces us to revise our view of all that has gone before. Zama teaches us to read in a new way, astonishes us with the discovery that we know nothing." —Raul Cazorla, El Varapalo

"Zama, a classic of Argentine literature that has finally made its way into English (thanks to the years-long work of Esther Allen), is an existentialist-of-sorts masterpiece." —Lucas Iberico Lozada, Paste