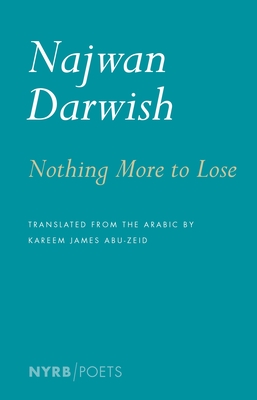 Nothing More to Lose (NYRB Poets)
Paperback

* Individual store prices may vary.
Description
Nothing More to Lose is the first collection of poems by Palestinian poet Najwan Darwish to appear in English. Hailed across the Arab world  and beyond, Darwish's poetry walks the razor's edge between despair and resistance, between dark humor and harsh political realities. With incisive imagery and passionate lyricism, Darwish confronts themes of equality and justice while offering a radical, more inclusive, rewriting of what it means to be both Arab and Palestinian living in Jerusalem, his birthplace.
Praise For Nothing More to Lose (NYRB Poets)…
"Roughly halfway through Najwan Darwish's Nothing More to Lose, wiping awkwardly at tears and trying self-consciously not to sob with my partner in the room, I found myself wondering what someone with no connection to Palestine would make of it…Here is what I think they would find: a collection of very short poems — often no more than a page — speaking of love, sorrow, loss, hope and despair in a voice simultaneously so passionate and so matter-of-fact that it stops the breath." —NPR Books

"Readers may presume that writers faced with the immediate realities of life under occupation are limited by the attendant tropes of rage and despair, or else flee into sentimentality or aesthetics. Najwan Darwish's poetry is different. Constrained by neither temporality nor place, his poetry is a medium of defiance, employing a sharp wit to illuminate absurdities and injustices. Darwish's poetry renders the particularity of the Palestinian experience in luminous imagery and piercing obser-vations, but his imagination and interests are not limited by borders." —Emily Dische-Becker, Poetry International

"One of the most exciting young voices in the Arab world." —Nathalie Handal
 
"Najwan Darwish's poetry is different: it seems to have overcome the false dichotomy between poetry and social and political reality. What struck me first about reading these poems is his capacity to do justice to both poetry (to image, to condensed form) while also doing justice to its surrounding reality. This is a significant challenge: how to mediate between two intense forms without ruining either." —Bashir Abu-Manneh, Barnard College

"The poems…are passionately lyrical, and their imagery is acutely effective….an invitation to learn lessons from history and to know that in the end there is victory for those who persevere, those who may have been forgotten but whose courageous deeds lived to create better lives for future generations." —Issa J. Boullata, World Literature Today
NYRB Poets, 9781590177303, 120pp.
Publication Date: April 29, 2014
About the Author
Najwan Darwish, one of the foremost Arabic-language poets of his generation, was born in Jerusalem in 1978, exactly thirty years after his family was exiled from their home in the western part of the city. Shortly after studying in Amman, Jordan, and becoming a lawyer, Darwish decided to give up law and devote himself more fully to literature. He has worked as the editor of two cultural magazines in Palestine and was a cultural critic for the prominent Lebanese newspaper Al-Akhbar from 2006 to 2012. Darwish has been an organizer and advisor for many public arts projects, among them the Palestine Festival of Literature. In 2009, he founded a literary press in Jerusalem, and he is currently involved in establishing a new pan-Arab newspaper, where he will be the chief editor of the arts and culture section. Darwish's poetry is informed by Arabic and Western poetic traditions, both classical and modern, as well as by Persian Sufi poetry. Since the publication of his first collection in 2000, his poetry has been acclaimed across the Arab world and has been translated into fifteen languages. In 2009 he was on the Hay Festival Beirut's list of the "best 39 Arab authors under the age of 39." He currently resides in Jerusalem.

Kareem James Abu-Zeid was born in 1981. Half American and half Egyptian, he has translated novels by the Lebanese writer Rabee Jaber and the Sudanese writer Tarek Eltayeb, as well the poetry collection The Iraqi Nights by Dunya Mikhail. Abu-Zeid also translates from French and German, and has taught university courses in four different languages in Berkeley, Mannheim, and Heidelberg. He works as a freelance translator and editor, and is currently writing a history of psychedelic literature that is doubling as his PhD dissertation in comparative literature at the University of California Berkeley.
or
Not Currently Available for Direct Purchase