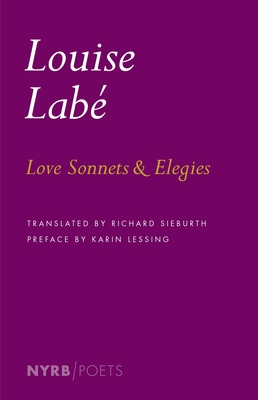 Love Sonnets and Elegies (NYRB Poets)
Paperback

* Individual store prices may vary.
Description
Louise Labé, one of the most original poets of the French Renaissance, published her complete Works around the age of thirty and then disappeared from history. Rediscovered in the nineteenth century, her incandescent love sonnets were later translated into German by Rilke and appear here in a revelatory new English version by the award-winning translator Richard Sieburth.
Praise For Love Sonnets and Elegies (NYRB Poets)…
"The deeply learned Louise Labé knew well the love poetry of Sappho, Propertius, Ovid, and Petrarch, but she herself joined the ranks of these great Western tossers and turners by breaking with convention. Across five centuries, thanks to Richard Sieburth's beautiful translations, her urgent voice, her embodied images, and her rapid, somehow breathless, lines come to us as if they were spoken yesterday." --Susan Stewart

"Richard Sieburth has captured the vigor, intensity, and vernacular tang of Louise Labé's startling poems. He has turned the 'rhymed cordage  as twined and tensile as rope' of the fabled Belle Cordière, daughter of a ropemaker, into spirited poems in English." --Rosanna Warren                

"[Labé] laments for one alone, but the whole of nature unites with them: it is the lament for one who is eternal." — Rainer Maria Rilke
 
"A great poet, perhaps one of the greatest of all time." —The Polar Bear, a character in Samuel Beckett's Dream of Fair to middling Women
NYRB Poets, 9781590177310, 144pp.
Publication Date: April 8, 2014
About the Author
Louise Labé was born between 1516 and 1522 in Lyon, France. Her father was a ropemaker and her mother died when she was an infant. It is thought that Labé may have been sent to the sisters of the convent of La Déserte for her primary and secondary schooling, where she would have learned the arts  of needlecraft and music in addition to Latin and Italian. Legend has it that she excelled on horseback and jousted in tournaments dressed as a man. In her twenties, Labé married a ropemaker twenty years her elder. In her lifetime she gained  a reputation as a scholar and, to her enemies, as a femme sçavante, or courtesan. Her complete writings, Euvres de Louïze Labé Lionnoize, were published in 1555 and included  a preface dedicated to Clémence de Bourges, three elegies, twenty-four sonnets, a prose work titled "The Debate Between Folly and Love," and twenty-four homages to her addressed by various Lyonnese men of letters. After her death on Febuary 15, 1566, her legend continued to grow. Rilke famously published his German versions of Labé's sonnets in 1917, and in his anthology of sixteenth-century verse, Léopold Senghor pronounced her "the greatest poetess ever born in France." To this day the "Ami" of her love poems remains a mystery.

Richard Sieburth is a professor of French and comparative literature at New York University. He has translated works by Friedrich Hölderlin, Walter Benjamin, Michel Leiris, Michael Palmer (into French), Henri Michaux, Maurice Scève, Gershom Scholem, Georg Büchner, Guillevic, and, most recently, Nostradamus's The Prophecies. He received a PEN/Book of the Month Translation Prize for his translation of Gérard de Nerval's Selected Writings, and has also edited a number of Ezra Pound's works, including A Walking Tour in Southern France, The Pisan Cantos, Poems & Translations, and New Selected Poems and Translations.

Karin Lessing is an American poet who has been living in Provence, France, since 1962. She was born in Görlitz, a town now split by the German–Polish border, and emigrated to the United States at an early age. Her Collected Poems was published in 2010.
or
Not Currently Available for Direct Purchase