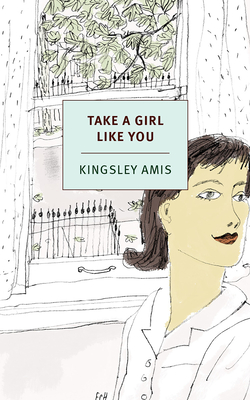 Take a Girl Like You (NYRB Classics) (Paperback)
NYRB Classics, 9781590177600, 336pp.
Publication Date: April 28, 2015
* Individual store prices may vary.
Description
Take a Girl Like You may well be Kingsley Amis's most ambitious reckoning with the serious subject at the heart of his work: the sheer squalor—emotional, material, sexual, you name it—of modern life. It also introduces one of the rare unqualified good guys in Amis's rogue-ridden world: Jenny Bunn, a girl from the (English) north country come south to teach school in a small smug town where she hopes to find love and fortune. Jenny is a beauty and men and women are crazy about her, most of all handsome Patrick Standish, who Jenny also likes. But Jenny and Patrick live in a world where it's becoming ridiculously difficult—disastrously difficult—to sort out the claims of sex and the claims of love.
About the Author
Kingsley Amis (1922–1995) was a popular and prolific British novelist, poet, and critic, widely regarded as one of the greatest satirical writers of the twentieth century. Born in suburban South London, the only child of a clerk in the office of the mustard-maker Colman's, he went to the City of London School on the Thames before winning an English scholarship to St. John's College, Oxford, where he began a lifelong friendship with fellow student Philip Larkin. Following service in the British Army's Royal Corps of Signals during World War II, he completed his degree and joined the faculty at the University College of Swansea in Wales. Lucky Jim, his first novel, appeared in 1954 to great acclaim and won a Somerset Maugham Award. Amis spent a year as a visiting fellow in the creative writing department of Princeton University and in 1961 became a fellow at Peterhouse College, Cambridge, but resigned the position two years later, lamenting the incompatibility of writing and teaching ("I found myself fit for nothing much more exacting than playing the gramophone after three supervisions a day"). Ultimately he published twenty-four novels, including science fiction and a James Bond sequel; more than a dozen collections of poetry, short stories, and literary criticism; restaurant reviews and three books about drinking; political pamphlets and a memoir; and more. Amis received the Booker Prize for his novel The Old Devils in 1986 and was knighted by Queen Elizabeth II in 1990. He had three children, among them the novelist Martin Amis, with his first wife, Hilary Anne Bardwell, from whom he was divorced in 1965. After his second, eighteen-year marriage to the novelist Elizabeth Jane Howard ended in 1983, he lived in a London house with his first wife and her third husband.

Christian Lorentzen is an editor at the London Review of Books. 
Praise For Take a Girl Like You (NYRB Classics)…
"Incendiary stuff...a really formidable blaze." —Karl Miller, The Observer 

"Has the comic gusto, the loathing of pretension that made Lucky Jim so engaging and high-spirited." —Elizabeth Jennings, The Listener
 
"Jenny is the most serious and most successful character in Amis's work. . . . She is an improbable but convincing blend of sexy good looks with solid domestic instincts, feminine gentleness with the toughness of the slums. One of the funniest scenes Amis has written is the triumph of Jenny as a schoolmistress—twisting arms, dodging verbal filth, and maintaining order among her little hoodlums with a ladylike ruthlessness all her own. Jenny rightly holds the center of the stage." 
—Ellen Moers, Commentary