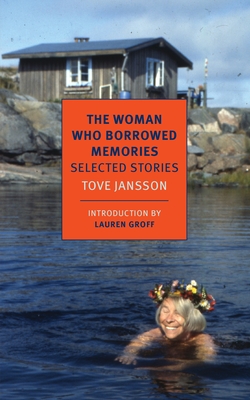 The Woman Who Borrowed Memories
Selected Stories (NYRB Classics)
Paperback

* Individual store prices may vary.
Description
An NYRB Classics Original
 
Tove Jansson was a master of brevity, unfolding worlds at a touch. Her art flourished in small settings, as can be seen in her bestselling novel The Summer Book and in her internationally celebrated cartoon strips and books about the Moomins. It is only natural, then, that throughout her life she turned again and again to the short story. The Woman Who Borrowed Memories is the first extensive selection of Jansson's stories to appear in English.

Many of the stories collected here are pure Jansson, touching on island solitude and the dangerous pull of the artistic impulse: in "The Squirrel" the equanimity of the only inhabitant of a remote island is thrown by a visitor, in "The Summer Child" an unlovable boy is marooned along with his lively host family, in "The Cartoonist" an artist takes over a comic strip that has run for decades, and in "The Doll's House" a man's hobby threatens to overwhelm his life. Others explore unexpected territory: "Shopping" has a post-apocalyptic setting, "The Locomotive" centers on a railway-obsessed loner with murderous fantasies, and "The Woman Who Borrowed Memories" presents a case of disturbing transference. Unsentimental, yet always humane, Jansson's stories complement and enlarge our understanding of a singular figure in world literature.
Praise For The Woman Who Borrowed Memories: Selected Stories (NYRB Classics)…
"[Jansson] writes about these things with sparkling wit and a quirky sensibility." —The New Yorker

"Complex, intriguing and haunting, Jansson's unusual short fiction is bound to enchant an English-speaking audience just as it did a Swedish-speaking one many years ago." —Shelf Awareness

"Jansson's short stories are as yet unacknowledged small masterworks." —Ali Smith

"They are tough as good rope, [Jansson's stories], as smooth and odd and beautiful as sea-worn driftwood, as full of light and air and wind as the Nordic summer."—Philip Pullman
 
"It could be said that everything she wrote is, in one way or another, about the creative interactions between art and reality or art and nature." —The Guardian

"The Moomin books, and the years [Jansson] spent writing them, evidently stayed with her; the result was a stirring art, both light and dark, consoling and disturbing, spare and intricate. A simplicity of expression belies the mystery of Jansson's art—ostensibly plain, teeming with profound delights and worries—all of which this reader's stunted, sad-girl soul is grateful to have discovered." —Sonya Chung, The Millions
"Twenty-six spare, slyly off-kilter stories…consider loneliness, family, aging and creative experience, sometimes all together…Windows crop up often in Jansson's stories, reflecting the transparent wall between her lonely characters and their worlds but also Jansson's expression of intangible thoughts and feelings with lucent prose." —Kirkus Reviews
"The unique Swedish-speaking Finnish author Jansson, a daughter of two artists, continues to dazzle in singular narratives filtered through her sharp wit and beguiling imagination." —Eileen Battersby, Irish Times
NYRB Classics, 9781590177662, 304pp.
Publication Date: October 21, 2014
About the Author
Tove Jansson (1914–2001) was born in Helsinki into Finland's Swedish-speaking minority. Her father was a sculptor and her mother a graphic designer and illustrator. Winters were spent in the family's art-filled studio and summers in a fisherman's cottage in the Pellinge archipelago, a setting that would later figure in Jansson's writing for adults and children. Jansson loved books as a child and set out from an early age to be an artist. Her first illustration was published when she was fifteen years old; four years later a picture book appeared under a pseudonym. After attending art schools in both Stockholm and Paris, she returned to Helsinki, where in the 1940s and '50s she won acclaim for her paintings and murals. From 1929 until 1953 Jansson drew humorous illustrations and political cartoons for the left-leaning anti-Fascist Finnish-Swedish magazine Garm, and it was there that what was to become Jansson's most famous creation, Moomintroll, a hippopotamus-like character with a dreamy disposition, made his first appearance. Jansson went on to write about the adventures of Moomintroll, the Moomin family, and their curious friends in a long-running comic strip and in a series of books for children that have been translated throughout the world, inspiring films, several television series, an opera, and theme parks in Finland and Japan. Jansson also wrote eleven novels and short-story collections for adults, including The Summer Book, The True Deceiver, Fair Play, and The Woman Who Borrowed Memories (available as NYRB Classics). In 1994 she was awarded the Prize of the Swedish Academy. Jansson and her companion, the artist Tuulikki Pietilä, continued to live part time in a cottage on the remote outer edge of Pellinge until 1991.

Thomas Teal has translated many of Tove Jansson's works into English, beginning in the 1970s with The Summer Book and Sun City and more recently, The True Deceiver (2009, winner of the Best Translated Book Award) and Fair Play (2011, winner of the Bernard Shaw Prize for translation from the Swedish). He lives in Massachusetts.

Silvester Mazzarella is a translator of Italian and Swedish literature. For many years he lived in Finland, where he taught English literature at the University of Helsinki. His most recent translation from the Swedish is Tove Jansson: Life, Art, Words by Boel Westin (2014). He now lives in Canterbury, England.

Lauren Groff is the author of the novels Arcadia and The Monsters of Templeton, and Delicate Edible Birds, a story collection. Her work has appeared in The New Yorker, Harper's, and The Atlantic Monthly, as well as in the Pushcart Prize, PEN/O. Henry, and Best American Short Stories anthologies. She lives in Gainesville, Florida.