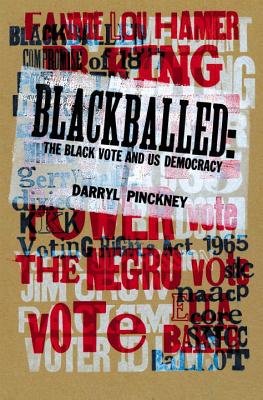 Blackballed
The Black Vote and US Democracy
Hardcover

* Individual store prices may vary.
Other Editions of This Title:
Paperback (10/1/2020)
Description
Blackballed is Darryl Pinckney's meditation on a century and a half of participation by blacks in US electoral politics. In this combination of memoir, historical narrative, and contemporary political and social analysis, he investigates the struggle for black voting rights from Reconstruction through the civil rights movement to Barack Obama's two presidential campaigns. Drawing on the work of scholars, the memoirs of civil rights workers, and the speeches and writings of black leaders like Martin Luther King and Stokely Carmichael, Andrew Young and John Lewis, Pinckney traces the disagreements among blacks about the best strategies for achieving equality in American society as well as the ways in which they gradually came to create the Democratic voting bloc that contributed to the election of the first black president. 

Interspersed through the narrative are Pinckney's own memories of growing up during the civil rights era and the reactions of his parents to the changes taking place in American society. He concludes with an examination of ongoing efforts by Republicans to suppress the black vote, with particular attention to the Supreme Court's recent decision striking down part of the Voting Rights Act of 1965. 

Also included here is Pinckney's essay "What Black Means Now," on the history
of the black middle class, stereotypes about blacks and crime, and contemporary debates about "post-blackness."
Praise For Blackballed: The Black Vote and US Democracy…
"A capacious and mind-opening experience awaits within." —Publishers Weekly starred review

"This brief but incisive reflection on the history of voting among African-Americans takes the form of a classic personal essay: light and conversational, circling its subject in a deliberately meandering style that ends up revealing more than a frontal attack might have." —The New Yorker

"[A] slim but powerful volume." —The Independent (UK)

"Blackballed is a masterfully-crafted study of American democracy and the changing role of the black vote within it, from Reconstruction to the election of Barack Obama. It is insightful, personal, informative, and remarkably timely. The book not only speaks to current questions about race within the social and political arenas, but to broader issues of the health and legitimacy of a democracy in which some voices are kept from entering the dialogue. Blackballed is one of those special works that effortlessly transports readers to another time while subtly drawing thematic ties to the present day. One leaves the experience not only appreciating the work done by generations past, but contemplating one's own role in the historical arc." —Challenges to Democracy blog, Ash Center for Democratic Governance and Innovation, Harvard Kennedy School                     

Praise for Darryl Pinckney

"An extraordinary achievement.... This tender, often droll portrait of one young life is also an arrestingly mature, original account of the condition of being black through several generations and of America in the sixties—a major part of our history. [High Cotton] is also beautifully written, exhilaratingly intelligent, and a joy to read." —Susan Sontag

"With High Cotton, Pinckney joins the first ranks of American writers.... A major achievement."  —Henry Louis Gates Jr.

"The essays [in Out There: Mavericks of Black Literature] are full of great personal feeling, intellectual curiosity, and original, groundbreaking research....He is simultaneously sympathetic, skeptical, and analytical." —Lorrie Moore

"In his formalism, one sees a mind that's viewing things from a distance, [with] irony and danger and wit and darkness. But in the darkness there is this humor, a kind of joyous light."  —Robert Wilson
New York Review Books, 9781590177693, 112pp.
Publication Date: September 30, 2014
About the Author
Darryl Pinckney, a longtime contributor to The New York Review of Books, is the author of the novels High Cotton and Black Deutschland and several works of nonfiction, most recently the collection Busted in New York and Other Essays. He has collaborated with Robert Wilson on the director's productions of The Forest, Time Rocker, Orlando, The Old Woman, Letter to a Man, Garrincha: A Street Opera, and Mary Said What She Said.
or
Not Currently Available for Direct Purchase