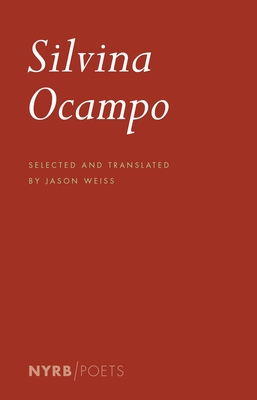 Silvina Ocampo (NYRB Poets)
Paperback

* Individual store prices may vary.
Description
Silvina Ocampo possessed her own special enchantment as a poet, and only now is her extraordinary poetic achievement becoming more widely recognized beyond Latin America.

Remarkably, this is the first collection of Ocampo's poetry to appear in English. From her early sonnets on the native Argentine landscape, to her meditations on love's travails, to her explorations of the kinship between plant and animal realms, to her clairvoyant inquiries into history and myth and memory, readers will find the full range of Ocampo's "metaphysical lyricism" (The Independent) represented in this groundbreaking edition.
Praise For Silvina Ocampo (NYRB Poets)…
"It is Ocampo's position as a poet which exalts her prose. . . . Of all the words that could define her, the most accurate is, I think, ingenious." —Jorge Luis Borges

"Like William Blake, Ocampo's first voice was that of a visual artist; in her writing she retains the will to unveil the immaterial so that we might at least look at it if not touch it."  —Helen Oyeyemi

"I don't know of another writer who better captures the magic inside everyday rituals, the forbidden or hidden face that our mirrors don't show us."  —Italo Calvino

"Like her friend Julio Cortázar, [Ocampo] wrote with fascinated horror of Argentinian petty bourgeois society, whose banality and kitsch settings she used in a masterly way to depict strange, surreal atmospheres sometimes verging on the supernatural. She could reproduce with devastating accuracy the intonations and the peculiar idiom of the Buenos Aires middle classes. Yet her irony was always so subtle and restrained, it could produce effects of unexpected illumination on the life of her times." —The Independent

"Silvina Ocampo is, together with Borges and García Márquez, the leading writer in Spanish." —Jorge Amado

"Few writers have an eye for the small horrors of everyday life; fewer still see the everyday marvelous. Other than Silvina Ocampo, I cannot think of a single writer who, at any time or in any language, has chronicled both with such wise and elegant humour." —Alberto Manguel
NYRB Poets, 9781590177747, 176pp.
Publication Date: January 27, 2015
About the Author
Silvina Ocampo (1903–1993) was born to an old and prosperous family in Buenos Aires, the youngest of six sisters. After studying painting with Giorgio di Chirico and Fernand Léger in Paris, she returned to her native city—she would live there for the rest of her life—and devoted herself to writing. Her eldest sister, Victoria, was the founder of the seminal modernist journal and publishing house Sur, which championed the work of Jorge Luis Borges and Adolfo Bioy Casares, and in 1940 Bioy Casares and Silvina Ocampo were married. The first of Ocampo's seven collections of stories, Viaje olvidado (Forgotten Journey), appeared in 1937; the first of her seven volumes of poems, Enumeración de la patria (Enumeration of My Country) in 1942. She was also a prolific translator—of Dickinson, Poe, Melville, and Swedenborg—and wrote plays and tales for children. The Argentine critic Ezequiel Martínez Estrada wrote that "everything in Silvina Ocampo's poetry carries with it her reminiscence of a lost paradise, of an inferno traveled in dreams." Thus Were Their Faces, a collection of Ocampo's stories and novellas, is published by NYRB Classics.

Jason Weiss is the author of five books, including Always in Trouble: An Oral History of ESP-Disk', the Most Outrageous Record Label in America and The Lights of Home: A Century of Latin American Writers in Paris. Among his translations are the stories of Marcel Cohen and the poems of Luisa Futoransky. He lives in Brooklyn.
or
Not Currently Available for Direct Purchase