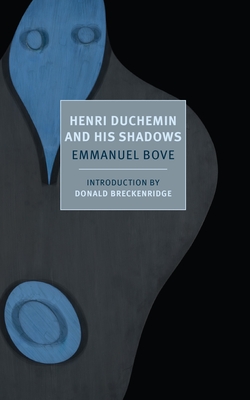 Henri Duchemin and His Shadows
Paperback

* Individual store prices may vary.
Description
An NYRB Classics Original 

Emmanuel Bove was one of the most original writers  to come out of twentieth-century France and a popular  success in his day. Discovered by Colette, who arranged for the publication of his first novel, My Friends, Bove enjoyed a busy literary career, until the German occupation silenced him. During his lifetime, his novels and stories were admired by Rilke, the surrealists, Camus, and Beckett, who said of him that "more than anyone else he has an instinct for the essential detail."

Henry Duchemin and His Shadows is the ideal introduction to Bove's world, with its cast of stubborn isolatoes who call to mind Melville's Bartleby, Walser's "little men," and Rhys's lost women. Henri Duchemin, the protagonist of the collection's first story, "Night Crime," is ambivalent, afraid of appearing ridiculous, desperate for money: in other words, the perfect prey. Criminals, beautiful women, and profiteers threaten the sad young men of Bove's stories, but worse yet are the interior voices and paranoia that propel them to their fates. The poet of the flophouse and the dive, the park bench and the pigeon's crumb, Bove is also a deeply empathetic writer for whom no defeat is so great as to silence desire.
Praise For Henri Duchemin and His Shadows…
"Shadows and shadow selves do indeed pervade the six stories in this collection, brought together in English for the first time...each of [Bove's] meticulously crafted stories discloses a quasi-surrealism with dashes of Poe, Kafka, and Dostoyevsky. Bove also shows himself a master of marginalization and fragmented relationships...An elegant translation of dark, brooding, and disturbing little narratives." —Kirkus Reviews

"One of the best novelists to emerge in France during the interwar years . . . a unique, powerful, and insightful stylist." —The Review of Contemporary Fiction

"The writing is so clear, so modest, and yet not at all modest. It's a form of writing that doesn't exist before him, nor since. It's like drawing with very clear lines." —Peter Handke

"The neat turns of Bove's stories make them engaging little reads...What makes the collection worthwhile is the writing, Bove's deft touch and turns of phrase consistently impressing. These are sad stories, but the craftsmanship behind them makes for considerable reading pleasure." —M. A. Orthofer, The Complete Review
NYRB Classics, 9781590178324, 160pp.
Publication Date: August 11, 2015
About the Author
Emmanuel Bove (1898–1945) was born Emmanuel Bobovnikoff to a Jewish émigré from Kiev and a Parisian chambermaid from Luxembourg. His childhood was spent in Paris, marked at times by extreme poverty in the company of his mother and younger brother, and wealth in the company of his father and stepmother. With his stepmother's patronage, Bove acquired an education in Paris, Geneva, and, during the First World War, England. Back in Paris, he began writing while supporting himself with a series of odd jobs. He had been publishing popular novels under the pseudonym Jean Vallois for several years when Colette helped him publish the novel Mes amis (My Friends) under his own name. He continued publishing successful novels until the Second World War, at which time he was forced into exile in Algeria. He died of heart failure soon after his return to Paris.

Alyson Waters's translations from the French include works by Louis Aragon, René Belletto, Eric Chevillard, and Albert Cossery. She is the 2012 winner of the French-American Translation Award for her translation of Chevillard's Prehistoric Times. Waters has received a National Endowment for the Arts Translation Fellowship, a PEN Translation Fund grant, and residency grants from the Centre National du Livre, the Villa Gillet, and the Banff International Literary Translation Centre. She teaches literary translation at New York University and Columbia University and is the managing editor of Yale French Studies. She lives in Brooklyn.

Donald Breckenridge is the fiction editor of The Brooklyn Rail, co-editor of InTranslation, managing editor of Red Dust, and the author of more than a dozen plays, a novella, and the novels 6/2/95, You Are Here, and This Young Girl Passing. He lives in Brooklyn.
or
Not Currently Available for Direct Purchase